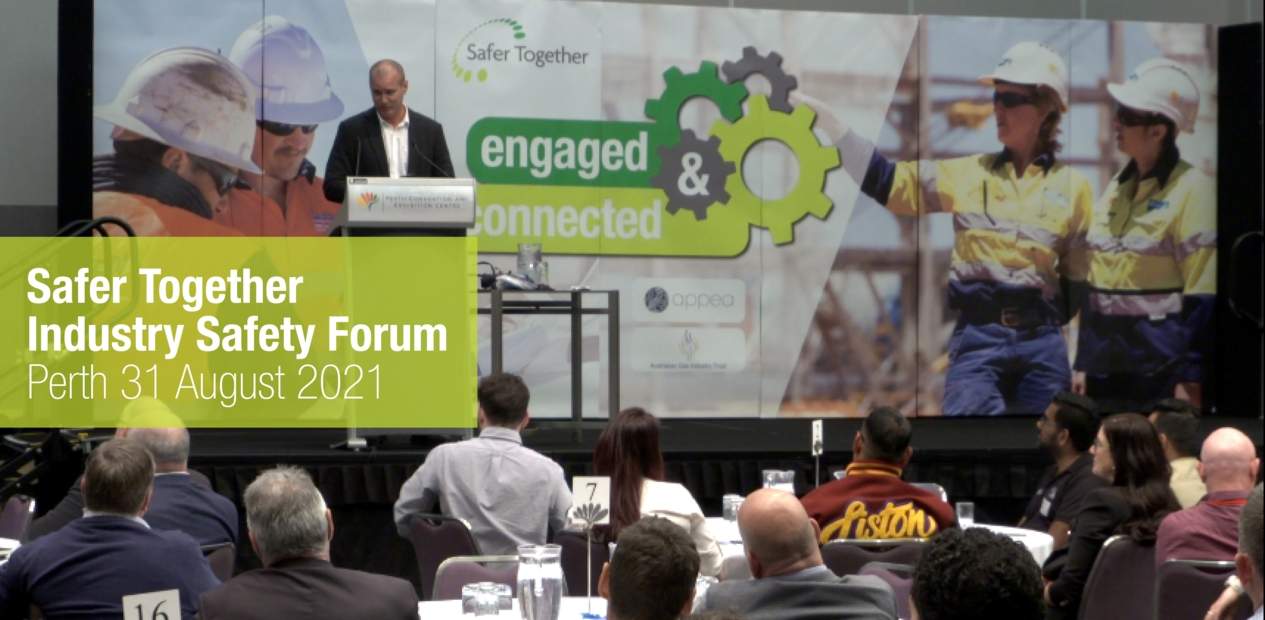 The Industry Safety Forum held in Perth on the afternoon of 31st August 2021 was a rare opportunity for 80 Industry Leaders, not only to meet together face-to-face again, but to be joined for the first time ever by more than 50 Health, Safety & Environment Representatives (HSERs) from the frontline workforce. In total, 36 member companies, APPEA, NOPSEMA and Energy Club WA were represented at the event, which was dedicated to the theme Engaged & Connected.
Ralph Ellis - President Operations Asia Pacific, Wood kicked off the afternoon event, setting the scene with a presentation of the Safer Together 3-year Strategic Plan (2021-2023).
Mark McDonough, HSER from Monadelphous, had the opportunity to present the feedback from the HSERs Forum held in the morning directly to Industry leaders. Recognising that improvements had been made and that more tools were available the HSERs also highlighted Time, Training and Line Management Support as key areas where more help was needed. The feedback was acknowledged, and a commitment made by Neville Carrington, Operator Co-Chair of the WA/NT Safety Leaders Group to review and revert back to the HSER community.
The keynote speaker, Mathew Bowen from Cognicent, provided a very interesting insight into the functional aspects of the brain with regards to engagement and communication. 
The Booth Sessions that followed gave everyone the opportunity to put into practice what they had just learned from Mathew as they rotated round the booths, where Safer Together Working Group members showcased the projects they've been working on and the resources that are available for use.
8 booths were on display, including one from NOPSEMA. The 7 other booths were:
All booths were well attended and allowed the HSERs and Industry Leaders to get an in-depth look at the content of the Working Group projects and overall breadth of topics that have been / are currently in progress within Safer Together.
The afternoon concluded with the opportunity for networking over some light refreshments.
The presentation materials from the ISF are available to Safer Together members here.
To find out more about The Safer Together 2021-2023 Strategic Safety Plan click here.
To find out how your company can become a member of Safer Together click here or address your query to info@safertogether.com.au.