Uniform Non-conformance Reporting (UNCR)
A common process for Oil & Gas supply chain related HSE non-conformances.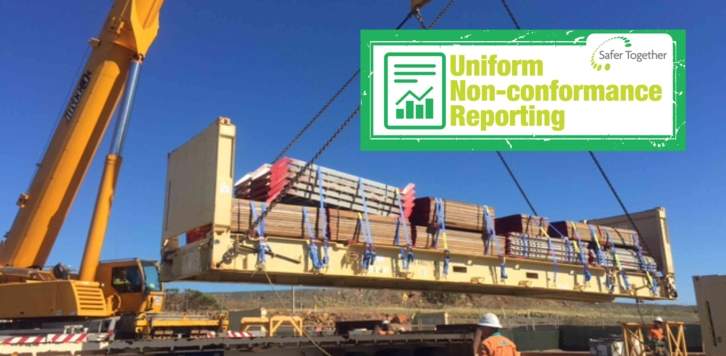 Project / Initiative
Uniform Non-conformance Reporting (UNCR) – develop a common process for Oil & Gas supply chain related HSE non-conformances to be submitted by member companies on a periodic basis forming an industry NCR database to facilitate trend analysis so that changes in the nature of events occurring can be identified, investigated and targeted by industry, reducing occurrences and severity potential.
Challenge
The nature of our industry requires us to move plant and equipment, by land, air and sea, over considerable distances.  We acknowledge that one of our greatest risks is the potential to cause harm to people, assets, community and environment whilst conducting our logistics activities in urban and rural/remote locations.
Non-conformance reporting helps us better understand when, where and how these risks manifest and facilitates improvement in our day-to-day operations. 
Historically industry has tracked these utilising different classifications, methods and tools which has unnecessarily added complexity into our operations and limited the ability to effectively share industry wide lessons and build common safety interventions.  A further complexity presents in as much as, given the nature of the industry, Clients and Contractors may record the same event where multiple parties are involved leading to duplication of reporting.
Solution
Review of current NCR recording format by member operators including the IT system used by each member company, and workable IT solutions to facilitate periodic submissions of member NCR's maximising automation.
Develop an agreed list of NCR's following a uniform naming convention for the data captured covering definitions and appropriate level of severity for inclusion i.e. Haz-Card, Hi-Po or Actual events. 
Undertake periodic analysis so that trends can be identified, investigated such that key shared HSE issues that will become LLWG focus areas and targeted through specific initiatives and knowledge sharing by industry, with the purpose of improving safety performance through a reduction of occurrences and potential severity.
Additionally, tracking NCRs at an industry level will also provide a means of measurement of the effectiveness of any related future Safer Together.
Result
The Working Group has reviewed existing arrangements to report NCRs and has developed the uniform naming convention and members have now submitted two quarters of reporting data against this convention.
This naming convention will be fixed for a period of 12 months to support effective analysis.
Coming Next
Sharing of high-level data with members
Sharing of lessons with members
Consider the development of an IT solution such that the process of data submission and analysis is as effective and efficient as possible.
For More Information