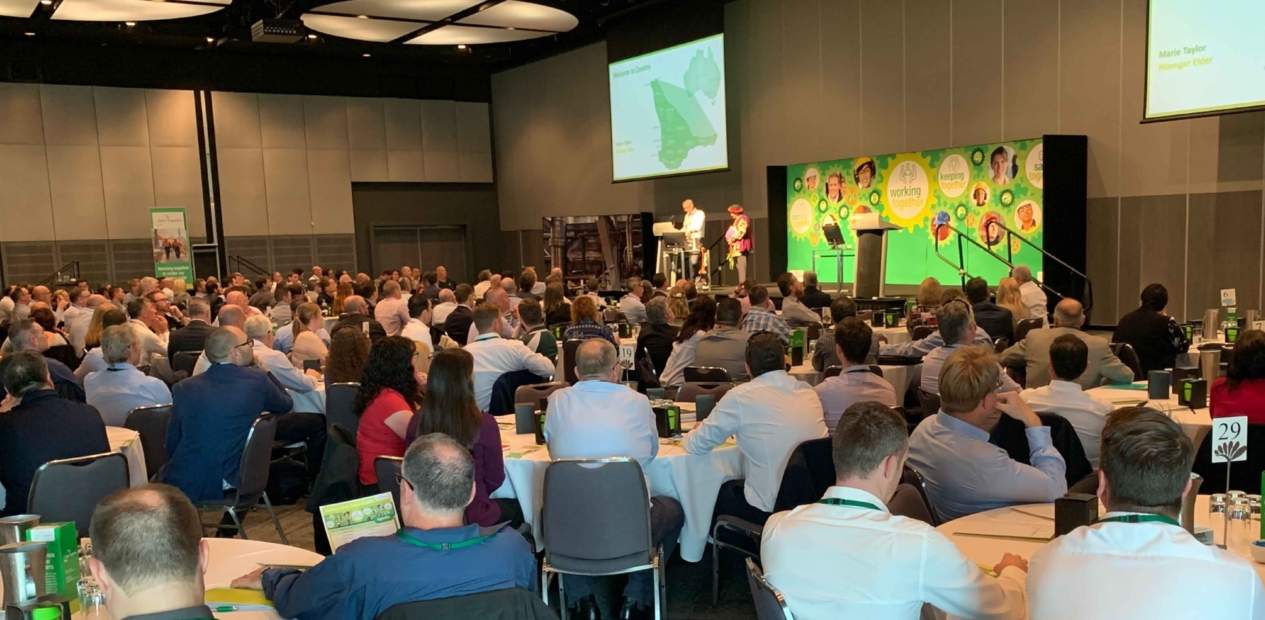 The 1970's glam rock of Roxy Music isn't something you'd normally associate with an oil and gas industry safety event, but smooth crooner Bryan Ferry's words encapsulated perfectly the mood of Safer Together's latest Industry Safety Forum held in Perth on 18 September 2019.   
The sold-out event saw nearly 250 safety leaders from across the entire oil and gas industry value chain come together in support of their commitment to make our industry safer through collaboration.
The WA/NT Safety Leaders Group Co-Chairs, Niall Myles (Woodside) and Philip Cave (Clough) set the scene, reflecting on the extraordinary effort and commitment by the membership which has created a strong foundation for collaboration.  With membership having grown by over 60% in the first year, and more than half of member companies directly involved in working together to create the standardised and simplified safety tools, as well hundreds of individuals playing their part, it has been an outstanding start. However, the Co-Chairs both revealed that it's not all been easy - plans have had to change as the organisation matured and there is more to do with some stakeholder communities to demonstrate the value of being part of this collective body of committed leaders, recognising that we may sometimes differ but we come together in our collective ambition to standardise and simplify our initiatives in support of the frontline.
The breakout booth sessions supported the formal launch of new products:
Feedback from the members attending the booth sessions highlighted that in the Safety Leadership area we need to recognise, develop and empower frontline supervisors through common tools such as field verification that focus on workforce engagement in safety, and make better use of the Safety Culture Survey.  In the Competence & Behaviour area we need to develop a framework that supports common competencies that reflect major accident hazards and safety critical tasks. In the Marine area we need to continue to build on the strong foundations to reduce complexity for those undertaking offshore shipping and marine operations.
Booth attendees also welcomed the effort of the Aviation Working Group and asked them to deliver what we've promised – standardised passenger safety equipment supported with consistent training of those responsible for managing helicopter operations offshore, as well as common XBR (Extra Broad) and Armband policies for those travelling offshore. The Land Logistics Working Group need to work across regions to align on standards and utilise trends from Uniform Non-Conformance Reporting to target common risks and seek out best practice globally.  And finally, the Process Safety Working Group were asked to raise awareness across our industry of process safety through experiential major accident hazard training.
We also had the chance to hear first-hand from John Smith (MPC Kinetic) Co-Chair of the Queensland Chapter of Safer Together about their successes and challenges as well as sharing insight into what may lie ahead for WA/NT, echoing the sentiment that the hard work starts now, through taking these products and making them stick. 
John Smith then joined Deborah Peach (Woodside) and Gemma Mackett (PCM Group) on the discussion panel where they shared their personal insights to their processes; how standardisation impacts them; how they get value from their membership; and what more we can do to share lessons and good practice.
In closing the event, it was fantastic to see the enormous energy and commitment in the room.  Working together we have established a solid foundation on which to build and make progress in key areas.  But everyone recognised that it will only be through keeping together, by staying the course, that we will have the opportunity to see that return on expectations and investment.
Ultimately our workforce are our customers, and their safety is our commitment… please play your part in our ambition of being Safer Together.
For more information about Safer Together click here.
To find out how your company can become a member of Safer Together click here or address your query to [email protected].