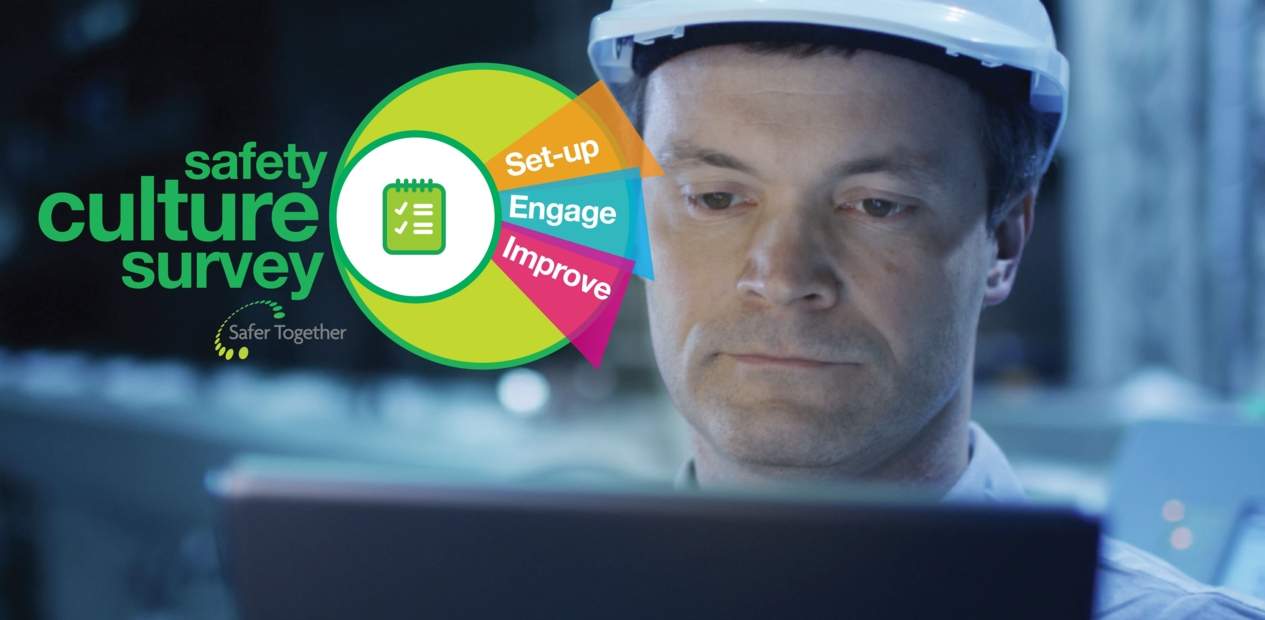 We've seen a seismic shift in our industry in the first half of 2020, characterised by widespread upheaval, disruption and uncertainty not only in the workplace, but also in our personal lives. As we deal with the present and look to the future, Safer Together has an ideal tool to help your company understand and measure how people are feeling about safety at work, and to boost engagement with them.
Safer Together's Safety Culture Survey is an interactive frontline workforce engagement tool, ideal for use in small work teams, to drive meaningful safety conversations with your employees and give you results/feedback in real time. It's a tailored business solution that's specifically designed for carrying out regular safety 'pulse checks' within your organisation:
Cost-effective – if you're a member of Safer Together, it's FREE for the first 100 users in your company.
Click And Go – automated deployment eliminates the burden of program administration.
Fits Your Needs – flexible set-up features for any sized company, big or small.
Instant Insights – real time results at your fingertips means you don't have to wait months for the information you need now!
Less Analysis, More Action – spend your time and energy acting on data instead of analysing it. Powerful analysis features will help you quickly spot where opportunities exist before they become problems.
Partner With Your People – promotes workforce-led safety improvements, ensuring they play an active role in organisational change.  
In response to member feedback, we've recently updated the pricing model for the Safety Culture Survey tool to provide more flexibility by now also offering a subscription service, providing significant cost savings for companies that decide to take up this option. So you can now choose a plan that works for you. 
The online survey tool has been used by more than 30 Safer Together companies, ranging from large multinational operating companies to large, medium and small contractors.
During the early stages of the Gorgon Stage 2 expansion project, the Gorgon Stage 2 HSE team gathered together for a workshop to evaluate the online Safety Culture Survey tool. Participants found that the online survey activity was easy to activate, navigate and complete and were particularly impressed that the results were available in real-time and could be easily filtered and dissected. "It gives line leaders not only the opportunity to enrol the workforce in providing their feedback, but also gets them working collectively on addressing any opportunities of improvement. Research suggests that when doing this, you achieve more sustainable workforce ownership and buy-in. The delivery of this has the potential to not just improve safety, but also to improve other business outcomes as well." (Gorgon Stage 2 HSE Specialist – Construction).  
Image: courtesy of Chevron
Click here for a Case Study from Chevron Australia and to find out their tips for other member companies on how to maximise the value of using the Safety Culture Survey as a workforce engagement tool.
Member company BeneTerra, who provide specialised services in disturbed land rehabilitation, dam and pond site reclamation, and wastewater treatment and disposal services to the to the CSG-LNG industry in Queensland, used the online Safety Culture Survey as an engagement tool to do a quick safety 'pulse check' when they brought their whole team together for a twice-yearly company update. "Doing this together in a group made it really engaging  – everyone's in the room, everyone's doing it at the same time, everyone's got an opinion, everyone can talk about the issues as they come up on the screen. All of these things helped promote working together as a team to achieve common goals and increase everyone's sense of belonging and purpose" (Chief Executive Officer).
Image: courtesy of BeneTerra
Click here for a Case Study from BeneTerra and to find out their tips for other member companies on how to maximise the value of using the Safety Culture Survey as a workforce engagement tool.
Finally, if there's one silver lining looking back at the past few months, it has been an ability for organisations to learn to react and adapt quickly, including recognising the importance of maintaining connectivity with employees. Teams are coming together to listen to their people, talk openly and work together on solving problems like never before. This has created a unique opportunity for companies to transform in a positive way through workforce engagement. An engaged workforce plays a central role in ensuring companies are not only able to adapt to rapid changes in the workplace, but also well positioned to emerge stronger.  The online Safety Culture Survey tool can help your company on this journey – we strongly encourage you to use it.     
Ready to dive in? Click here to place your order now.
For more information about the Safety Culture Survey click here.
Contact: [email protected]