Safety Moment Cards
A simple, practical tool to provide inspiration for interactive Safety Moments in the workplace, aimed at developing an aligned understanding about the characteristics and behaviours of good safety leadership.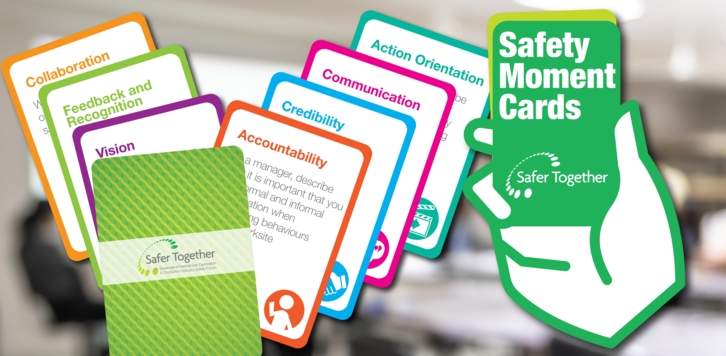 Challenge
To support leaders demonstrate effective and visible safety leadership and behaviours, it helps to start with an aligned and consistent definition of "what is safety leadership?" But if you ask 10 different companies this question, you'll probably get 10 different answers.
Solution
Develop a simple and cost-effective tool that enables a wide range of companies across various different industry sectors to develop an aligned understanding of the characteristics and behaviours of good safety leadership, and also inspires better quality safety conversations in the workplace.
Result
Now Available!
The Working Group has developed a pack of 52 Safety Moment cards to help companies promote safety leadership within their organisation. (Safety Moments are commonly used by many companies as an opportunity to have a brief conversation about a safety-related topic at the start of a meeting or shift).
The questions are broadly based on safety leadership characteristics and behaviours defined by the International Association of Oil & Gas Producers in IOGP Report 452, Safety Culture Through Safety Leadership. Simply draw a card from the deck and take the conversation from there….….
More than 40 companies are now using the cards in at least 19 countries.  Click here for a brief presentation about the cards and who is using them.
Click here to place your order.
Related Links 
Case Study - Enerflex
IOGP Report 452
For More Information