Process Safety Awareness
Process safety toolbox resources tailored specifically for the Queensland Natural Gas Exploration and Production Industry.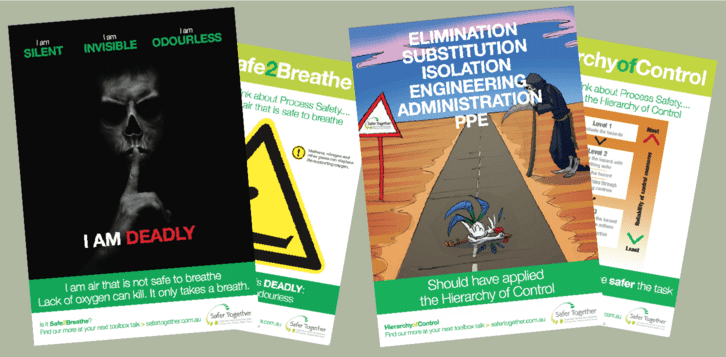 Project / Initiative
Process Safety Awareness Campaigns – develop a suite of process safety toolbox resources tailored specifically for our industry in Queensland that member companies can simply pick up and use to educate their workforce.
Challenge
The Process Safety Survey conducted in 2016 identified some opportunities for improving frontline awareness of process safety issues, particularly in relation to oxygen deficient atmospheres, safe operating envelopes and hierarchy of control.
Solution
Develop and rollout awareness campaigns on a quarterly basis including resources and talking points for use at toolbox talks and start of shift meetings. Promote use of the materials and make them easily accessible to all member companies.
Result
Now Available!
Safe Operating Envelope Awareness Campaign has been launched!
This is the third of series of campaigns to be rolled out over 2017/18. This campaign is focused on introducing and understanding the concept of safe operating envelopes. A Launch Pack has been developed to help Safer Together members to rollout the campaign. The Launch Pack includes:
Implementation guide: an overview of the steps and activities to rollout the Process Safety Awareness Campaign.
A choice of long or short slide packs with talking points and additional detail for use by field supervisors and team leaders.
A campaign poster to raise awareness and reinforce the messages.
"Safety Moment" Prompt: a thought provoking slide that can be used on the website or other company media.
Introductory letter: template for letter from the CEO / senior in-country manager to field supervisors and team leaders.
Coming Next
The next Process Safety Awareness Campaign will be about Process Safety vs Personal Safety.
For More Information
Previous Campaigns