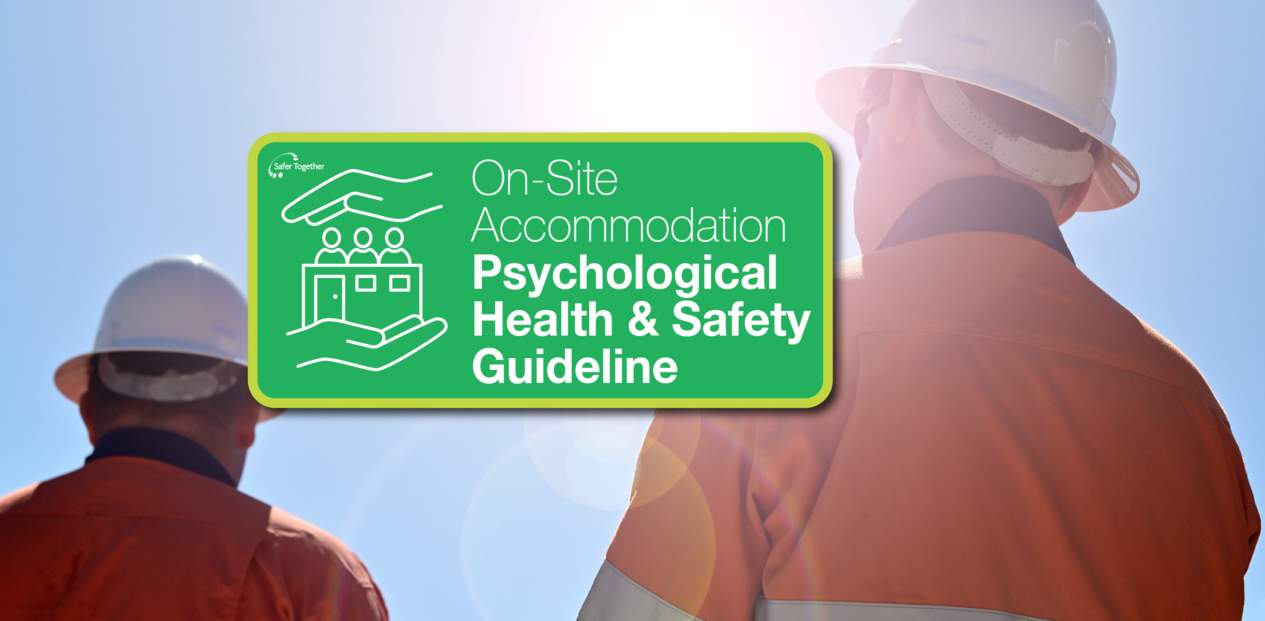 Psychosocial safety management in the workplace is something our industry needs to improve upon – and is now required by regulation.  The development of the On-Site Accommodation Psychological Health & Safety Guideline is an important step on the improvement journey for our industry.
In response to the need for safeguarding individuals residing at camps, the Safer Together Health Working Group has embarked on the creation of an On-Site Accommodation Psychological Health & Safety Guideline. The aim of the Guideline is to enhance the psychological well-being and safety of camp residents across WA/NT and Qld.
To effectively manage psychosocial risks in the workplace, we need to ensure we have this Guideline in place to clearly identify appropriate and inappropriate workplace behaviours; identifying the minimum measures to be put in place to improve the safety of those living on site, and to set the standard expectations for acceptable psychosocial conduct.
Our Queensland Health Working Group have developed an initial scope for the Guideline, it will cover jurisdictions in Qld and WA/NT, with content based on existing related legislation and best-practice (e.g. Code of Practice etc.), with topics including (but not limited to):
Welfare facilities onsite
Support services (e.g., EAP)
Behaviour (e.g., Code of Conduct for residents)
Psychosocial hazards risk register
Mental health emergencies
Alcohol/drugs/smoking
Cultural accommodations
Noise (e.g., sleep hygiene)
A scaled approach will allow coverage of small sized camps (e.g., rig camps with circa 10-50 workers) to medium sized (50 – 200 workers) to large (200 – 1000 workers) to very large (1000+ workers)).
The Guideline will align with industry groups, including Australian Energy Producers (formerly APPEA), the Queensland Resources Council, other regulatory bodies, camp providers, operators, setting out behavioural expectations of those on the frontline.
An external subject matter expert has been engaged to write the draft Guideline aligning with scope. On completion of the draft Guideline, we are holding consultation workshops in both Qld and WA/NT, to address any contentious issues, and to ensure the content aligns with industry, regulator, and the workforce expectations.
There will be an opportunity at the HSER Forum in Perth on 25th October to provide your input and comments into the guideline content or email: health@safertogether.com.au.
We expect to launch the On-Site Accommodation Psychological Health and Safety Guideline in Q2 2024, when it will be available for all Member Companies to download and deploy.
Email: health@safertogether.com.au to register your interest in one of our upcoming workshops:
Brisbane, 15th November 2023 & 
Perth, 28th November 2023