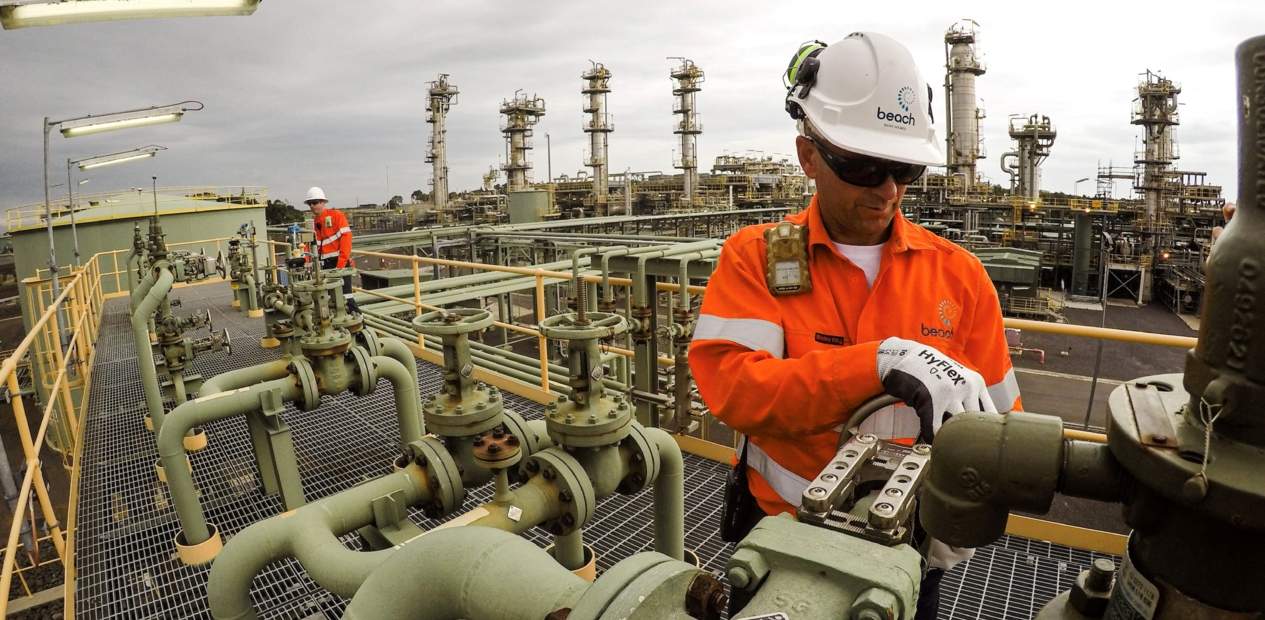 Challenge
Managing change in an evolving organisation is never easy. Over the past 5 years Beach Energy's story is one of rapid growth. In 2016, Beach completed a merger with Drillsearch expanding its Cooper Basin footprint. Then, in 2018, Beach acquired Lattice Energy, resulting in substantial growth of the company's asset portfolio.  Today, Beach has operated and non-operated onshore and offshore, oil and natural gas production from five producing basins in South Australia, Victoria, Western Australia and New Zealand.
With more than 700 employees and contractors and a wide range of suppliers, Beach Energy had a long-established medical assessment program in place. However there were 3 different medical standards in use across the newly formed business, depending on which producing basin a person worked in and whether they worked in an onshore or offshore role.
The pre-existing medical assessment program that was in place for offshore workers (Oil and Gas UK medical) was, in particular, in need of a refresh. Furthermore, only medical practitioners that are registered with Oil and Gas UK can perform OGUK medicals, of which there are very few in Victoria and New Zealand. So Beach Energy had limited choices for who their people could go to for a medical assessment under this system.
Solution
The introduction of the Safer Together Fitness to Work (FTW) Medical Assessment Guideline provided a timely opportunity for Beach Energy to not only standardise on one medical assessment for its whole business across Australia and New Zealand, but to also align with a new industry-wide approach.
Adopting the Safer Together FTW Medical Assessment Guideline also enabled Beach Energy to deliver a better quality medical for people working in an offshore environment because it exceeds the baseline OGUK medical standard, resulting in a higher, common standard now being able to be applied across the company's offshore and onshore operations.  
The previous restriction on only being able to use medical practitioners that are registered with Oil and Gas UK does not apply to the Safer Together FTW Medical Assessment Guideline, providing more flexibility for Beach Energy and its supply chain in selection of suitable medical providers.
Result
Beach Energy updated its Health and Medical Assessments Procedure to reflect the Safer Together FTW Medical Assessment Guideline against different job groups, based on job task analysis of roles. Beach also included additional components of Drug & Alcohol Screening, Skins Checks for Melanoma, Musculoskeletal Fitness, and relevant periodical health surveillance for certain Similar Exposure Groups.
Beach commenced deployment in Australia of their common medical assessment program in July 2021 and has since also commenced deployment in New Zealand. The scope of application was Remote Operations, Production Plants and Offshore Operations, encompassing about 450 people in total. Roll out will be phased over the next 2 years as previous medicals carried out before July 2021 become due for renewal.
In parallel with preparing to introduce a new common medical assessment program, Beach Energy also transitioned to a new medical services provider. The medical provider then worked with Beach to integrate the requirements of the Safer Together FTW Medical Assessment Guideline into their systems and processes, which included digitising the relevant templates.
The components of the medical are also tailored to each person's job role (e.g. a medical for a person that works in an office environment has less components than a full medical for a person who works on site), and so it was necessary to work through with the medical provider how this modular approach would be applied.
Although still in the first few months of deployment, Beach Energy has already identified some potential refinements that could be made to the Safer Together FTW Medical Assessment Guideline to improve it further.  These observations will be fed back to Safer Together's Health Working Group for consideration in the next update of the Guideline as part of the continual improvement process.
Beach Energy's decision to adopt the Safer Together FTW Medical Assessment Guideline has been well received by their line managers, supervisors, and workforce because the benefits of moving to a single, common medical assessment program for the entire business, that is also widely supported and being embraced by the broader industry, are apparent.
"We now have a single standard for our workers across all sites in ANZ that is accessible in all locations." (Principal Health and Safety Advisor)
Lessons Learnt
Communication Is Key – Take the time to build some awareness within your company and get your operations teams on board before you launch the common FTW medical assessment program. Explain where it comes from, what the benefits of adopting it are, what the changes are from the previous model, and why you are making those change.
Think It Through – As part of the planning phase, take the time to analyse the different job roles in your company and the types of activities people do in these roles, so that you can tailor the medical assessments to be fit-for-purpose for each individual.
HSE and Medical Provider Working In Harmony – Close co-operation between your company's HSE function and company-approved medical providers is essential so that expectations are clearly defined, and an aligned approach and common understanding of process and outcome management are in place.
Download the Case Study Poster here.
For more information about Beach Energy click here.
For more information about the Safer Together FTW Medical Assessment Guideline click here.