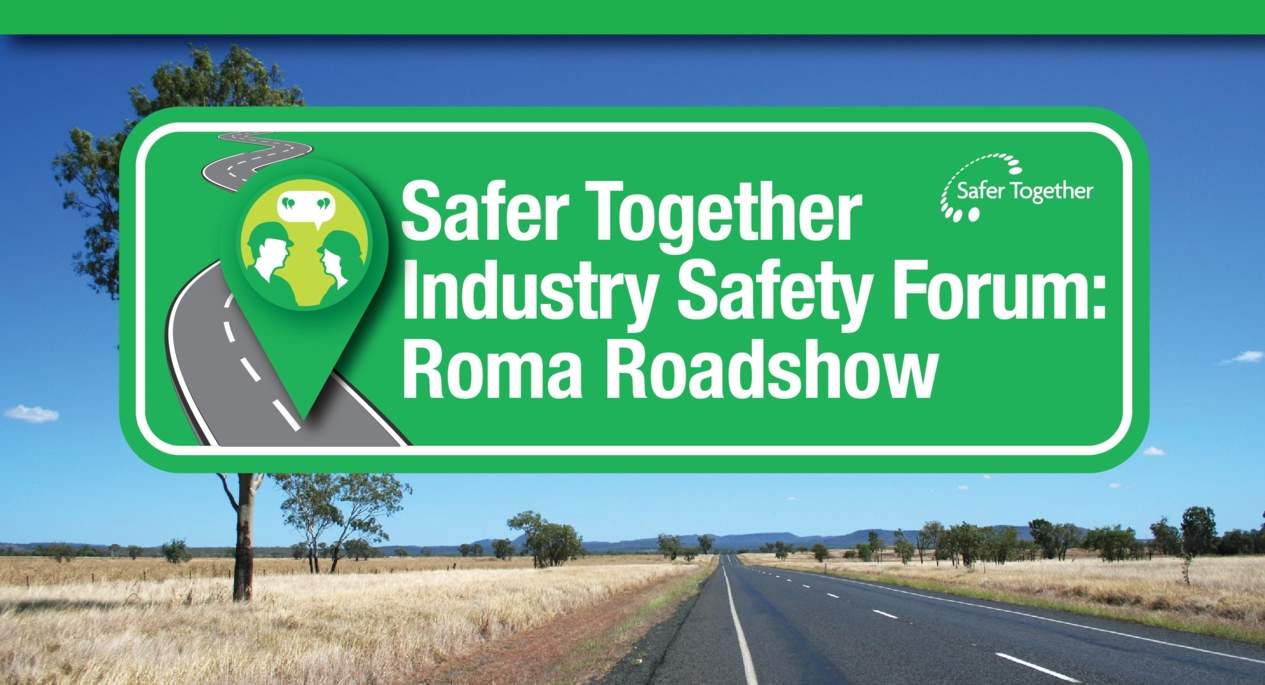 On the 18th June 2019, Safer Together took its Industry Safety Forum on the road and headed to the birthplace of the Australian oil and gas industry…Roma, Queensland.
More than 160 delegates from 57 member companies assembled at the Roma Explorer's Inn. Some had travelled from local sites, some from Brisbane and a few from Western Australia for the event.
Tom Pettitt (Safer Together – event m.c.) opened the event with a sobering story of a significant workplace incident early in his career. Tom's best mate was critically injured in this event. It changed the course of Tom's life and motivated him to take on a role in safety.  Tom challenged delegates to examine their motivation for attending the event.  He asked them to consider "why am I here?" and "what will I do after this event?"
A sincere and heartfelt traditional welcome to country was delivered by Tallis Landers (Santos).  Tallis is a Mandandanji man from Roma currently working in the Community Engagement team.  He spoke about the importance of country, respect for elders and the powerful role of storytelling.
The local member for Warrego, Ann Leahy shared a brief history of Roma as the place where oil and gas was first discovered in Australia. She also spoke of the ongoing importance of the Coal Seam Gas industry to Roma and the surrounding area.
The outgoing Co-Chair of the Safety Leaders Group, Warwick King (APLNG) looked back to the story of Safer Together's foundations, successes and challenges to date. Warwick then handed over to Ivan Tan (Arrow Energy) the incoming Co-Chair. Ivan acknowledged the great work to date and challenged all Safer Together members to further embrace and implement the programs and products from the vast body of knowledge that has been built.
Warwick King, Chief Executive Officer, APLNG
Ivan Tan, Chief Operating Officer, Arrow Energy
Nine interactive booths showcased each Working Group's initiatives and programs. Neil Mansell Transport provided a demonstration of their 'teardrop' water tanker, designed to prevent rollover.  The Fitness for Work Project team presented a video about the Fitness for Work – Medical Assessment Guideline that will soon be released for consultation.  
Tim Dabrowski (Pro-Test Services) delivered a live demonstration of the Safer Together website functionality.  This demonstration showed participants how to access Safer Together resources in order to encourage/better utilise these resources.
The afternoon was dedicated to site visits. Local businesses: Wild Desert; Hofco; MPC Kinetic; Coho Resources; Schlumberger; Enerflex and Halliburton hosted these visits and showcased their various safety innovations.
The day was rounded out with a networking session at Roma's iconic Big Rig oil and gas museum where Dave Atkin (Origin Energy) formally closed proceedings.
Our next Qld Industry Safety Forum event will be held in Brisbane on December 10.  We look forward to seeing all member companies in attendance.
Click here to view pictures from the event.
For more information about Safer Together click here.
To find out how your company can become a member of Safer Together click here or address your query to [email protected].