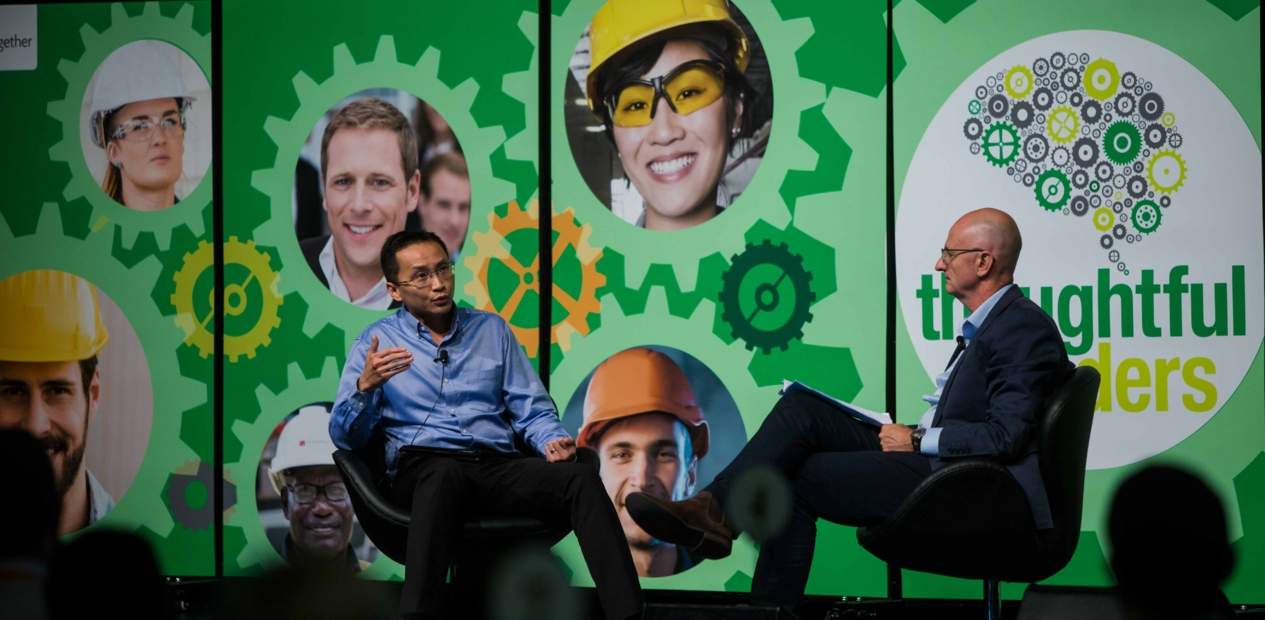 The latest Industry Safety Forum, held in Brisbane, provided an opportunity for the most senior executives and line leaders of member companies to gather together as a community of safety leaders and gain insights from a range of locally-based member companies about their particular safety challenges and experiences to date of using Safer Together tools and programs.
Hosted at the Brisbane Showgrounds, the day started with delegates selecting and attending one of six morning breakout sessions:
A Combined Incident Review Panel where Land Transport, Process Safety and Rig Site Safety incidents were shared;
A Safer Together Implementation Planning Workshop where one-on-one facilitated sessions helped participants better understand how to roll out Safer Together initiatives into their workplaces;
A Helping Hands Workshop where participants sampled the helping hands program including building prosthetic hands for amputee landmine victims throughout the developing world;
A Heavy Vehicle Specification Implementation Workshop where participants were briefed on the new Revision 3 Heavy Vehicle Specification and how to implement it in their organisations;
A Social Media Workshop and Innovative Thinking Workshop which covered thoughts and strategies around Safer Together in the Social Media space, followed by an engaging and insightful innovative thinking workshop led by James O'Loghlin;
A site visit to the Santos GLNG Brisbane Operations Control Centre where participants were able to have an inside view of a state-of-the-art facility that is at the heart of Santos' business, connecting head office with the gas fields in the Surat and Bowen Basins.
James O'Loghlin, MC for the Forum
Warwick King, SLG Co-Chair (Operators) opens the Forum
Helping Hands Workshop
Site Visit to Santos GLNG Brisbane Operations Control Centre
In the afternoon session delegates were divided into 5 groups and visited 5 locally-based member companies – Enerflex, Falck, FKG Group, iPipe Services, and MPC Kinetic.  Watch the video above to find out more about each of these site visits.
Site Visit to FKG Group, Sinnamon Village Construction Site
Site Visit to FKG Group, Sinnamon Village Construction Site
Site Visit to MPC Kinetic, Eagle Farm
The afternoon session also included:
A keynote presentation by Nicole Gray, Principal Human Factors Adviser from the Keil Centre, who explored the topic of Human Reliability in Safety and the performance shaping factors that contribute to serious incidents.
A progress update from each of the Working Groups – (a) what are the Group's main achievements and highlights of 2018, and (b) what's the Group's main focus going forward, and why?
A bit of "gameshow" fun (Operators v Contractors) where contestants tried their best to navigate some tricky questions posed by our MC, James O'Loghlin.
Safer Together "Best and Fairest" Awards 2018 – see below for more details.
Nicole Gray, The Keil Centre delivers the keynote presentation
Ivan Tan, COO Arrow Energy and James O'Loghlin, MC
Gameshow Quiz, Operators v Contractors
Gameshow Quiz, Operators v Contractors
Safer Together Best and Fairest 2018
In Australia we have a great tradition of recognising the contributions of our sports stars.  Last year we started what we hope will be an ongoing Safer Together tradition of recognising a Working Group member for their contribution.  We call this award "Best and Fairest".
The 2018 Best and Fairest were awarded to:
Safety Leadership Working Group: Tim Dabrowski (Pro-Test Well Services) and Troy Schefe (Hofco Oilfield Services)
Competence and Behaviour Working Group: Peter Ridge (Halliburton)
Land Transport Working Group: Travis Kearsley (Arrow Energy)
Process Safety Working Group: Kim Pullon (Santos) and Robert Hirst (Australia Pacific LNG)
Rig Site Safety Working Group: Leigh Foreman (Schlumberger), Andy Gainsforth (ARC Well Equipment) and Kyle Koziol (Broadspectrum – Easternwell)
Fitness For Work Project Team: Michelle Zaunbrecher (Arrow Energy) and Dennis Murphy (ConocPhillips)
Congratulations to all our Best and Fairest award winners.  Well played and thank you.
2018 Best and Fairest Award Winners
Acknowledgements
Safer Together would like to acknowledge and sincerely thank the following companies for their active support and contribution to a very productive and worthwhile Forum:
Agility Logistics
Arrow Energy
Enerflex
Falck
FKG Group
iPipe Services
MPC Kinetic
Murrays Coaches
Palmers Coaches
RSA Contractors
Santos
Shell QGC
Stonestreets Coaches
Wild Desert
Next Forum (Q2 2019)
Our next Forum event in Queensland will be held in Roma in June 2019 (date and venue to be advised). Keep an eye out for more details.
For more information about Safer Together click here.
To find out how your company can become a member of Safer Together click here or address your query to [email protected].