Learning Event Bulletins
A tool to assist with learning from unwanted events and/or threats in order to reduce the occurrence of high potential incidents.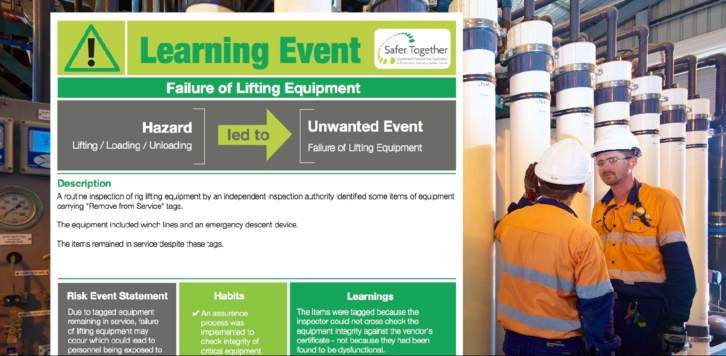 Challenge
Safer Together seeks to reduce the occurrence of High Potential Incidents (HiPo). This requires becoming a learning focused industry. Current negative associations with labelling an incident as a 'HiPo' are hampering effective learning from these incidents.
Solution
Focus on 'unwanted events/threats' as triggers to investigate and disseminate lessons learnt. Encourage industry to approach unwanted events with a positive learning mindset. Investigate, report and disseminate the lessons as 'Learning Events' triggered by unwanted events/threats occurring, regardless of whether it is classified as a HiPo or not. Influence and reinforce safe behaviours (hazards and habits) that can help safeguard people.
Result
The Rig Site Safety Working Working Group has successfully piloted:
A list of common 'unwanted events and threats'.  This list serves as a guide to 'triggers' for producing a Learning Event Bulletin.
A template for Learning Event Bulletins that organisations can use to break down and communicate a Learning Event and preventative actions that could be considered by other organisations.
Issuing Learning Event Bulletins to the Drilling and Completions community. This process includes seeking feedback from rig crews, as well as the things they learnt/discussed arising from the Learning Event Bulletin. The feedback/lessons learnt are then collated and sent back to the Drilling and Completions Community.
The Safety Leadership Working Working Group has:
Developed a searchable web-based library for storing Learning Event Bulletins and uploaded previously issued  Bulletins to this library.
Coming Next
Finalise a process for preparing, approving and distributing Learning Event Bulletins on an industry-wide basis.
For More Information