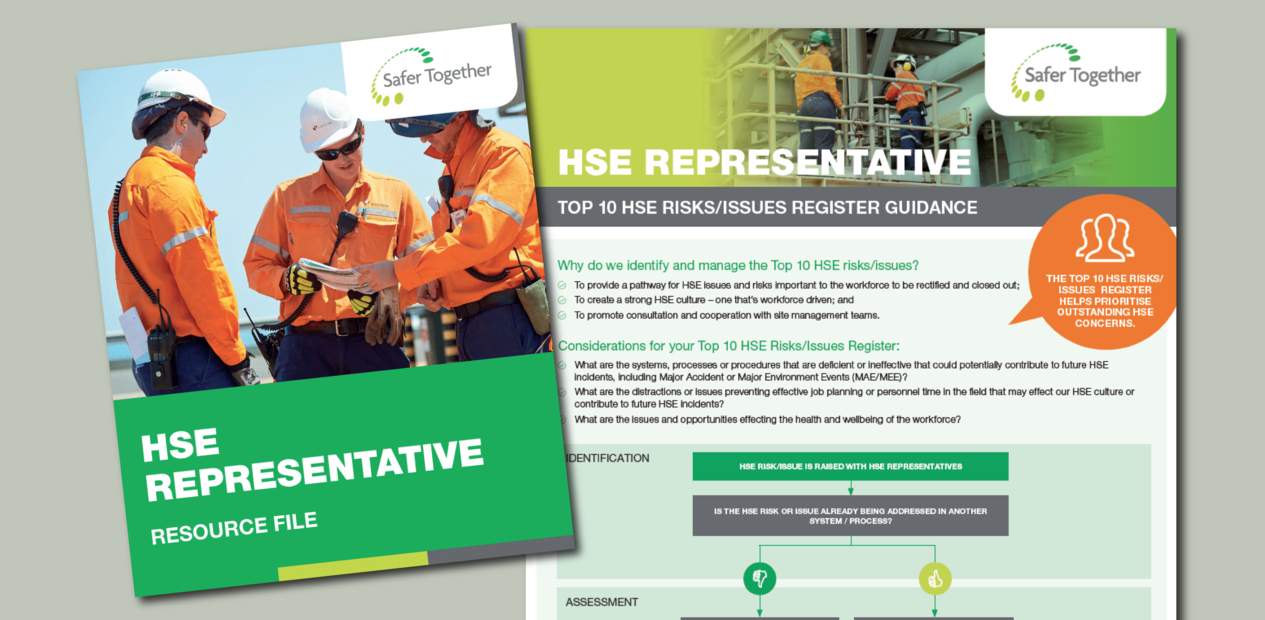 This article highlights the outcomes for Mental Health and Wellbeing for Offshore staff during the COVID-19 Pandemic, but the findings are just as applicable to those working on land. 
Findings from this report into mental health highlight the critical role HSER's can play in supporting these recommendations. 
So where do you go next?
Safer Togethers' HSER Representative Resource File has all the resources you need to identify the risks and issues specific to your worksite – in this instance, the 'Top 10 HSE Risks/Issues Register Guidance'
The 'Top 10 HSE Risks/Issues Register' has been developed to provide HSER's with a clear process:
To provide a pathway for HSE issues and risks important to the workforce to be identified, investigated, rectified, and closed out,
To create a strong HSE culture that's workforce driven; and
To promote consultation and cooperation with site management teams.
In essence, the role of an HSE is to establish a relationship between members of your work group, and to continually improve HSE performance.
The Safer Together 'Top 10 HSE Risks/Issues Register' has thus been developed to provide guidance to HSE Representatives regarding:
How to host HSE Representative and HSE Committee meetings – how to raise issues, provide input, and identify improvement opportunities at their respective worksites.
How to investigate complaints, encourage reporting and identification of minor hazards and HSE behaviours and conversations.
How to support promotion of HSE campaigns to promote the health and safety of staff in the workplace.