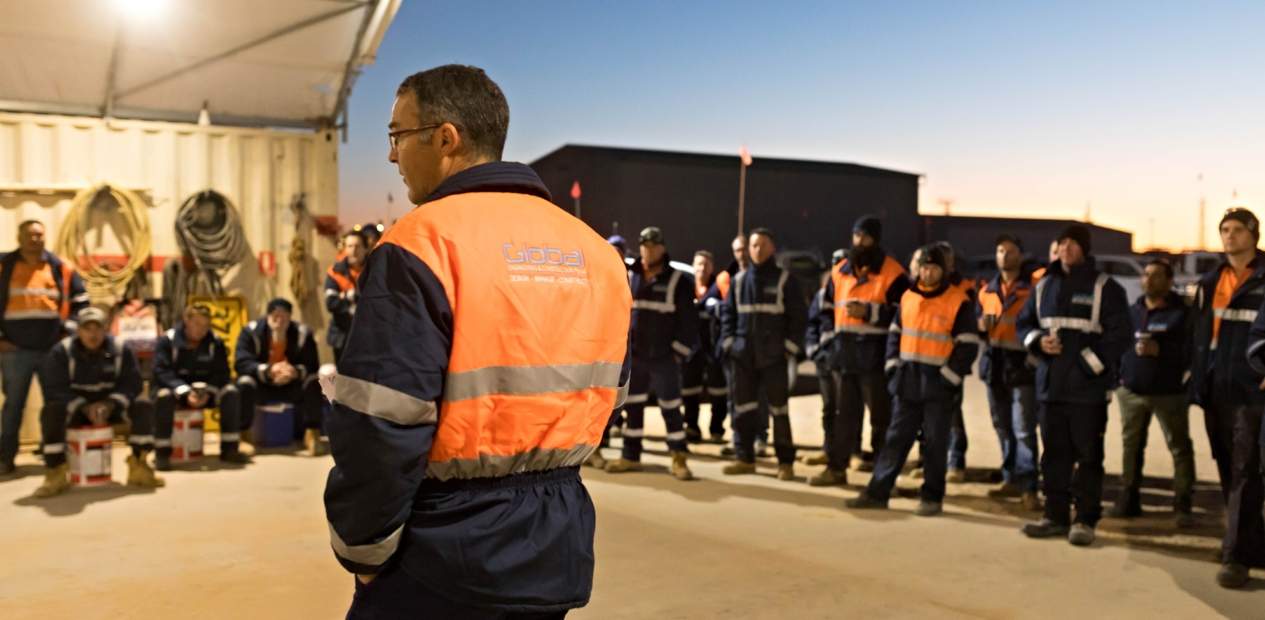 Challenge
Managing change is never easy for any organisation. As a service provider to the oil and gas industry, when a company's workload suddenly ramps up it can be a real test of their capability to maintain a high standard of service through the period of growth.
At the end of 2019, the team at Global Engineering & Construction (GEC) found themselves in this exact situation. Their work scope in the Copper Basin expanded and the workload quickly increased as many projects ran concurrently. A period of recruitment and onboarding was required to ensure that GEC could meet their commitments to service delivery for their clients.
GEC was established in 2012 with a staff of 5 people operating from a home-office located in Kingaroy, south-west Queensland. 8 years later, the company now has more than 200 employees at offices located in Brisbane, Kingaroy, and the Cooper Basin. Currently GEC is constructing 20 – 40 km/month of gathering pipelines in the Cooper Basin, as well as the associated infrastructure like facility builds and mechanical tie-ins.
The challenge for GEC's leadership team was to embed a robust culture and strong safety values uniformly and effectively throughout their workforce. Their goals were to improve safety performance, communication, client satisfaction and operational efficiency. Despite extensive changes and numerous initiatives being introduced throughout the first half of 2020, it became apparent that "the rubber hadn't hit the road" with regard to these changes having a noticeable impact at the frontline.
Safety performance began to deteriorate, and the tools used at the time by GEC – such as Take 5, Permits to Work, Safe Work Method Statements (SWMSs) and Job Hazard Analyses (JHAs) - weren't making a difference. If anything, they were just adding additional layers to an already onerous and complicated safe work process.        
GEC needed to act quickly and were looking for a fresh approach that would bring immediate results.
Solution
In June 2020, the GEC leadership team committed to adopting and embedding the Safer Together Assist and Assure program as a means of "bringing to life" at the frontline the business improvement initiatives that had been initiated earlier in the year.
Assist and Assure is a leadership skills program that focuses on engaging the workforce through 3 strategies:
Transition to Work (TTW)
Safe Work Process (Step 7)
Effective Supervision (before, during, after)
Importantly, Assist and Assure provides a safe system of working without the need for a complex and expensive safety management system. Trialled successfully across the Shell Wells Group globally, Shell subsequently gifted the Assist and Assure program to industry via Safer Together. Early adopters included Arrow Energy, Wild Desert and Broadspectrum (Easternwell).
Some of GEC's employees recognised the Assist and Assure program, having used it previously in other companies where they had worked in the past. In addition, because Assist and Assure is a program developed "by our industry, for our industry" it gained immediate early credibility with the frontline workforce.  Although initially perceived by some as being "just another safety program", the people at the frontline were prepared to give it a try and reacted positively to the fact that it didn't require any additional paperwork.
The process for introducing Assist and Assure was well thought through and involved three key elements to kick-start the program, all of which were essential for it to have any chance of being successful:
Stand Down for Safety – following a series of safety incidents, in June-July 2020 the GEC leadership team promptly acted on the warning signs and conducted Stand Down for Safety sessions on-site as a catalyst to introduce the Assist & Assure program to all of their frontline workforce.
Off-Site Supervisor Training – 3 one-day leadership forums were conducted in Brisbane to provide GEC's Line Managers, Superintendents and Supervisors with targeted Assist & Assure training, focusing on the effective supervision component of the program. Each of the 3 training sessions were led by GEC's leadership team, including the Managing Director, CEO, Operations Manager and HSE Manager. To date, 46 Line Managers, Superintendents and Supervisors have completed the training.
On-site Assist & Assure Coach – GEC engaged a field-based coach who has extensive experience in the Assist & Assure program's successful application from an operational perspective.  The coach works one-on-one on-site with frontline leaders and work crews, guiding and coaching them on how to successfully apply the program.       
Result
The Assist and Assure program has been rolled out across all of GEC's operations throughout the Cooper Basin. It took 3-4 months to roll out in order to reach everyone due to the nature of Fly In – Fly Out (FIFO) work rosters.  GEC is now 7 months into the program and continues to see associated business improvements.
The program was easy to implement because the Assist and Assure material available through the Safer Together website was everything that the company needed to successfully introduce and apply the program.
Assist and Assure has been well received by GEC's leadership team, Line Managers, Superintendents, Supervisors, and workforce because they can see for themselves the benefits:
Safer Together - it has led to a step-change improvement in GEC's safety performance. Since adopting Assist and Assure the company has significantly reduced its all-incident frequency rate, had less incidents relating to human factors, situational awareness and supervision, and across the entire business GEC has been able to achieve and sustain to date "Goal Zero" safety performance. 
More Efficient Together - it's simple and doesn't slow things down or add unnecessary paperwork. Greater clarity in job planning and better communication between work teams has resulted in less errors, less downtime, less rework, less non-conformances to process and procedures, and increased efficiencies.
Continually Improving Together – work crews have commented that they are learning more from each other through the collective discussions and sharing of experiences that take place during the TTW and Step 7 conversations (in the past, a lot of knowledge was assumed and potentially not shared).
Furthermore, Line Managers and Supervisors have commented that they are seeing consistency in the application of safe work systems, with individuals empowered to take personal ownership of the work tasks and everybody doing the basics, and that they now have increased confidence that their people are working safely and receiving constant and timely feedback on the job.
"I feel like it creates the conversation between the group without someone being the "boss". My experience with the Step 7 process is that it is an open conversation without the risk of judgment (pre start - supervisors - HSE), so blokes talk! It works!" (Leading Hand)
"This program has helped greatly, if I am working with the same people all the time everyone knows their task. My swing before Christmas break, I had to look after the flowline crew, which I have not worked with for a long time. We would have Transition To Work (TTW) in the morning on site before work started.  Everyone knew their task and what we needed to do to achieve our goal for that day's work and to finish the job on time. After every break I would get the boys together and run through the Step 7 process again to keep them in the loop and ask if anyone in the crew had any better ideas for how to do the task better or wanted to bring up any safety issues. We completed the job on time, safely, and with no issues. This is why I think the Assist and Assure program is a good thing on our job sites." (Frontline Supervisor)
Lessons Learnt
Commitment From The Top – Assist and Assure is not a program driven by the safety function, and it is not a bolt-on. The more the operation line (frontline supervisors and frontline leaders) own the process, the more successful it will be.
Be Patient – don't force the workers to accept the process. Let them see for themselves the value in the Assist and Assure program.
Don't Change The Process – Assist and Assure is proven and tested and is effective. Don't be tempted to "fix" something that is not broken.
Download the Case Study Poster here.
For more information about Global Engineering & Construction click here.
For more information about Assist and Assure click here.