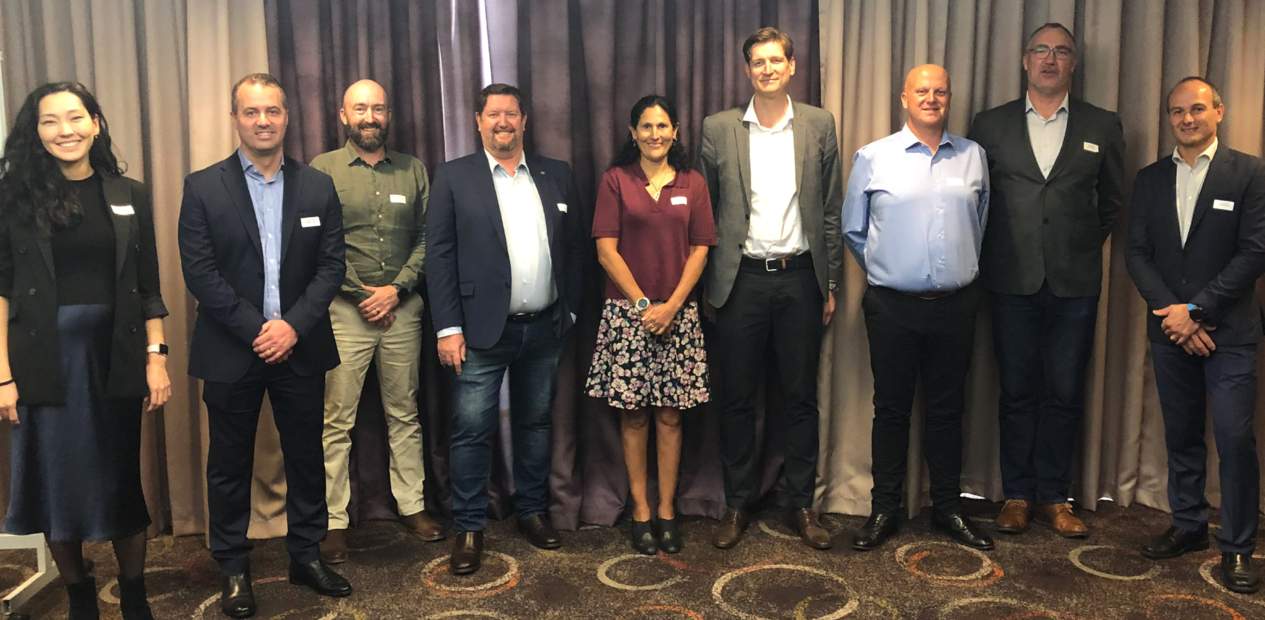 Globally, the maritime industry currently generates 3% of all greenhouse gas emissions.  As this sector adopts alternative energies, this has implications for safety systems, safety technologies, safety behaviours and safety performance.  In April, our Marine Working Group held a Marine Forum and Incident Review Panel (IRP) in Perth to address these issues, with the focus of the Event 'Alternative Energy Powered Vessels: Technical, Safety & Behavioural Implications'.
Alistair Martin (Head of Marine Standards, Svitzer and MIRP Host) gave a warm and inclusive acknowledgement of country, welcoming all delegates and presenters, and thanking event sponsors Woodside and Svitzer.
Stuart Edgar (Executive General Manager Vessel Services, MMA Offshore Limited, and Marine Working Group Champion) presented delegates with a brief history of our Marine Working Group (MWG), and briefly ran through MWG projects for 2023.
Following Stuart was Aaron Barbetti (Marine Manager, SIEM Offshore Australia) delivering a sobering and thoroughly investigated safety moment.  He also shared the value of contributing to, and using Safer Together Learning Event Bulletins, and recommended them to all delegates.
 We would like to say a special thank you to our next presenter, Kasper Karlsen (Chief Operating Officer, Svitzer (flying in from Copenhagen) for the enormous commitment shown to present at the Event; delegates were treated to a truly global perspective on marine industry decarbonisation efforts.  Kasper discussed the safety aspects of decarbonisation, and the foreseeable future for a transition to carbon-neutral operations for Svitzer looking to 2040.
"We need to focus on behaviours, equipment and fuel type together to make the transition safely and economically - we can't just build our way out of this. Whilst methanol appears to be the preferred future fuel, we need to work in partnership with port operators and clients to get this right".
Gareth Wright (Global Scope 3 Emissions Lead, Woodside) and Anel Garapova (Development Lead, New Energy Solutions, Woodside) co-presented a fascinating deep dive into Woodside's Global Scope 3 Emissions project – with a focus on the contribution of marine activities to the business's emissions, and a recognition that the maritime industry is rapidly heading towards a multi-fuel future.  Woodside plans to operate and design out CO2 emissions in their processes as part of their climate strategy, with their contract & procurement processes now including CO2 reduction and recording requirements.
Delegates were fortunate to have Dr Michelle Grech (Manager Vessel Operations, Australian Maritime Safety Authority (AMSA), travelling from Canberra to join us in the room to share her presentation on the AMSA view of 'Human Factors Challenged: Considerations for Alternate Fuelled Ships'. With a brief look on the current shift from conventional to alternate fuels in shipping – the failure modes in alternative fuelled vessels are similar existing ones. Human Factors in design will be a great opportunity in new or converted vessels to make them even safer.
Mark Aravidis (Marine Compliance Lead – SCA Development, Woodside Energy) then presented from 'Reducing Maritime Emissions'; a key take-away being that contract and procurement will drive improvements in emissions via future contracts with vessel operators. He encouraged operators to understand the hierarchy of key marine emissions regulations including a review of your Ship Environmental Emissions Plan (SEEMP). This tool, when first developed wasn't a real driver of change but more an administrative requirement, but now, a well understood and implemented SEEMP can be an immediate driver for change with all vessels.
A panel discussion then followed, facilitated by Alastair Martin, with a fantastic brains-trust of panelists discussing and answering delegate questions, Dr Michelle Grech, Kasper Karlsen, Anel Garapova, Gareth Wright, Mark Aravidis all demonstrating their diverse maritime industry knowledge, and generously sharing in response to audience questions.
Mark Pointon (Marine Superintendent, Santos & Project Lead, MWG) presented a very passionate presentation on the Safer Together Safe Decks e-Learn Project. Told the story of a piece of cargo going through the supply chain, onto a vessel. Then explained the need for the Safe decks e-Learn module, the objectives of the e-Learn and the timeline for delivery.
Mark then closed what had been a trailblazing, hopeful, and optimistic event.
Thanks to event sponsors Svitzer and Woodside for their generosity in ensuring the success of this event.
A full recording of this event will shortly be available on the Safer Together website.
For more information, or if you wish to join the Marine Working Group, email: marine@safertogether.com.au.