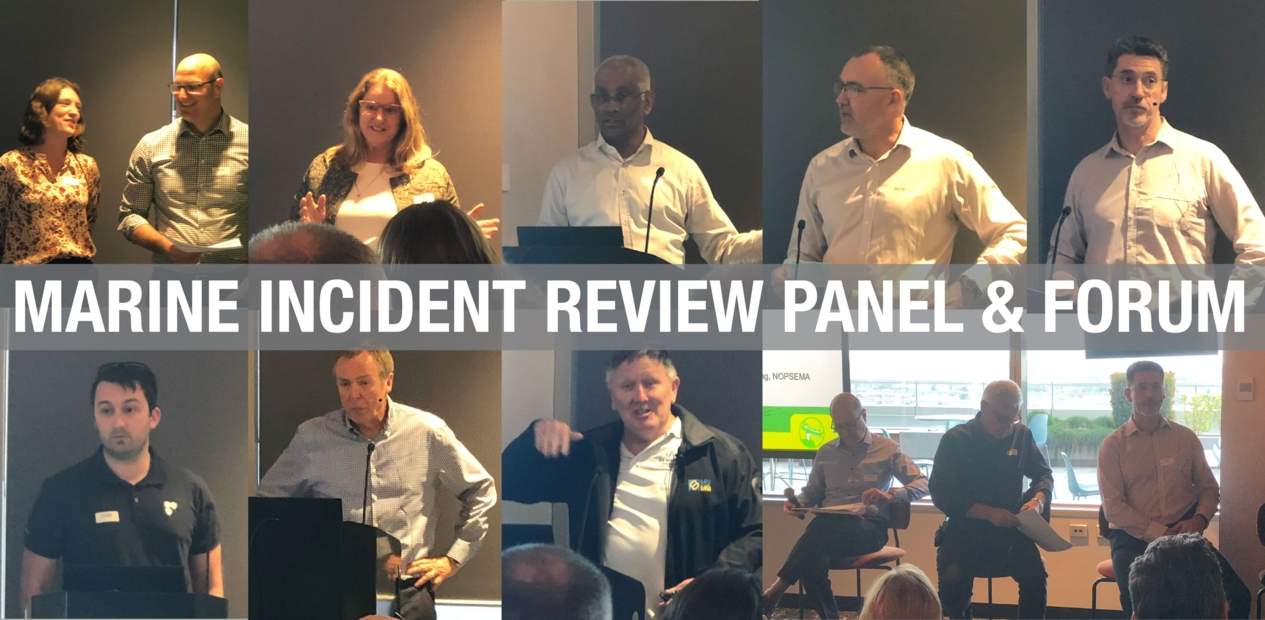 A full and varied Agenda for the Marine Working Group Incident Review Panel and Forum in late September, with diversity, Lifeboats and Fast Rescue Craft Guideline pre-launch, managing safety in new energy vessels, Safe Decks and Deck Water Management Specifications and diving safety all up for discussion.
The timing of Australia's National Day of Mourning required quick thinking from the Marine Working Group; pivoting in true 2022 style to deliver September's Marine Incident Review Panel (IRP) and Forum a day early (possibly an industry first!).
First up - we would like to thank ALL our presenters and attendees for their flexibility in ensuring we could deliver this important event.
Based on feedback from past events the agenda included presentations on diversity in the Marine industry, and new energy vessels.
Zoe Brooking (Marine Group Manager, Beach Energy) and Joel Mullins (Operations Director, Solstad) opened the event, with Stuart Edgar (Executive General Manager Vessel Services, MMA Offshore) delivering the acknowledgement of country, and as Safety Leaders Group Co Champion for the Marine Working Group, Stuart highlighted how important these events are for industry.
'Navigating the Passage to Diversity' was next up, with Michaela Moss (Training Manager, Svitzer) presenting an outstanding piece on how far the industry has come in this space whilst acknowledging there is still much to do – thanks also to Svitzer for their great video supporting Michaela's presentation.
Following was 'Lifeboat and Fast Rescue Craft Guideline Pre-Launch', with Michael Desa (MSRE Process Authority, Chevron) including an emotionally stirring video of Sam Carriage who was injured in a near fatal Fast Rescue Craft accident 22 years ago. Sam generously shared his story with attendees and encouraging all operators to adopt the new guideline as soon as possible.
A fascinating presentation followed, 'Safely Managing New Energy Vessels' from Tor Inge Dale (Chief Sustainability Officer, Solstad Offshore) - an absolute game changing, paradigm shifting pre-recorded presentation on the existing and planned transition to a net zero emissions fleet. No doubt Tor Inge will be invited back at future forums to further explore these essential changes the industry is making.
Safe Deck Operations and Offshore Vessel Deck Water Management Specifications were next up, with Dylan Moore (HSEQ Manager, Go Offshore) reminding all members of the existence of these specifications, and why implementing these Specifications effects a reducing risk on the decks of offshore vessels.
After a short break, a session devoted entirely on how to improve Diving Safety. The panel, consisting of:
Peter Evans (Managing Director, Shelf Subsea) 
Fred Robotham (Senior Health, Safety and Security Advisor, Santos)
Ben Barnes (OHS Regulatory Specialist, NOPSEMA)
Percy Dhanbhoora (A/G Manager Assessment and Inspection Platforms, Pipelines and Diving, NOPSEMA)
Derrick O'Keeffe (Head of Division – Safety and Integrity, NOPSEMA)   
The gentlemen very openly shared their concerns in relation to these key areas:
Correct Selection of Dive tables
Emergency response
Operating procedures
Regulatory reporting
Inadequate and incorrect record keeping, and
Inconsistent application of control measures in:
The Panel then held an open discussion with all delegates on how we can work together to improve the guidance, systems, training, competency verification and key support for Diving Supervisors offshore. We anticipate this Panel's presentation to represent the start of a lengthy conversation, with all parties committed to working together going forward.
The feedback for the event could not have been more thoughtful and positive:
"Great to see such a constructive and engaging discussion with the diving safety panel along with recognition that diving issues need an industry group and we would love to see them form a working group at Safer Together. 
A broad range of topics including sustainability, diversity, and safety. Tor Inge's talk on decarbonising vessels is a subject that I am sure will affect most of us in the very near future and as such will be a topic we will certainly hear more on in upcoming forums. It is a testament to the hard work of the marine working group when you see the positive reactions to the initiative for the FRC and Lifeboat guidance, and what a fantastic job Michael has done leading this." Zoe Brooking (Marine Group Manager, Beach Energy)
"It was a really good turnout for September's IRP forum, reflective of an engaging Marine Working Group willing to share experiences and participate openly.
 The forum covered a range of topics, integrating decarbonization technology on OSVs, Workplace Diversity and Dive Safety with the regulator NOPSEMA.
The Marine Working Group project teams are doing some great work in various areas that continue to challenge industry, Guidance to Offshore Facilities on Survival Craft Operations, and Safe Decks are great examples.
A real highlight for me was the strength of the Dive Safety Panel. 
Representation from the Regulator to Facility Operator to the Dive Supervisor produced really good discussion and valuable perspective on potential improvement areas for the safety of future dive projects in Australia." Joel Mullins (Operations Director, Solstad)
Thank you to our event sponsors, Solstad Offshore ASA and Beach Energy Ltd for their contribution to the success of this wonderful event.
A full recording of the event is available to members here.
For further information about our Marine Working Group, or to receive an invitation to future events, email marine@safertogether.com.au.