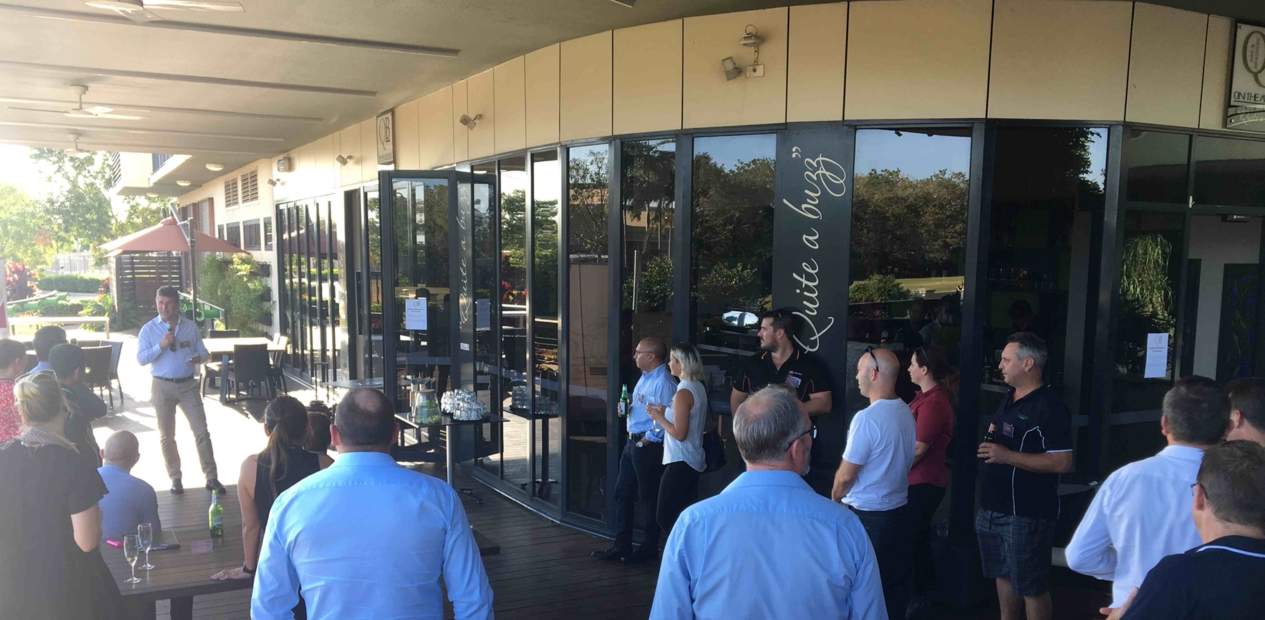 As part of its ongoing commitment to engage with local businesses in the Northern Territory, the Safety Leaders Group (SLG) of Safer Together WA/NT went to Darwin in July.
On 11 July, members of the SLG joined representatives of the local business community at a networking event hosted by the NT Manufacturers Council of the Chamber of Commerce Northern Territory.  Jeff Weber (Managing Director, MMA Offshore) delivered a speech to introduce Safer Together and Asher Ryall (General Manager, Rusca Environmental Solutions) followed by outlining why RES decided to join Safer Together and explaining the benefits of membership for Territorian-based companies.
"I witnessed firsthand the transformation of the Coal Seam Gas industry in Queensland through the work that Safer Together undertook - layers of conflicting procedures were eliminated, a standardised approach to safe work, establishment of focused working groups and all members with an equal voice, whether you were turning over $250,000 per annum or building a multi-billion-dollar gas plant" Asher Ryall told the assembled audience. "I would strongly recommend becoming part of Safer Together as an invaluable membership-based approach to strengthening your business and the systems that improve the safety of your workforce".
On 12 July, the Safety Leaders Sroup held its monthly meeting at the INPEX office in Darwin and committed to holding future meetings regularly in the Northern Territory. In addition, the SLG agreed to arrange an Industry Safety Forum in Darwin in 2019.
On the evening of 12 July, SLG members Philip Cave (Executive Vice President Australia and Asia Operations, Clough) and Vince D'Rozario (Regional Director Asia Pacific, CHC Helicopters) were the keynote speakers at the Australian Pipelines and Gas Association (APGA) 50th anniversary dinner at the Darwin Hilton Hotel. Philip and Vince delivered a presentation introducing Safer Together and shared their views on the future of safety collaboration in our industry.
Safer Together WA/NT will continue to seek active involvement of companies in the Northern Territory. Safer Together WA/NT will officially 'launch' in Darwin at the SEAAOC Conference in September. On 6 September, SLG members David Boyle (Vice President Operations, Drilling and Supply Chain, ConocoPhillips) and Conor Walker (Director Operations, INPEX) will deliver a joint address "Safer Together: building strong and consistent safety culture".
Click here for more information about Chamber of Commerce NT.
Click here for more information about APGA.
For more information about Safer Together WA/NT, click here.
*Image: Jeff Weber introduces Safer Together to the local business community at the Chamber of Commerce Northern Territory networking event in Darwin.