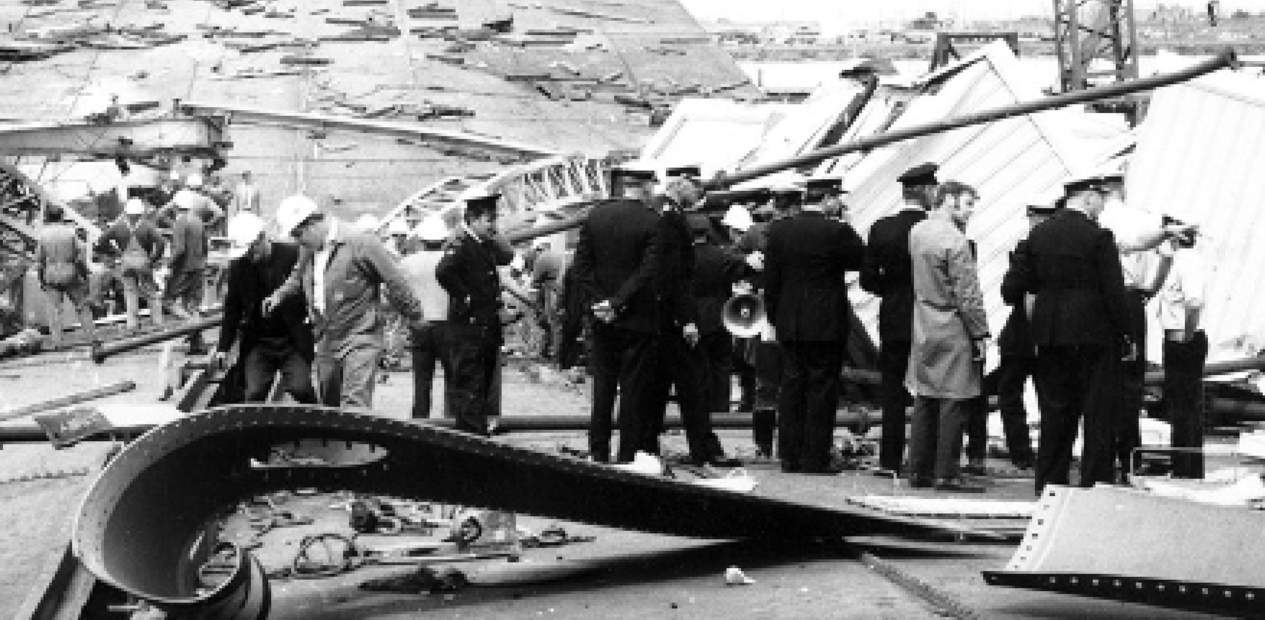 Safer Together has developed a toolbox talk package to commemorate the 50th anniversary of the West Gate Bridge collapse.  The findings of the Royal Commission into this tragedy were the start of legislated Health and Safety Reps in Australia.
"Just before lunch on the 15th of October 1970, the West Gate Bridge suddenly groaned.  An eerie pinging noise filled the air.  A storm of rust flakes peeled off weathered steel.  The girders started to turn blue.  The bridge fell away beneath their feet".  (Source: West Gate Bridge Memorial Committee)
35 workers were killed.  Another 18 were injured. 
Safer Together has developed a toolbox talk to commemorate this tragic incident. We encourage member companies to pause and reflect on what happened 50 years ago and consider the lessons for our industry. 
The toolbox talk covers:
what happened on that day;
the consequences of the incident;
the contributing factors that led to the incident;
thought-provoking questions about whether the issues arising from this tragedy are still relevant today;
a reminder that the Royal Commission inquiry following this disaster gave rise to legislated Health and Safety Reps in Australia; and
some tools available for HSE Representatives through Safer Together.
In the 50 years since the West Gate Bridge collapse, legislated Health and Safety Representatives have become well established in many Australian workplaces.  Safer Together extends the role of the Health and Safety Representative to include caring for the Environment. Even though this is not specifically called out in the regulatory frameworks, it is preferred that the workforce is equally engaged on Environment matters.  Therefore Safer Together uses the term "Health, Safety and Environment Representatives (HSERs)".
Frontline HSERs can be important change agents.  If armed with the right tools and enabled by the right culture, HSERs can be enhanced as leaders and can serve as the eyes and ears of the industry at the frontline.  They can enable the exchange of ideas and concerns about HSE matters and be empowered to drive on-the-ground innovative solutions.
Safer Together is working to develop an industry-wide formalised on-boarding and support program to establish a best practice benchmark for HSER roles and responsibilities, build capability, and establish clear channels of communication connecting HSERs to promote proactive sharing of learnings, lessons and best practices across the industry.
This program will support and leverage the entire industry network of passionate and engaged frontline personnel who are trusted and respected by their workgroups.  It will create an engaged, integrated, capable and empowered HSER network as a force multiplier for improved HSE performance.
As part of this work, Safer Together has developed a HSE Representative Resource File which includes an overview of all resources and tools available to HSERs to effectively perform their role.
We are now working to supplement this work by providing HSER communications (newsletter / bulletins / notifications) and HSER Annual Forum Events.
Find out more at: www.safertogether./com.au/HSER-Portal.
Contact: [email protected]