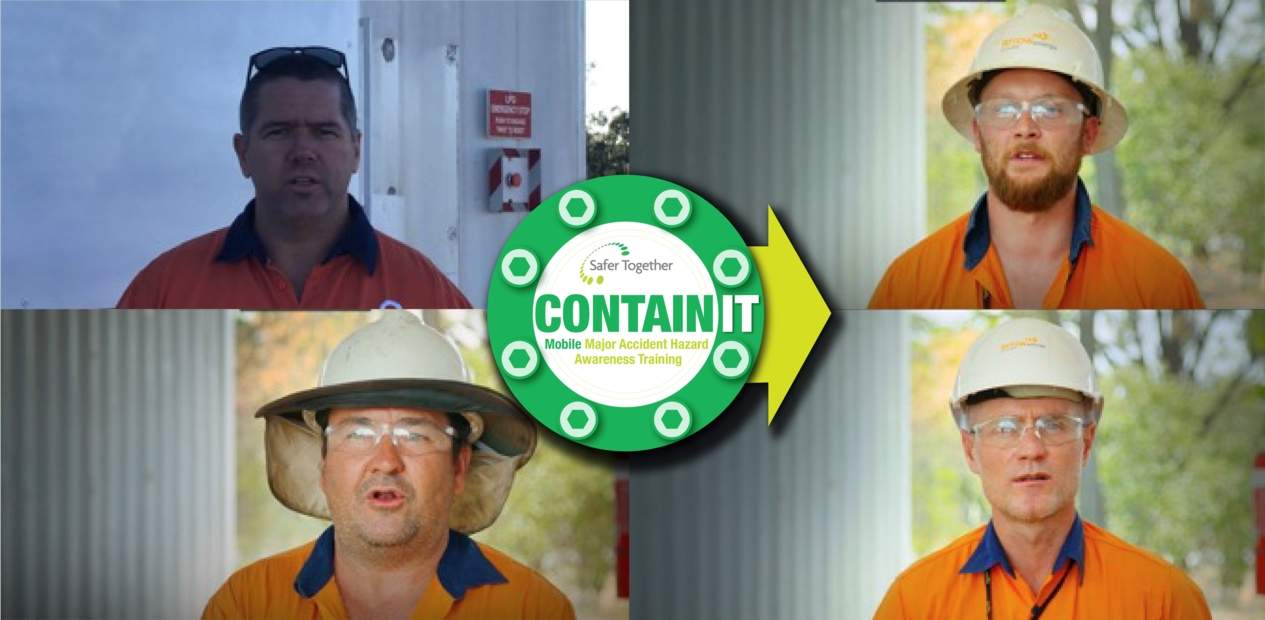 Situational awareness and a hands-on feel of process safety hazards are essential for anyone in the CSG-LNG industry that is involved in the design, operation or maintenance of plant and facilities. Hear what some of the people that work in these roles say about Contain It (Mobile Major Accident Hazard Awareness Training Course) and join the 350+ people that have already been through the course so far this year.
Since Contain It was first introduced we've had some great feedback from a wide range of course participants, particularly those from our industry's frontline workforce. Most wished they had been able to do the session sooner. Many felt that the Contain It course should be a component of a broader industry induction, as an effective way of really making people aware of what can happen at the workplace when a loss of containment incident occurs. Watch the video below to hear what they have to say.
"The visual effects we had throughout the training were very informative. It actually highlighted the dangers associated with the jobs that we do" (Field Technician)
"The 3 inch gas line (demonstration) was most important to me – I deal with that every day" (Wellfield Operator)
"It's a great experience for a person who's been in our industry for 10 or more years, and for the new guys it really helps them to understand what we deal with and brings it home to them" (Control of Work Authority)
Interested? Take a look at this Case Study from Arrow Energy.
The next two courses are scheduled to take place in Brisbane on 15 July and 05 August. Participants from Origin Energy, Arrow Energy and Coho Resources have already booked their places and are looking forward to meeting likeminded people from the industry to share their experiences. There are still some vacant spots on these courses available, so play your part in strengthening how we manage process safety risks in our industry by booking your spot now!
 The Contain It public course schedule for the remainder of 2021 is below (all dates subject to sufficient attendees).
Brisbane 
15 July
05 August
02 September
07 October
04 November
02 December 
Roma 
Toowoomba
Gladstone 
We are seeking to run a course later in the year, close to the LNG facilities.
Course details:
3 courses per day: 08:30 – 10:30; 11:00 – 13:00; 14:00 - 16:00
20 people per course
$300 + GST per head
To book your spot on the course click here.
Safer Together would like to thank everyone who has made their commitment to use Contain It in 2021.  We have had several requests for company dedicated events which we are now working through to finalise the details.  Contain It has been out to Condabri for Origin Energy and to Moomba for Santos.  We have Enerflex, Arrow Energy, ConocoPhillips and Central Petroleum all in the planning phase for their own company dedicated courses too.
Ask us about 'block booking' an entire course so that it can be dedicated to your staff.  Contain It is also available for deployment to your location.  We can do this as a 'private' deployment (i.e. all of the course places are reserved for your staff), or we can work with you to generate enough 'public subscription' bookings to help cover the cost of bringing it to you.  Interested? Click here to make a booking enquiry or contact containit@safertogether.com.au to find out more.
About Contain It!
Contain It is a 2 hour Mobile Major Accident Hazard awareness training program, comprising a selection of outdoor demonstrations.  Each demonstration has been structured to clearly portray a particular process safety concept, enable an interactive discussion about the relevant controls, and highlight relevant industry incidents where a major accident event has resulted.
The training is run by qualified and experienced firefighters who have also worked in the CSG industry. They know what it is like to respond to Process Safety Incidents and give informative demonstrations on how gas burns in different environments. Course participants feel the heat of a flash fire, hear the sound of a pressure release, and witness a boiling liquid expanding vapour explosion (BLEVE), amongst a variety of other experiences. A Co-Facilitator also supports the presenters in providing context relative to the participants places of work, and the types of  incidents they could realistically be faced with.  
The training course is run for all people involved with process safety, from the Engineer who designs the systems, to the front line people who interact with the equipment in the field on a daily basis and ultimately, the supervisors and managers who have teams of people carrying out work related to process safety.
Contain It
promotes process safety hazard awareness
encourages process safety-related conversations
provides a 'working memory' of the effects that may be experienced with a loss of containment, and its escalation to a fire or explosion.
makes major accident hazards 'real'
For more information contact containit@safertogether.com.au
Read Arrow Energy Case Study here. Download the Case Study Poster here.
For more information about Arrow Energy click here. 
For more information about ContainIt! training click here.