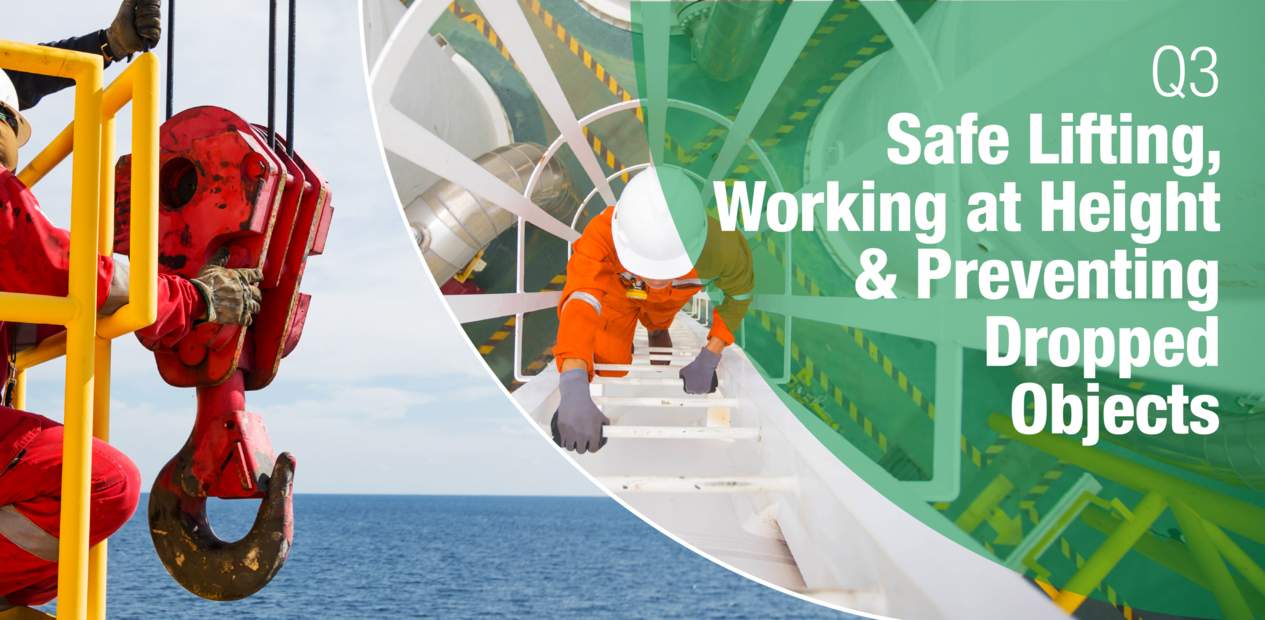 Thorough planning and specific hazard identification for lifting operations, working at height, and preventing potential dropped objects allow hazards to be safely managed. 
Safer Together plays a key role in promoting safe work practice within the oil & gas industry, providing a means for workers to raise safety issues within the workplace.  With our Collaboration Partners, Step Change in Safety (UK) and Always Safe (Norway) in Q3, we focus on Safe Lifting, Working at Height & Preventing Dropped Objects.
On the Q3 page, we've collated a suite of resources to enable Members to respond to the needs of their worksite, resources intended to:
Improve hazard awareness of routine lifting tasks and their potential to cause a major accident,
Identify and manage hazards related to working at height, &
Increase awareness of potential dropped objects and their effects.
In addition to other resources available, here you'll find Learning Event Bulletins (LEB) and other Products and Programs related to the Q3 topic.
In this Q3 LEB example: Anchor Handling - Person Fall From Height, the incident occurred while disconnecting the anchor on the starboard side of a vessel. The riser chain was being prepared to be laid into the chain locker for stowage.
While the deck team was rearranging deck for operation, to save time for part of deck crew (including IP) took opportunity to separately split some anchor jewellery while waiting.
The IP went to grab an endless wire sling near the open starboard forward chain locker, but the wire sling got stuck so the worker pulled it harder and stepped backwards.  The worker stumbled into the open chain locker but managed to maintain their grip on the wire sling, preventing them from falling to the bottom of the locker. After a couple of minutes holding onto the wire sling the worker lost their grip and fell approximately 2m to the bottom of the chain locker.
Follow the link for comprehensive findings from this incident.
Sign up to receive Learning Event Bulletins.
We are Stronger and Safer Together.