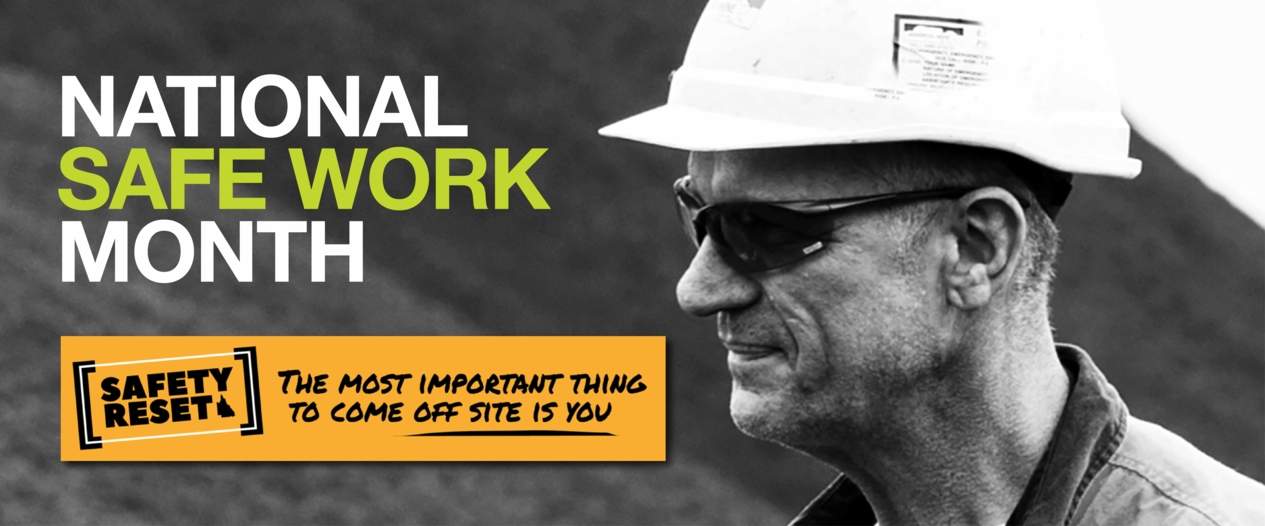 October is National Safe Work Month, an initiative run by Safe Work Australia as a time for workers and employers across Australia to commit to building safe and healthy workplaces for everyone.
In support of National Safe Work Month Safer Together is distributing a package of materials for member companies to have the option to use at their sites to take some time out to have a conversation with their people about safety. The theme of the pack is "Safety Reset – the most important thing to come off site is you".  
Who developed the pack and why?
The materials were recently produced by the Queensland Department of Natural Resources, Mines and Energy (DNRME) for a state-wide Safety Reset throughout the Queensland mining and quarrying industry in August 2019 following the tragic deaths of six workers in separate incidents over the previous 12 months.
How is this pack relevant to our industry?
Although developed for the mining and quarrying industry, the Safety Reset highlights important safety messages that are just as relevant for other industries – including oil and gas. The materials focus attention on why safety is important, the personal stories behind recent fatalities, and the importance of reassessing site specific fatal hazards and critical controls.
Collaboration is what Safer Together is all about. Promoting learning by sharing information is part of effective collaboration, and this includes recognising that we can learn from the experiences of other industries.  
What's in the pack?
The materials in the Safety Reset pack are:
An introductory video (1m 47s)
An information kit (including facilitator notes and a run sheet for the toolbox presentation, together with supporting fact sheets).
What do we want you to do with the pack?
If, when, and how you use these materials is entirely up to your company to decide. There is no mandatory requirement for you to use them.
However the lead-up to the end of the year can be a period where there is an increased risk of workplace incidents due to a range of factors, so making these materials available now provides a timely opportunity for you to refocus on safety in your workplace.
Next Steps
Watch the video and have a look at the other materials in the Safety Reset pack. 
If you decide to proceed, set a date and time for the Safety Reset for each site (duration will be dependent on site and employee numbers but should allow enough time to cover all items in the toolbox presentation).  
Roll out the Safety Reset toolbox (involve all people at the site).
Please let us know your feedback by completing a short survey here.
The Safety Reset is an opportunity to reflect and refocus attention on safety. This is an important first step.
The next step we encourage you to consider is carrying out a safety "pulse check". The Safer Together Safety Culture Survey is a workforce engagement tool to provide managers and supervisors with information about the overall safety attitude/feeling of a team, department and organisation. It can also be used to provide real time feedback to work teams and obtain their insights and suggestions on how to improve safety.