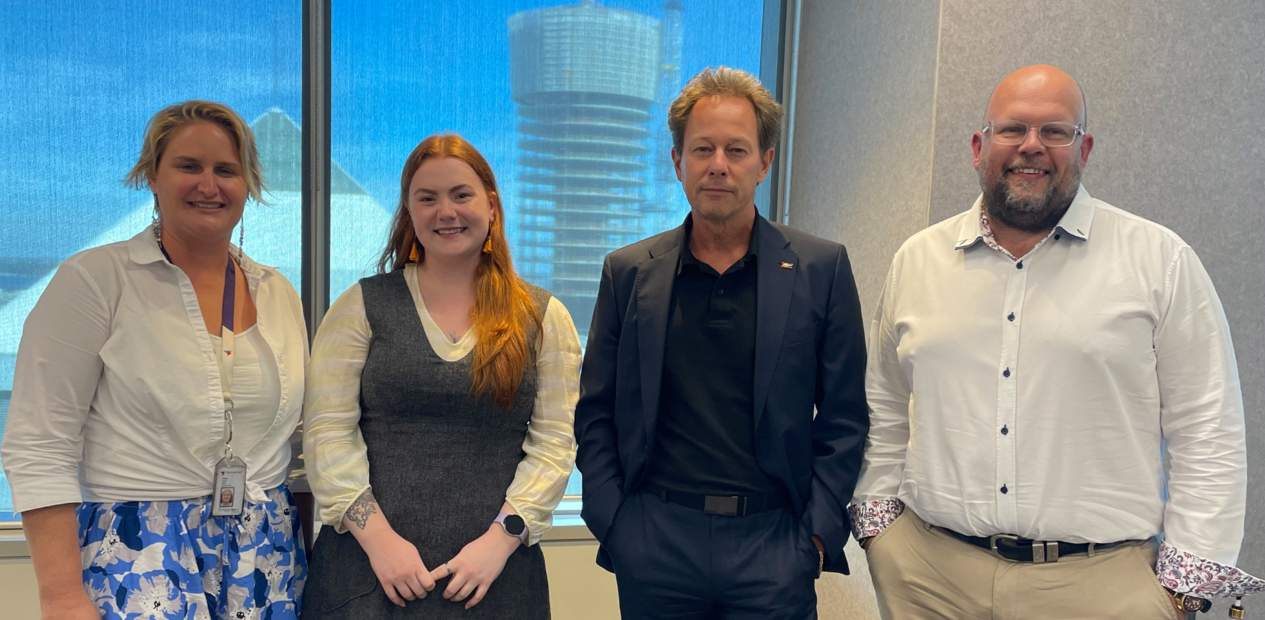 We've listened to our HSE Advisers, & we know you want to be more engaged - so we gathered in Perth to facilitate this.  Here's some top tips:  
Register on the website and for our Bulletins.  
Use the resources on the website (use the search function!).
Subscribe to the Safer Together News Bulletin AND read it! It is the best place to keep your finger on the pulse of Safer Together,
Follow Safer Together on socials.  
Tell your HSE peers to do the same!
With a fantastic turn-out of 38 delegates attending the Lunch and Learn (in-person and online), the event was book-ended by Adrian Black (Asia Pacific HSE Director, Altrad Services) who began with a walk-through of the event before he quickly handed over to Sander Stegenga (Vice President – Joint Ventures, Shell Australia.  SLG Member, and Health Working Group Co-Champion, Safer Together) who gave delegates a background of Safer Together; the who's, the how's and the why's of the unique nature of what Safer Together is, and what we offer our industry.
Then, Steve Williams (Forum Coordinator, Safer Together) via a quick poll demonstrated how important it is that delegates have signed up to the Safer Together website, Bulletins and various other communications channels – in short, if you want to know what Safer Together can do for you personally, you need the news!
Alyse Ella (HSEQ Advisor, Sparrows Group) then presented a Case Study: 'How Safer Together helps me as an HSE Adviser'.  Delegates were treated to Alyse's unique perspective of a now experienced, but once fresh-out-of-university HSE Adviser.  She generously shared her experiences of starting out new, and trying to find the resources she needed do her job – demonstrating why Safer Together is her 'go-to' place to find the essentials as an HSE Adviser, saying "I encourage all HSE Advisers to explore the content and resources that Safer Together offer. What a difference it has made to my HSE journey. "
Alyse also demonstrated another reason for using Safer Together as a resource in her role as an HSE Adviser, when she talked though her (& Sparrows Group) utilisation of our annual National Safe Work Month tools, by downloading and using the comprehensive resourse pack from Safer Together's 'Stand Together for Safety' campaign.  By using the resource pack developed by Safer Together that is good-to-go  Alyse was able to develop a schedule for implementation within her company.
Next up, offering a deeply experienced perspective on the HSE Adviser experience was Gillian Clarke (HSE Manager, TechnipFMC) with her presentation; 'What Can Safer Together Do to Help?'.  Gillian began by stating what exactly Safer Together provides HSE Advisers in our industry: "[Safer Together] provides information and guidance, [as] the information needs to be trustworthy and fit for our industry".  She then asked the room what they want or need from Safer Together as an HSE Adviser, and the room responded with the request for further standardisation, training and more in-person events to engage with Safer Together as a group (HSE Advisers).
This was followed by a short Question and Answer session from all our presenters, taking great questions from the room and online; HSE Advisers want to see more peer-to-peer networking, easier to access information and material designed specifically for the frontline.
HSE Advisers:  You have asked - and we've listened, we know you want to be more engaged, so watch this space!
Thank you to our event sponsor, Altrad, for their contribution to the success of this event.
Member Companies can watch the full recorded event.
If you would like to be added to our HSE Adviser-specific email list, (including information on upcoming events), register on info@safertogether.com.au.