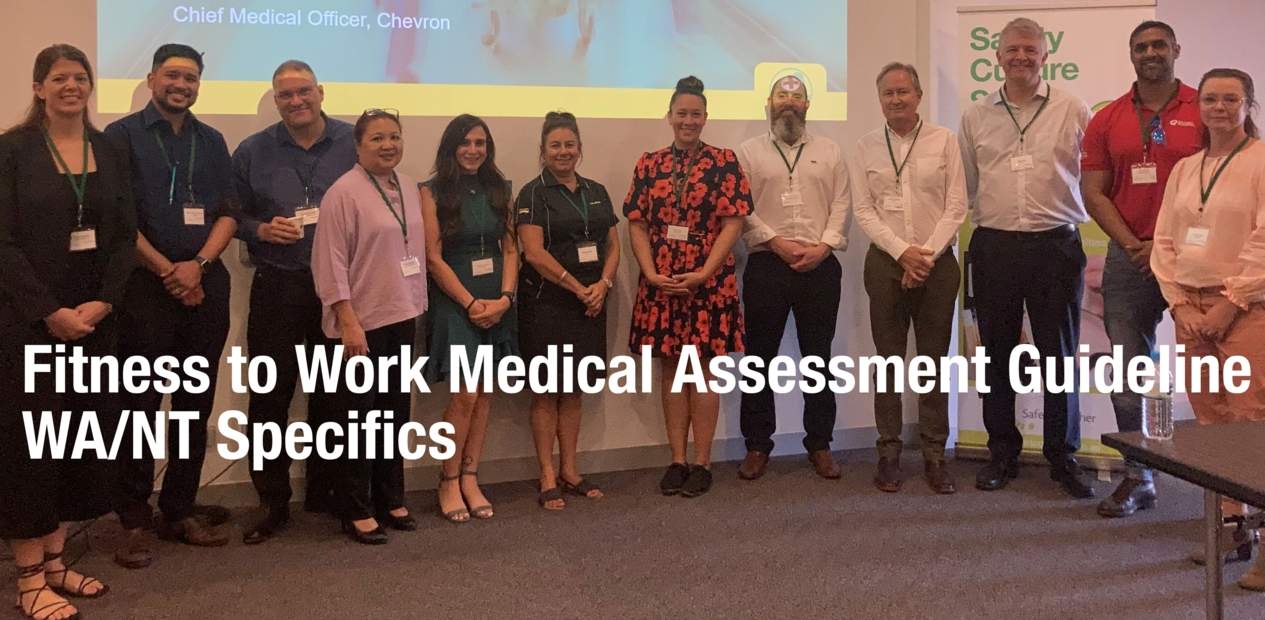 The WA/NT Health Working group were delighted to host a 'Fitness to Work' Medical Assessment Guideline (MAG) Implementation workshop in Darwin this month, offering in-person attendees the opportunity to learn about the Guideline and how to implement it in their workplace. 
It was great to see 14 attendees from 11 companies in attendance for our first-ever Fitness to Work MAG Workshop in Darwin, with interest in the Guideline, and of the standardisation of the medical assessment process running high from operator companies, contractor companies and health practitioners in the Northern Territory.
Max Hills (Chief Medical Officer, Chevron) walked attendees through the development path of the Medical Assessment Guideline to date, along with the Guidelines' implementation plan and criteria specific to companies in WA/NT.
Max was ably supported by Dr David Crocker (Chief Medical Officer, Santos) who talked specifically of the Santos journey to date.
Attendees were given the opportunity to ask questions as they were stepped through the documentation and medical examination forms required by the Guideline and had a run-through the existing FAQs with a demonstration on how to access all the available resources from the Safer Together website closing the Event.
At the workshop, Safer Together and the Health Working Group were proud to announce that Santos has joined the 5 other major Operators in WA/NT in approving the Safer Together Fitness to Work MAG as their standard Fitness to Work medical required for the contractor workforce on remote or very remote sites.
This, together with the launch of the Medical Assessment Guideline in Queensland (May 2021) has further endorsed and consolidated the Safer Together Fitness to Work Medical as the standard for our Industry.
Safer Together would like to thank Max Hills and Dr David Crocker for facilitating the workshop and the stakeholders from health care, contractor companies and Operators for their active participation at the workshop.
For more information on the Fitness to Work Medical Assessment Guideline: health@safertogether.com.au.