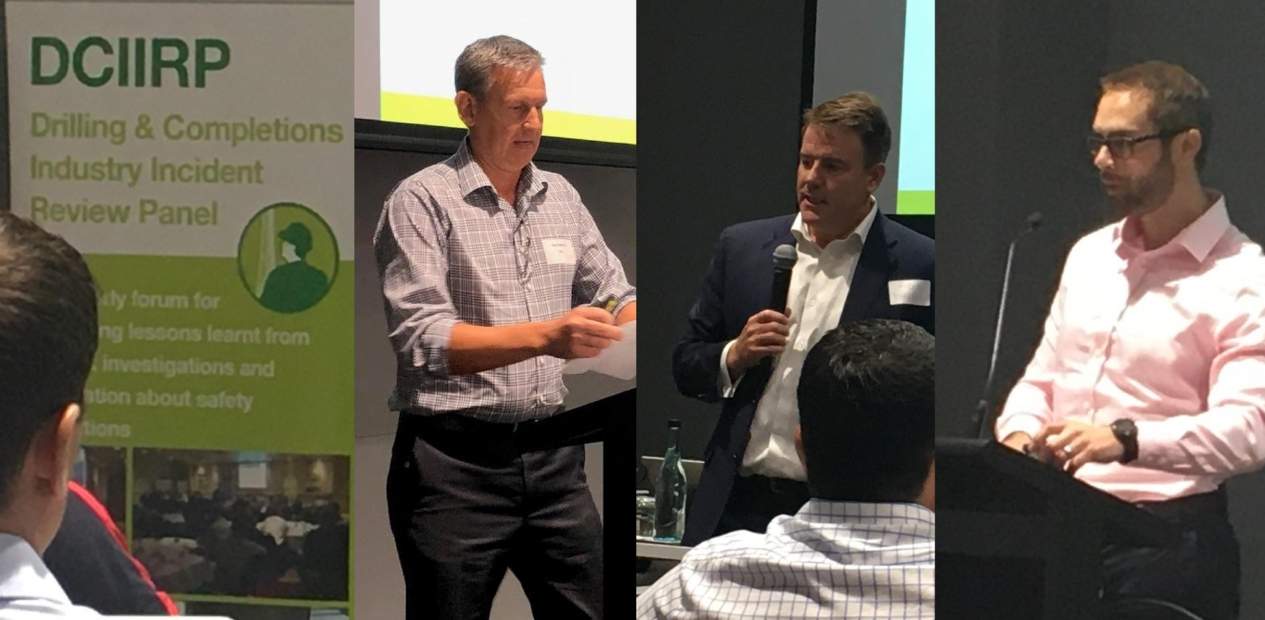 The Safer Together Rig Site Safety Working Group recently held its 19th Drilling and Completions Industry Incident Review Panel (DCIIRP) hosted by Santos and Ensign.  More than 80 people attended the event to hear about safety incidents and innovations, and to share lessons learnt.  The organiser, co-host and MC for the event was Glenn Watt, General Manager Onshore Drilling and Completions, Santos & RSSWG Chair.
Two companies shared presentations highlighting incidents which may have been prevented if better safety leadership had been practiced by site supervisors.  Attendees were given time to reflect on the difference that programs like Assist and Assure can make to reduce the likelihood of these incidents occurring. This was followed by a fascinating discussion on the risks of dehydration and hyponatremia (overhydration).
The Innovations segment of the agenda was packed. The RSSWG Co-Champion Ewan Meldrum started off by presenting the RSSWG 2020 Work Plans.  This was followed by a presentation on the topic of OCR Leadership training program, incorporating the "Assist" component of Assist & Assure.
The highlight of the event was the launch of the Safer Together Assist and Assure program presented by project lead Blair Hart (Wild Desert). This project is the flagship program for the RSSWG.  It represents a huge collective effort to make this fantastic program available to all members. For more information about Assist and Assure click here.
Delegates were also educated in the use of technology to improve site leadership visits and critical control verification.  They were shown a vodcast of an honest, caring discussion following a line of fire incident.  
Glenn Watt reflected afterwards that "It was fantastic to see such a strong turnout from across the Drilling and Completions community and the interest in the innovations presented as well as the thoughtful discussion on how we, as leaders, can strongly influence the behaviours of our team in the office and in the field. The formal launch of Assist and Assure is something the industry has been asking for and now the materials are ready for use by all members on the website".
Safer Together Members can access the DCIIRP #19 presentations here.
For more information about Safer Together click here and the DCIIRP click here.
Contact: [email protected].
Header images:
David Banks – EVP Onshore Oil and Gas, Santos & SLG Co-Chair delivers the Safety Moment &
Ewan Meldrum – CEO of Qteq & Rig Site Safety working Group Co-Champion shares the RSSWG 2020 program
Mark Tonin, Area Manager Qld, Ensign Australia delivers the first incident learning session