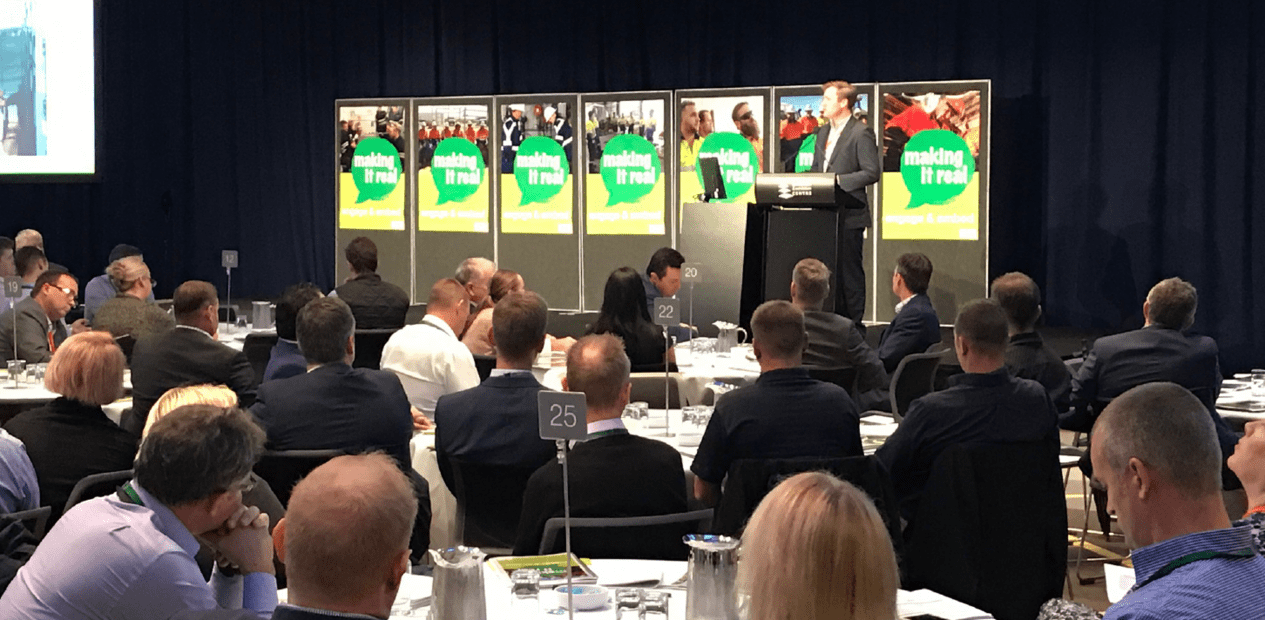 "It's time to talk about Making It Real" announced Tony Nunan – Managing Director, QGC in his opening address at the recent Industry Safety Forum. "Standardisation, Streamlining and Sharing are at the core of what Safer Together is all about. But improving safety within our industry relies on each of us, as member companies, maximising the value of the tools we've been given by adopting and using them."
The latest Forum, held in Brisbane on 13 June 2017, provided an opportunity for senior leaders across the industry to hear the stories of, and gain insights from a wide range of member companies who are leading the way in implementing and embedding Safer Together Standards, tools and programmes within their organisation – to find out how they are Making It Real.
Other highlights of the Forum included:
Early adopters of the Safety Culture Survey shared their initial experiences. Representatives from ConocoPhillips, Wood Group, Enerflex and Hofco Oilfield Services provided an insight into (a) why did their company do the survey? (b) was it worthwhile? (c) what tips would they give other companies who intend to do the survey?
Updates from each of the Working Groups provided a concise summary of all the tools they've developed to date that are already available to member companies (i.e. here's what we've got), as well as highlighting one important thing that each Group is currently doing:
Launch of the Helping Hands – Hand and Finger Safety Preservation Program, the centrepiece of which was an innovative and practical team exercise in which participants immobilised their dominant hand and worked in small groups at their tables to build a prosthetic hand. The prosthetic hands that were built during the exercise will be distributed to amputee landmine victims throughout the developing world.
Working Group Engagement Sessions, enabling a conversation between the Working Groups and member companies about one of each Group's initiatives and its implementation. Topics discussed were:
A summary of the conversations held at the booths was provided in a follow-up Panel Session, during which representatives from each Working Group reflected on what was discussed and the feedback provided by different industry sector groups as they rotated around the various booths.
The Forum was brought to a close by Trevor Brown, one of the senior leaders who was instrumental in setting up Safer Together, who wrapped up by reflecting on the founding principles that bind us together and emphasising how important those principles have proven to be, and will continue to be.
Thank you to everyone that attended for contributing to a very productive and worthwhile afternoon.
Next Forum (Q4 2017)
Our next Forum event will be held on Tuesday 05 December 2017 at the Royal International Convention Centre, Brisbane Showgrounds. We look forward to seeing all member companies represented at the event and we encourage you to block this date in your diary now.
For more information about Safer Together click here
To find out how your company can become a member of Safer Together click here or address your query to [email protected].