LUEZ
Control measures for Loading and Unloading activities known as LUEZ ('loading, unloading exclusion zones') and Spotting activities using good operating practices.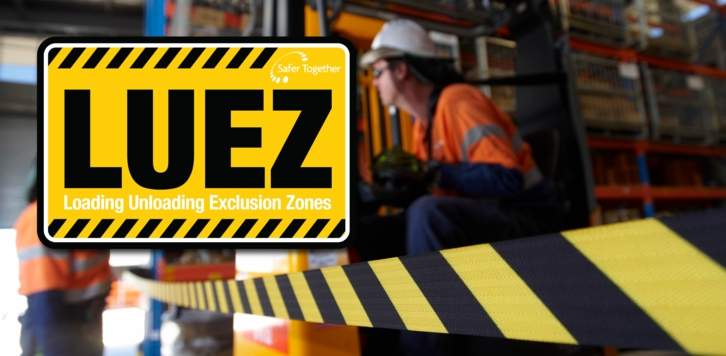 ​Introducing the LUEZ & Spotting Guideline
Challenge
Loading and unloading trucks and trailers presents interaction risks to equipment and personnel. These risks are managed, in part, by establishing and maintaining Loading and Unloading Exclusion Zones (LUEZ).  Is there enough commonality in the LUEZ approaches used across our industry?
If LUEZ controls are not implemented effectively, people can be injured or killed.  The 'Remembering Cameron Cole' video serves as a sobering reminder.
Solution
The Land Logistics Working Group compiled and analysed guidance sourced from member companies and expert organisations.  A consolidated guidance document was developed for Industry use.  This can be used as a 'health check' on existing operations.  It can also serve as a basis for design and layout of a new facility to ensure exclusion zones are effective and efficient.
Result
Now Available!
The LUEZ project team has published the Safer Together LUEZ & Spotting Guideline.
A Launch Pack has been developed to help Safer Together members implement the requirements of the LUEZ & Spotting Guideline. It includes:
Toolbox presentation
Poster
LUEZ example (Halliburton)

Other useful resources:
FAQs: frequently asked questions and answers.
Coming Next
-
For More Information