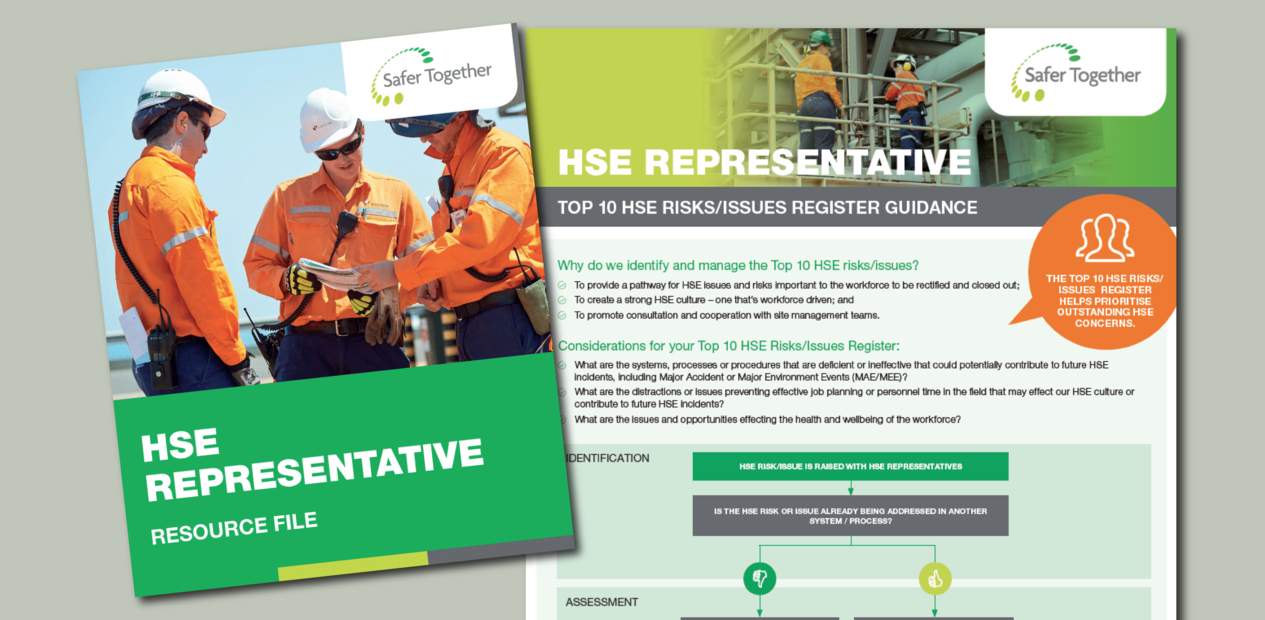 A strong health, safety and environment (HSE) performance is critical to the Oil and Gas Exploration and Production Industry. Health, Safety and Environment Representatives (HSERs) are essential to continually improve workforce culture and performance.
HSERs are elected by their peers. In addition to the health and safety scope the role also provides support on environmental matters.
Health and Safety Representatives (HSRs) are a regulated role under the Offshore Petroleum and Greenhouse Gas Storage Act 2006 ('OPGGS Act') and Occupational Safety and Health Act 1984 WA ('OSH Act WA') and Work Health and Safety (National Uniform Legislation) Act 2016 NT ('WHS Act NT').
HSERs must be nominated, elected and complete HSR training by a regulator-approved training provider once elected to the role.
In addition to the Regulator HSR Training (e.g. NOPSEMA, DMIRS/Worksafe WA, NT Worksafe, AMSA), Safer Together have introduced a toolkit that has been developed with HSERs to help them be more effective in their role.
HSER Onboarding is delivered to the HSERs by the HSER focal point in the company. This onboarding induction provides inductees with an overview of HSER roles and responsibilities, and the available resources, tools, and support, with the HSER focal point distributing the HSER Resource File to the inductee.
The 'HSER Onboarding Induction' is composed of the following components:
Presentation of the 'HSER Induction Pack' (a PowerPoint presentation),
Presentation of site-specific HSER material, including information on how to run and manage meetings, reporting procedures, and how to access online material relevant to conducting the HSE role, and
A presentation to familiarise HSEs with Safer Togethers' HSE Representative Resource File.
A certificate is provided upon completion of the full HSER Onboarding process.
The HSE Representative Resource File ('HSER Resource File') is a hard copy folder provided to all HSERs.  The HSER Resource File provides an overview of all resources and tools available to support HSERs in effectively performing their role.
The HSE Representative Welcome Booklet summarises key elements of the HSER Resource File and is an excellent starting point when first starting in the HSER role.
On completion of the HSER Onboarding Induction, HSERs are empowered to transition smoothly into their new role supporting their colleagues in safe work practices and understand their legislative responsibilities.
For further information on the HSER Onboarding Induction, contact: safety.leadership@safertogether.com.au.