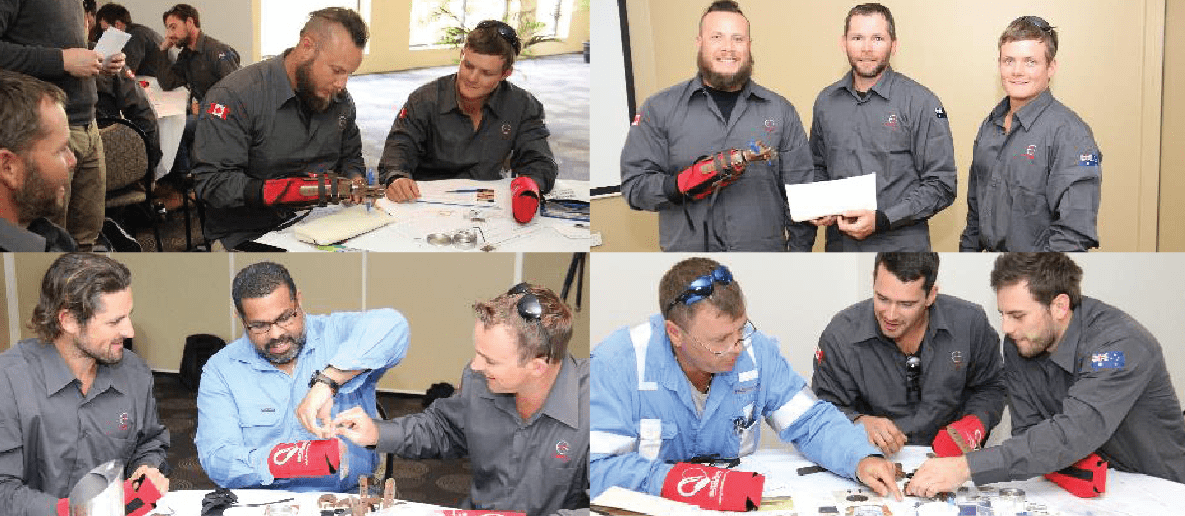 Challenge
In the 12 months to August 2016, 4 of 7 recordable injuries sustained by Santos' Drilling and Completions activities involved hands and fingers.  Savanna Rig 65 was about to enter service for Santos.  It was important to engage the rig crew during mobilisation to raise awareness of the incidence of hand injuries – and to explore what could be done to minimise them.
This is not a new problem.  Several hand safety initiatives have been rolled out over many years within our industry.  With varying degrees of success.  A fresh approach was needed.
Solution
On Monday 22nd August, 2016 Santos conducted an ice-breaker workshop with the Savanna Rig 65 crew. This workshop involved an activity designed to engage participants and ask them to reflect on the importance of their hands in performing their work.  The activity prompted Participants to think about the impact that a disabling hand injury would have on their home life.
The centrepiece of the activity is an innovative exercise in which participants immobilise their dominant hand.  They then work in a small team to build a prosthetic hand.  In doing so, they experience what it is like to perform simple work-related tasks with a hand-related disability.  The hands built during this activity are then sent to a not-for-profit organisation, Helping Hands, who distribute them to amputee landmine victims throughout the developing world.
The activity sets aside time in which participants, with their dominant hands immobilised, are challenged to complete a simple writing task by scribbling the answers to the following questions:
What does it feel like to experience having your dominant hand completely disabled?
How would a disabling hand injury impact your ability to do the things you love?
How would a disabling hand injury impact on your work?
In relation to your job role and work activities, where is your next hand/finger injury likely to be and why? What can you do to eliminate or control the hazards?
The activity concluded by asking participants to commit to conducting a hand safety hazard hunt when they returned to the rig – and to report back on hazards found and solutions adopted to minimise hand safety risks.
Result
The activity was very well received by the participants.
"Good activity.  Really brought awareness to how difficult it could be without dominant hand"
"Well structured and relevant activity"
"Definitely makes you think"
"Best group activity completed since being in the Oil & Gas industry"
Following the success of this activity, Safer Together's Rig Site Safety Working Group has partnered with Helping Hands to produce the Helping Hands – Hand and Finger Preservation Program.  These Program materials are now available to all Safer Together members.
Lessons Learnt
If you always do what you've always done, you'll always get what you've always got. Have the courage to try something different.
Emotional engagement is powerful. It is necessary to bring about change.  But it's not enough by itself.  It must be linked to tangible action.
It's worth the effort. The crew responded very well to the activity.  They are engaged.
Download the Case Study Poster here.
For more information about Santos click here.
For more information about Savanna click here.
For more information about the Helping Hands – Hand and Finger Preservation Program click here.
Contact: [email protected]