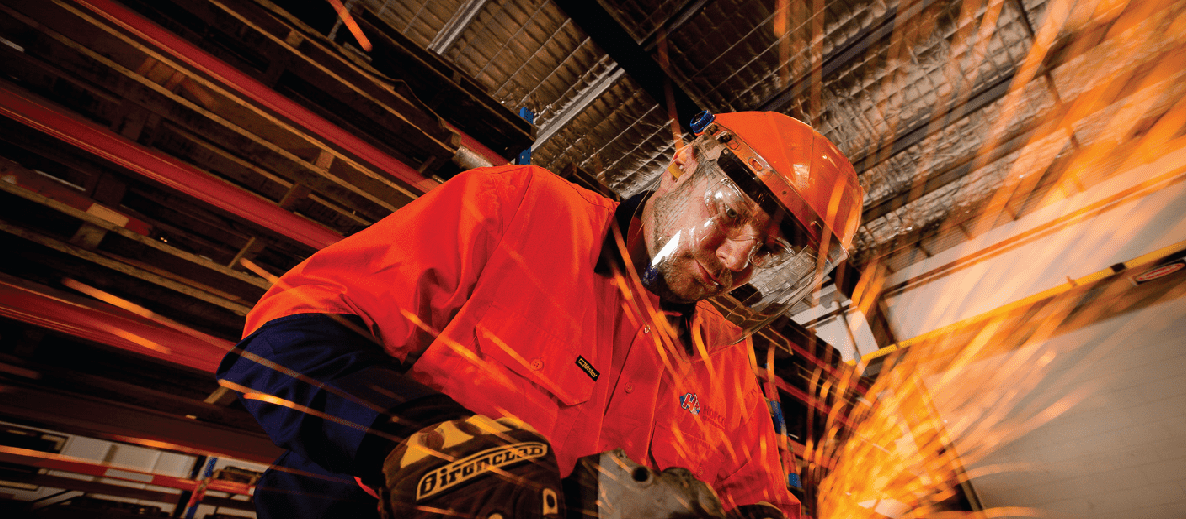 Challenge
The good news: Hofco have only had 2 Medical Treatment Injuries in the last 4 years.
The bad news: both have been finger injuries sustained due to poor hand placement.
Hofco were looking for something that would help workers to keep their mind on the job.  At the same time, they were looking to build team harmony.  Hofco knows that team harmony promotes productivity and safety – because the guys look out for one another.
Solution
In June 2017, Hofco CEO Troy Schefe participated in the Helping Hands activity conducted at the Safer Together Industry Safety Forum.
"I was inspired.  It triggered so many feelings not only for the poor amputees and me wanting to give a little…but also the relevance to our industry and Hofco".
On October 6, 2017 Hofco had a hand safety awareness day.  Staff worked together to complete the Helping Hands activity.  As a result, 2 prosthetic hands were donated to amputee landmine victims in the developing world.
The activity also allowed management to strategically place certain staff together, to assess how they worked as a team, and to promote team building.
Staff participated in discussions using the Helping Hands materials.  They talked about amputee statistics in the developing world and about the statistics of hand injuries in our Industry.  Staff also watched some of the short video clips from the Helping Hands library – and then discussed similar tasks undertaken in the Hofco workshop every day.  This generated some great ideas about how these might be done differently to preserve workers' hands and fingers.
Result
Troy is enthusiastic about the results.
"The guys loved it…
In my opinion this task heightens awareness and mindfulness of hand placement while completing a task as it takes a lot my mindfulness and concentration using only one hand and working with other people to complete the task. It promotes the importance and gratefulness of having  two hands.
I would highly recommend this as a task to any size organisation. This was not only a good hand safety awareness project but a great team building exercise which I will be seeking to do more of."
Lessons Learnt
Be grateful that we have two good working hands to complete simple day to day tasks. Reinforce that we want to keep it that way by being mindful of our hand placement at all times.
Team work with good communication is essential to productivity. The team that completed the task most efficiently also made it fun (laughter).  We believe this also relates to team members looking out for each other in the work environment.
Mindfulness / concentration / awareness are essential in every task we undertake. Unfortunately, we quite often go to robot or auto-mode for typical day to day tasks.  Activities like Helping Hands get us back to a mindful state. The trick is to activate this awareness in staff every day.
Download the Case Study Poster here.
For more information about Hofco Oilfield Services click here.
For more information about the Helping Hands – Hand and Finger Preservation Program click here.
Contact: [email protected]