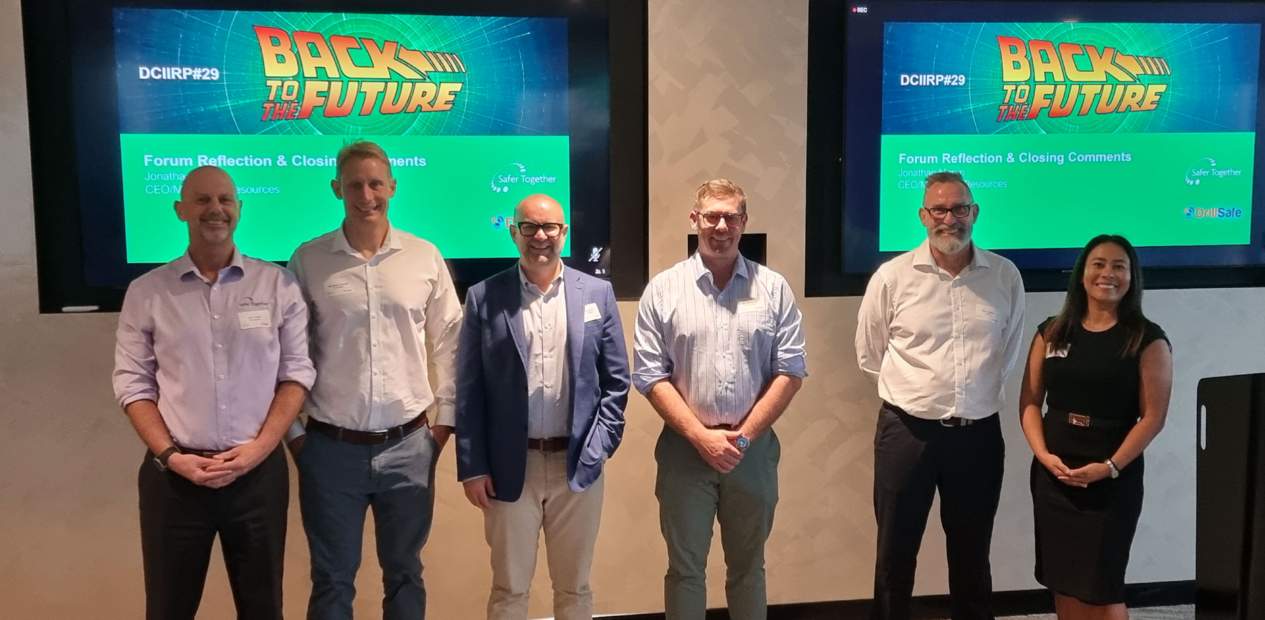 November brought another successful event from our Rig Site Safety Working Group (RSSWG), sharing the stage with DrillSafe for the inaugural combined Drilling and Completions Industry Incident Review Panel (DCIIRP) in Brisbane.
This joint endeavour had a focus on deeper learnings from major incidents from the past, both on-and-offshore, and what can be learned from these incidents going forward.  A truly successful and unique event, with two safety organisations collaborating to bring deeper, more powerful learnings for the drilling and completions sector with the theme of 'Back to the Future'.
Following a warm introduction to the event, and an overview of each organisation from Ted Bergman (Wells General Manager, Arrow Energy), we kicked off with a seasonal safety moment from Chris Wilson (Managing Director & CEO, Labrador). He recalled sustaining a serious laceration while cutting open his son's bike wrapping, requiring a hospital emergency ward visit on Christmas day – all due to a moment of distraction.
Chris stayed on stage to share his very personal and heartfelt first-person account of the Montara incident. He walked us through the technical and organisational causes, the resulting escalating incident, and the eventual relief well drilling. Chris also showed great courage in sharing how it affected him and his family personally. 
We would like to acknowledge Chris for transparently and bravely sharing his experience of this incident – it was one of the best presentations seen at a DCIIRP, and a shining example of why we run this event.
Cheryl Lynn McCulloch (APAC OFS Service Quality Director, Baker Hughes) then presented on a double fatality on offshore drilling facility on the 27th August 2012 in Otway Basin (offshore Victoria).  Whilst applying break out torque with the Topdrive motor, the manual make up tong rotated at high speed with the drill string - fatally striking 2 workers.
When an incident is significant enough, even years later, we can still take lessons onboard.
Demonstrating a classic post pandemic pivot, Neville Cory (HSE Manager, Schlumberger) had come to the event as a delegate – but when one of our presenters cancelled at short notice, Neville stepped in and delivered the presentation like the seasoned professional he is (thanks Nev!). He shared the story of an employee in a workshop fracturing his leg from a fall when a wrench broke trying to free a seized nut and bolt.
One of the most profound presentations of the day was delivered by Luke Buscada (QHSE Manager - Asia Pacific, Valaris). Luke recounted and event where a worker fell 15 meters down a production caisson from which the cover had been removed and no barriers put in place. It was a near fatality and the person suffered significant injuries. Luke then shared his firsthand experience as part of the first response team, and clearly elucidated the challenges they had extracting the fallen person.
Movingly, Luke then courageously shared how the incident had such an adverse impact on his life afterwards, his personal struggles and how he overcame them - this took immense strength and courage to share and highlighted to all delegates in attendance the importance of ongoing and quality mental health support.
If we can make the same claim twice in one event, Luke's presentation was another example of one of the best presentations delegates have ever experienced.
Derrick O'Keeffe (Head of Division - Safety & Integrity, NOPSEMA) then presented a pre-recorded video on the 737 Max disasters and what's happened since, showing the immense public pressure there was on regulators and companies involved to act.
Martin Flojgaard (Regional Director, International Association of Drilling Contractors) then presented the onshore and offshore current and expected rig numbers for the industry update.
Martin was followed by a fascinating session from Josh Doig (Chief Operating Officer, Wild Desert). Josh shared a de-identified serious incident in a 'before and after' mode.
The first section of the presentation offered a 'weak' share with limited learnings (where an organisation fears fully sharing the incident details). The second section showed this same incident – but with every detail and learning openly shared.
As intended, this contrast sparked significant discussion on what is inhibiting and enabling better sharing – the Rig Site Safety Working Group will continue to work to enable better sharing into 2023. 
Ben Corbett (Drill Frac and Completions Manager, Origin) then shared a very special and highly impactful fatal incident that occurred early in his career. He recounted the Myall Creek 8 story of a gas release and subsequent explosion with technical precision and deep emotional intelligence and compassion.  He courageously shared what impact this incident has had on him personally in guiding his own safety and leadership journey.
The last presenter of the day was Benjamin Schurman (Field Manager, Savanna Energy Services). He spoke on a significant finger injury to one of his team when the weight of a chute was 34kg heavier than the standard kit used and was too much for the person to manage.
In line with the theme, hand and finger safety, and line of fire are enormous challenges from the past that continue to require attention into the future.
Closing out the event was Safer Together's very own Tom Pettitt (Principal Consultant, Safer Together) who had the honour of providing closing reflections.
He thanked all presenters and attendees, delivered a promotion for Movember and men's mental health generally, while noting the amazing courage of several of our presenters in so transparently sharing the personal challenges faced in living with and reconciling with significant incidents.
Tom also shared his delight in the Safer Together Rig Site Safety Working Group collaboration with DrillSafe. This event has been years in the making, delayed by COVID, and now finally come to fruition, he closed with a plan to continue to work together closely into the future.......or back to it, and wished all delegates and families safety and good health for the holiday season.    
Thank you to our event hosts and sponsors Arrow Energy, COHO Resources Pty Ltd and Labrador for their generous contribution to this event.
Members can access the full recording of this event here. 
To receive information on future Rig Site Safety Working Group and their events:  rigsite.safety@safertogether.com.au.