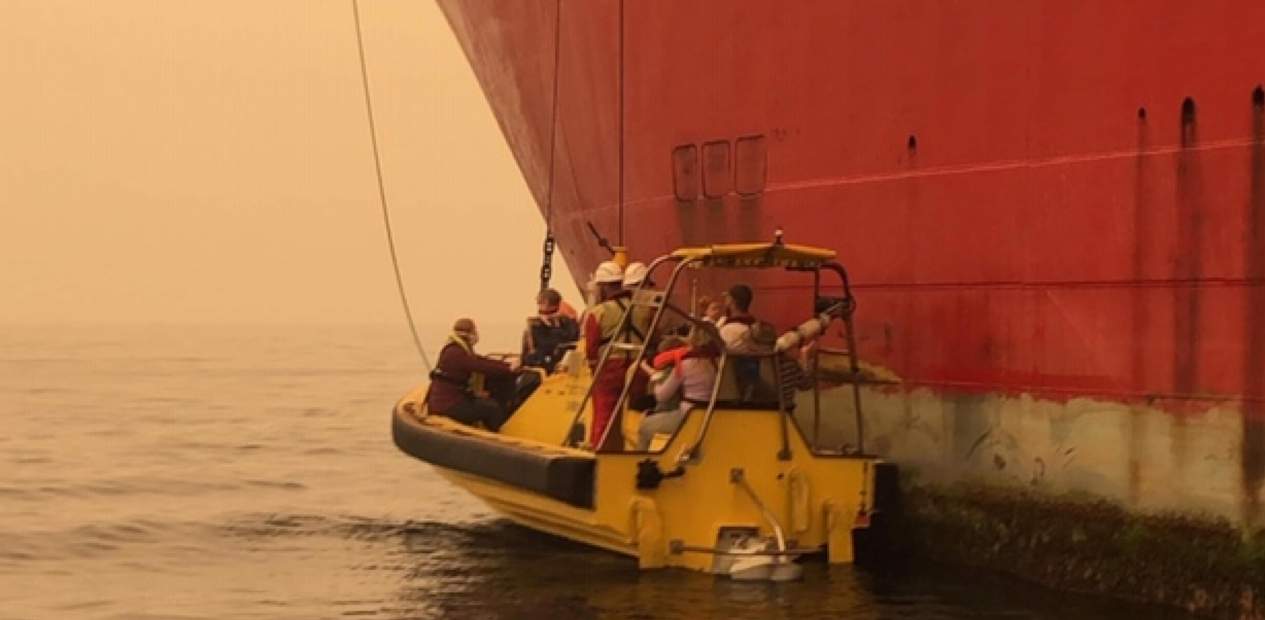 Member companies Solstad and Svitzer were instrumental in providing support in conjunction with the New South Wales & Victorian emergency services as well as the Australian Navy in their emergency response to the devastating bushfires of  31 December - 6 January.
The Svitzer vessels Wistari, Cooma and Mersey provided shelter, food and water for around 80 local residents of Eden, NSW as fires bore down on their town.  In Victoria, Svitzer Edwina and Svitzer Olivia provided free towage services to HMAS Choules and HMAS Sycamore which were involved in the evacuation of Mallacoota. The Solstad vessels Far Saracen and Far Senator responded to the call for assistance to help in Mallacoota.  Working in unfamiliar locations and daunting conditions (with smoke causing darkness at midday) the vessels were used for a number of purposes.  These included fuel transfer for generators on shore, and supply of food, water, and first aid.  They also provided amenities in a safe location to deliver temporary respite for emergency services personnel and vulnerable members of the public. Fast Rescue Craft from the vessels provided food, fuel and water.  They also transferred emergency response personnel to the shore, and transferred evacuees from shore.
Svitzer tug Wistari alongside Eden Wharf, NSW shrouded in bushfire smoke on Saturday 4 January. Photo credit Nick Haenig, Engineer, Eden – Svitzer Australia.
Eden Wharf, NSW, Saturday afternoon 4 January 2020. Photo credit Nick Haenig, Engineer, Eden – Svitzer Australia.
14:30 Saturday afternoon – just completed transfers of supplies.
Photo courtesy of Solstad.
Navel vessel taking fuel to Emergency Services Control Centre for generators and vehicles.
Photo courtesy of Solstad.
The crews of these vessels worked diligently to do whatever was required to assist, regardless of their normal working roles, and are to be commended for their actions. Safer Together is extremely proud to have these companies and their people call themselves members of our organisation.
Headline image: Family on their way for air evacuation. Photo courtesy of Solstad.