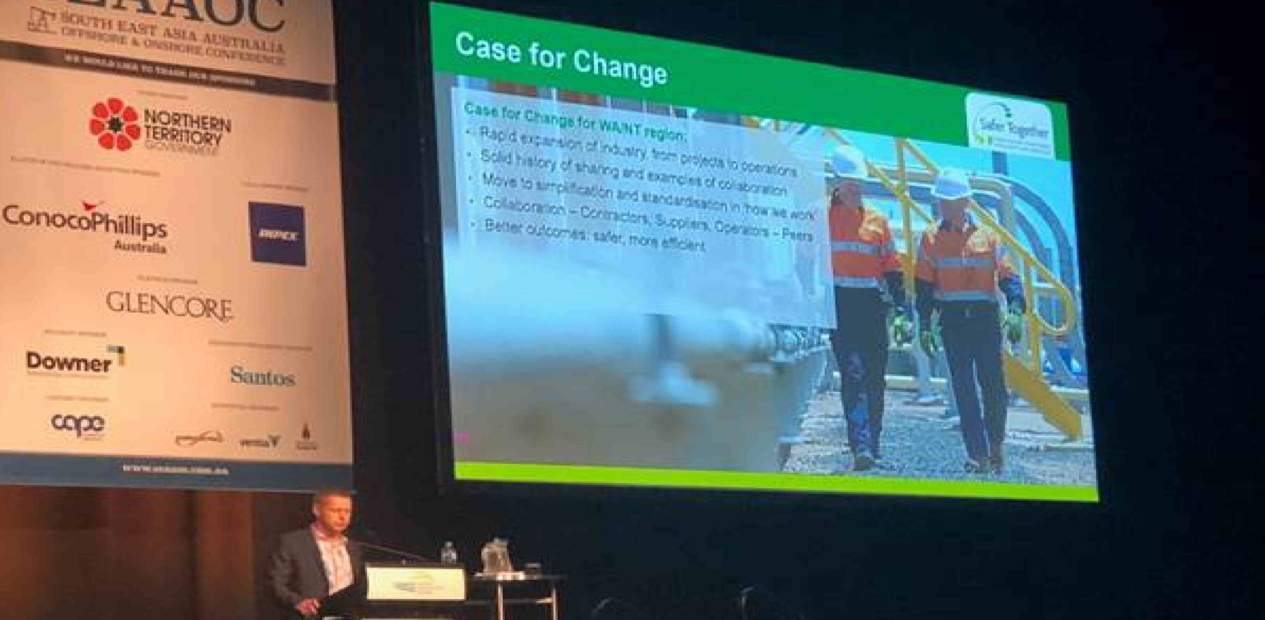 The official launch of Safer Together WA/NT in the Northern Territory took place in early September at the South East Asia & Australia Offshore & Onshore Conference (SEAAOC) in Darwin.
With world-class offshore and onshore LNG assets transitioning into the operations phase, and globally significant onshore gas reserves yet to be developed, it's a time of exciting possibilities for the Northern Territory.  One of the main challenges faced is that becoming internationally competitive and maximising opportunities for the region relies on developing an industry culture of collaboration and standardisation. So this was the perfect time for the official launch of Safer Together WA/NT in the Northern Territory.
NT Resources week kicked off on Monday 03 September with the Energy Club NT "Meet The Buyer" event. 27 Buyers and 33 Northern Territory businesses participated in a total of 561 "speed meetings" over a period of just 90 minutes. Safer Together had a station at the event, enabling introductory one-on-one conversations about Safer Together with 17 locally based companies.
Energy Club NT – 2018 Meet the Buyer Event
On Thursday 06 September, David Boyle (VP Operations, Drilling & Supply Chain - ConocoPhillips) and Conor Walker (Director Operations - INPEX) announced the arrival of Safer Together in the Northern Territory to an assembled audience of senior leaders from the oil and gas industry at the SEAAOC event. David highlighted the case for change and emphasised that "collaboration means moving to joint problem-solving focused on developing a common solution, and an industry led-approach, not Operator-led, is fundamental - with Contractors and Operators as peers."  Conor followed by explaining the operating model of Safer Together and outlining the benefits for local companies that get involved. "Our Industry needs a local supply chain, and we also need all players to be able to meet our exacting safety standards.  Safer Together provides an unparalleled opportunity for small and medium sized business to benefit from collaboration and to also  contribute their voice, local know-how, and enthusiasm."
Click here for more information about the Energy Club NT.
Click here for more information about SEAAOC.
Contact: [email protected]
* Image (header): David Boyle introduces Safer Together to assembled delegates at the 2018 South East Asia and Australia Offshore & Onshore Conference