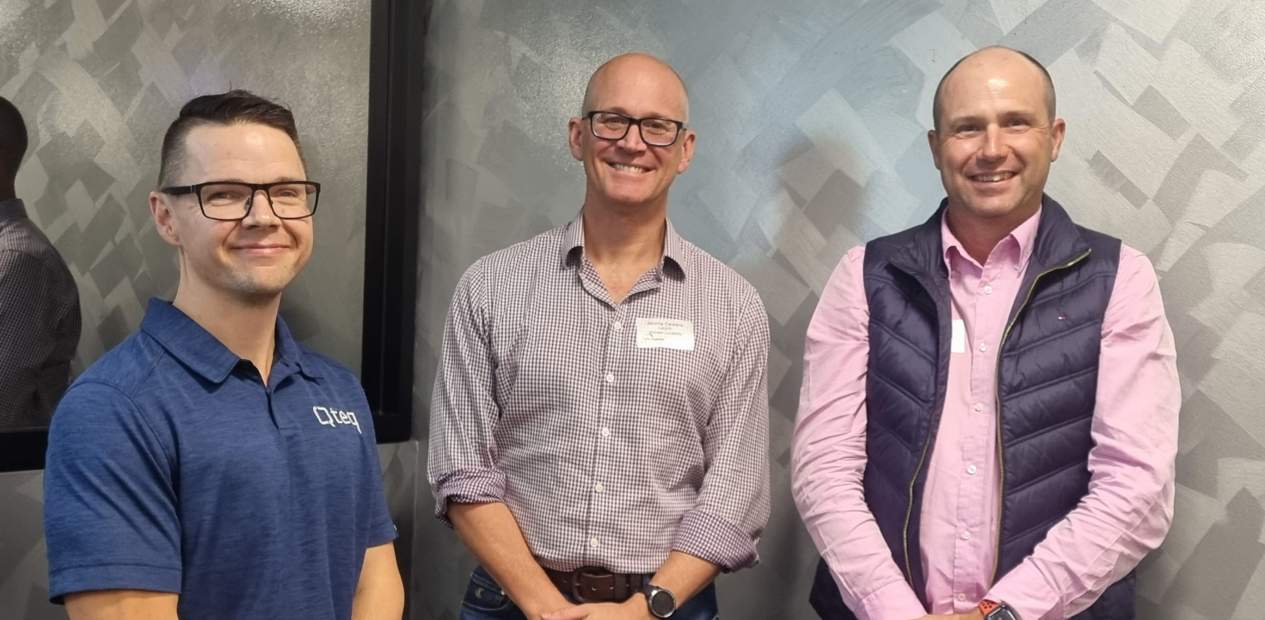 Driving remains one of our highest risk activities industry wide.  Aligning with National Road Safety Week, this Lunch and Learn focussed on improving road safety outcomes for our industry.
Adam Fitz-Henry (Commercial Manager, Qteq) opened the event with a brief welcome before handing over to Jerome Carslake (Director, National Road Safety Partnership Program, Monash University Accident Research Centre) for a fascinating presentation 'National Road Safety Week – Discussion Generator' – a deep-dive from the 'brains trust' on current research on behaviours and technologies when it comes to road safety in Australia.
Jerome described the context and role of universities and the National Road Safety Partnership Program on our National Road Safety Strategy, and the interrelation between human behaviour and vehicle incidents – interestingly, humans are the only mammal to voluntarily delay sleep.
With fatigue a major factor in incidents, Jerome took some time to dive into emerging fatigue-related controls under development, including current research around fatigue biomarkers and how they might be potentially used to detect driver fatigue.
"We all make mistakes.  What is a good driver??  Someone who is aware – driving to conditions – expecting the unexpected." Jerome Carslake.
The next presentation recognised National Road Safety Week.  Every year, approximately 1,200 people are killed, and another 44,000* are seriously injured on Australian roads. Traffic injury is the biggest killer of Australian children under 15 and the second-biggest killer of all Australians aged between 15 and 24.  The week highlights the impact of road trauma and ways to reduce it.
Peter Runge (Origin Energy) introduced the next video presenter, Peter Frazer (Founder, National Road Safety Week & President, SARAH Group) who bravely and generously shared his very personal experience of the impact of a tragic incident.
After watching the video, Adam Fitz-Henry asked delegates "will you pledge to look after my family, and I can look after yours", & encouraged all delegates to Pledge To Drive So Others Survive – a National Road Safety Week/SARAH Group initiative – 
I pledge to drive as if my loved ones are on the road ahead.
I will remove all distractions and never use my mobile phone while driving.
I will not put other people at risk by speeding, driving while tired or under the influence of alcohol/drugs.
I will protect all vulnerable road users, especially those whose job places them in harm's way, by slowing down and giving them the space they need to be safe.
National Road Safety Week is an annual initiative from the SARAH Group, partnering with road safety organisations and Government.
Adam pointed everyone in the direction of the National Road Safety Week resource pack on the Safer Together website, and with a thank you to presenters and in-person and virtual delegates,  he closed the event, with in person attendees heading off to a lunch and networking session.
Thank you to sponsor, Qteq Pty Ltd, without whom the event would not have been the success it was.
We apologise that due to technical difficulties, the recording of this event omits the first presentation from the recording.  View the recording here.
For information on our Land Transport Working Group and their initiatives:  land.transport@safertogether.com.au. 
* https://www.aaa.asn.au/wp-content/uploads/2019/09/AAA-Reviving-Road-Safety-2019.pdf