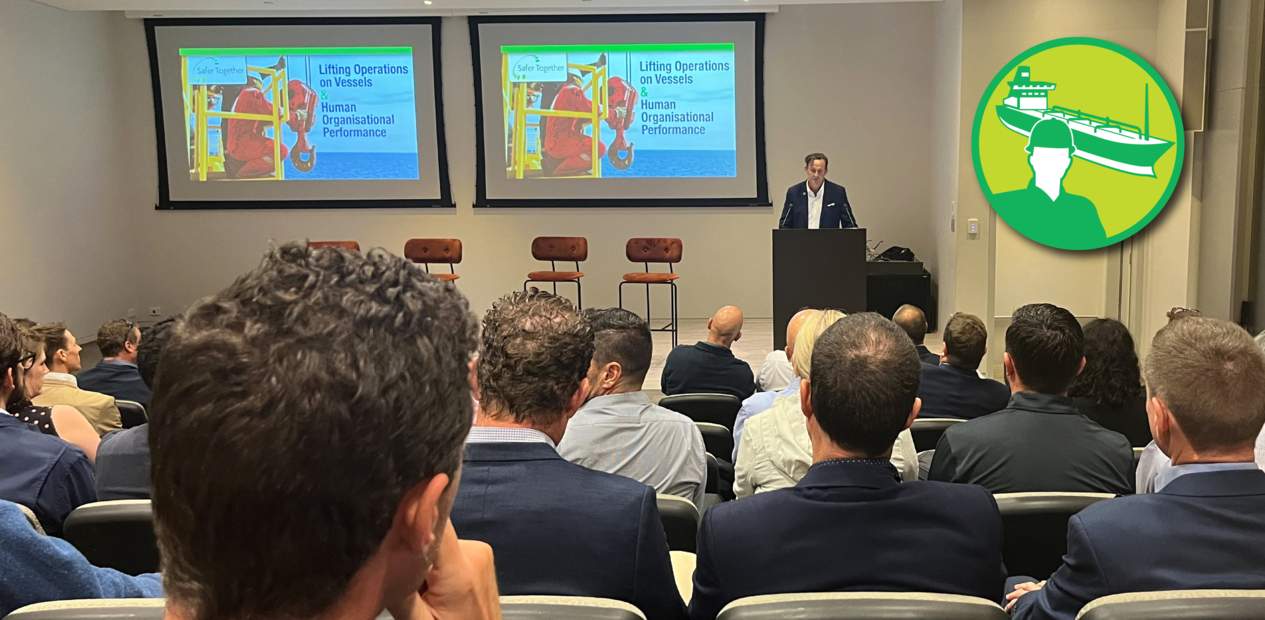 In May our Marine Working Group (MWG) conducted their 5th Marine Forum and Incident Review Panel (IRP) with the theme 'Lifting Operations on Vessels and Human Organisational Performance'.
The Event was well attended by delegates keen to engage face-to-face once again, both personally and professionally – it was wonderful to see so many familiar and new faces in the room, with things truly feeling 'back to normal'.
Safer Together Members can access a full video recording of the Event here.
The Forum and IRP was superbly emceed by Tim Jeffery (Chartering Manager – DOF Subsea) – so well, in fact, he may yet be tapped on the shoulder for years to come! 
Stuart Edgar (Executive General Manager Vessel Services - MMA Offshore) gave a powerful opening speech reflecting on some significant incidents that had made an impact on him during his career in both the military and in the oil and gas industry. He also spoke on the importance of supporting people when they speak up, the value of getting together to share at this event, and pointing attendees to the excellent tools on the Safer Together website.
Delegates were treated to a truly fascinating insight into the way humans operate, with a 'Human & Organisational Performance' presentation by Mark Aravidis (Senior Marine Lead and Marine Operational Authority - Woodside Energy) and Tomasz Sobkow (Senior Advisor Human Factors - Woodside Energy). 
Following a short break, Mark Pointon (Marine Assurance Superintendent - Santos) and Keith Soutar (Project Engineer - Santos) presented a Case Study on the 'Use of Virtual Prototyping in Project Planning and Awareness'. This gave attendees an insight regarding just what is possible in the maritime field using gaming technology, to not only plan better offshore operations, but also to verify competencies of key roles like Dynamic Positioning Operators and Crane Drivers.  A truly fantastic presentation.
We then had an in-depth incident share about a 'Potential Dropped Object' Incident.  Here we must give real credit to the companies involved, for their efforts and for the detail put into investigating the potential event, and then sharing with all in attendance the clear actions taken as a result.
And finally, the event ended with a highly interactive Panel conducted by Paul Ronald, Tomasz Sobkow, Mark Pointon and Darren Edmunds (Director - Australian Skills Training & Assessing), who shared their experience, knowledge and learnings on wide ranging topics.
We would like to thank our Forum Sponsor Svitzer for their contribution to the success of this Event.
If you would like to be invited to future events hosted by Safer Together Marine Working Group, or if you are interested in joining our Marine Working Group, email marine@safertogether.com.au to register your interest.