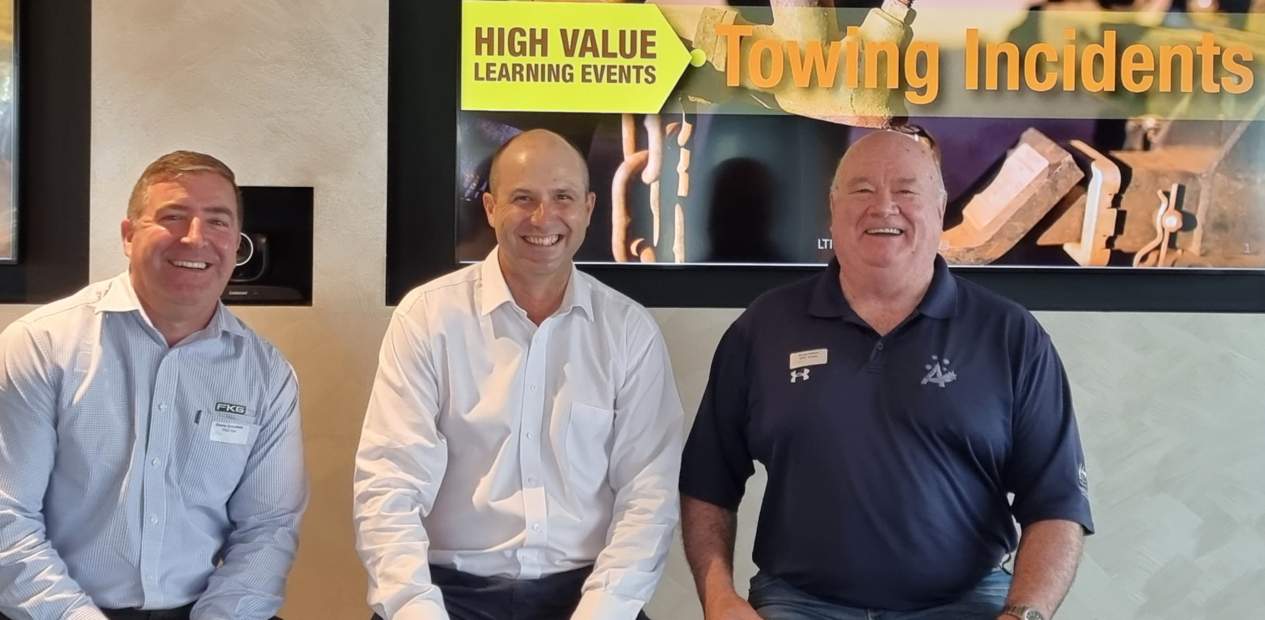 February saw our first event for the calendar year, our Land Transport Incident Review Panel in Brisbane, a highly interactive and engaging forum delving into the nuances of trailer connections and loading, and towing incidents.
After a welcome and intro from Peter Runge (Logistics Manager, Origin Energy), Shane Scholefield (QSE Manager, FKG Group) presented delegates with a deep-dive into a trailer hitch failure incident that had the potential for high consequences, but that due to favourable circumstances, was low-impact.
Attendees of the LTIRP inspect the trailer hitch component that failed.
Bruce Adams (Plant and Logistics Compliance Adviser, MPC Kinetic) then followed with his truly fascinating presentation 'The Fitting of Light Weight Tow Bars to Heavy Vehicles over 5 Tonnes' – the length of the title reflecting the depth of knowledge delegates enjoyed from Bruce.
Historically, towbars with 50mm ball couplings were not allowed on heavy vehicles.  Towbars for passenger (light) vehicles are designed to a different standard than the heavy vehicle with vehicle mass not explicitly defined. Heavy vehicles require a D & V rating which is calculated from towing and towed mass combinations.
As part of an ongoing investigation, Bruce and his team found some common misbeliefs on how much a vehicle / trailer combination can weigh, what types of tow hitches are required, the down grading of weights based on vehicle GVM, and compliance information not supplied by OEMs on instillation of tow bars.
Bruce then expanded on towing capacity limits – the tow limitations of a vehicle or combination that is not just determined by the limit of the couplings.  The tow capacity of a combination is limited by the lowest rated towing related component (the weakest link), including:
vehicle gross vehicle mass (GVM)
vehicle gross combination mass (GCM)
vehicle axle weight ratings
vehicle tow coupling rating
vehicle tow bar rating
trailer tow coupling rating
trailer drawbar rating
 Bruce then continued with his presentation, comprehensively taking delegates through the limitations and different types of couplings, including pintle hooks and trailer couplings, closing with a walk-through of labelling requirements for AS4177.2 compliant 50mm ball couplings.
Peter and Shane returned to the stage and joined Bruce for a robust question and answer panel session.  The depth of knowledge of the three presenters was apparent via the detail with which they responded to the questions asked by the audience (both in-person and virtually).
Peter closed the event with a brief wrap-up of the Event; we wish to thank our Event Sponsors, Origin Energy for their contribution to ensuring the success of this Event.
A full recording of the event has been uploaded to our website and is now available for viewing by our Member Companies.
For information on future Land Transport Incident Review Panels, or if you are interested in joining the Land Transport Working Group, email:  land.transport@safertogether.com.au.