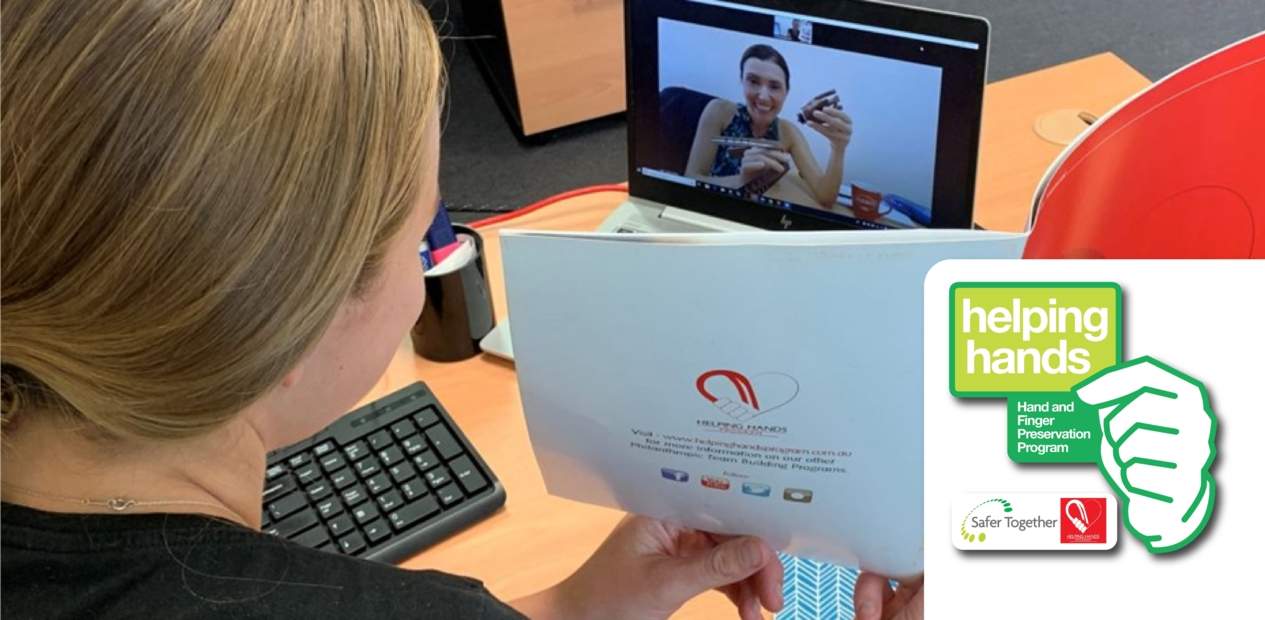 If you are working in a dispersed team, staying connected with your co-workers is more important than ever.  The Helping Hands activity builds teamwork and engagement while improving hand safety mindfulness.  It also delivers prosthetic hands to amputee landmine victims in the developing world.  The activity is now available in an on-line format.
Since the launch of Helping Hands – Hand and Finger Preservation Program, Safer Together members have purchased more than 300 prosthetic hand kits.  After these kits are assembled during our unique hand and finger safety awareness activity, these kits are donated to amputee landmine victims in the developing world via the Helping Hands Program.
Participating companies include: Arrow Energy; Auscoil; Easternwell; Clough; Downer; Hofco Oilfield Services; QGC; Santos; Savanna; Schlumberger; Woodside. 
Companies using the Helping Hands materials are reporting a wide range of benefits.  Not only are they contributing to a very worthwhile cause, they are promoting awareness of hand safety and building teamwork at the same time.
Troy Schefe, CEO of Hofco Oilfield Services is enthusiastic about the workshop element of the activity.  "I would highly recommend this as a task to any size organisation.  This was not only a good hand safety awareness project but a great team building exercise which I will be seeking to do more of."
And it's not just managers who are enthusiastic about it.  Savanna staff participated in the workshop during an ice-breaker event with the Rig 65 crew.  Feedback from the workers included:
"Best group activity completed since being in the Oil and Gas Industry"
"Good activity. Really brought awareness to how difficult it could be without your dominant hand".
We've now developed an on-line variant of the activity.  The key elements of the on-line offering haven't changed:
You will still have an opportunity to build and donate a life-changing prosthesis for someone in need (the way we go about it is just a bit more creative).
To support the gift of this hand you are still asked to:

Uniquely decorate the protective pouch that each hand is transported in
Write a heart-felt letter to the recipient

Share photos of your team with the recipient
The activity still incorporates the same breadth of activities that has made it so engaging for employees with vastly different interests, skills, and backgrounds
You are still challenged to reflect on the importance of hand and finger safety.
Importantly, the activity still provides you with an opportunity to emotionally connect and empathise on a deeper level with the end customers of your work (the recipient of the hand that you'll all be building together).
In addition, the online offering:
Perfectly simulates the unique challenge of coordinating the activities of dispersed employees who work independently from home.
Prompts even more candid discussions about what really matters among team members.
Highlights the tendency that many of us have to dive into the detail too quickly without first understanding the big picture.
Requires team members to consider how they will use technology creatively to complete the task.
Highlights neatly the difference between leadership versus supervision.
Provides a range of new tools and aides to ensure that your program is 100% tailored to your needs.
Incorporates a number of important tips and practices to boost well-being while working at home.
Please do not hesitate to contact us at [email protected] if you would like an obligation-free proposal.
For more information about the Helping Hands – Hand and Finger Preservation Program click here.