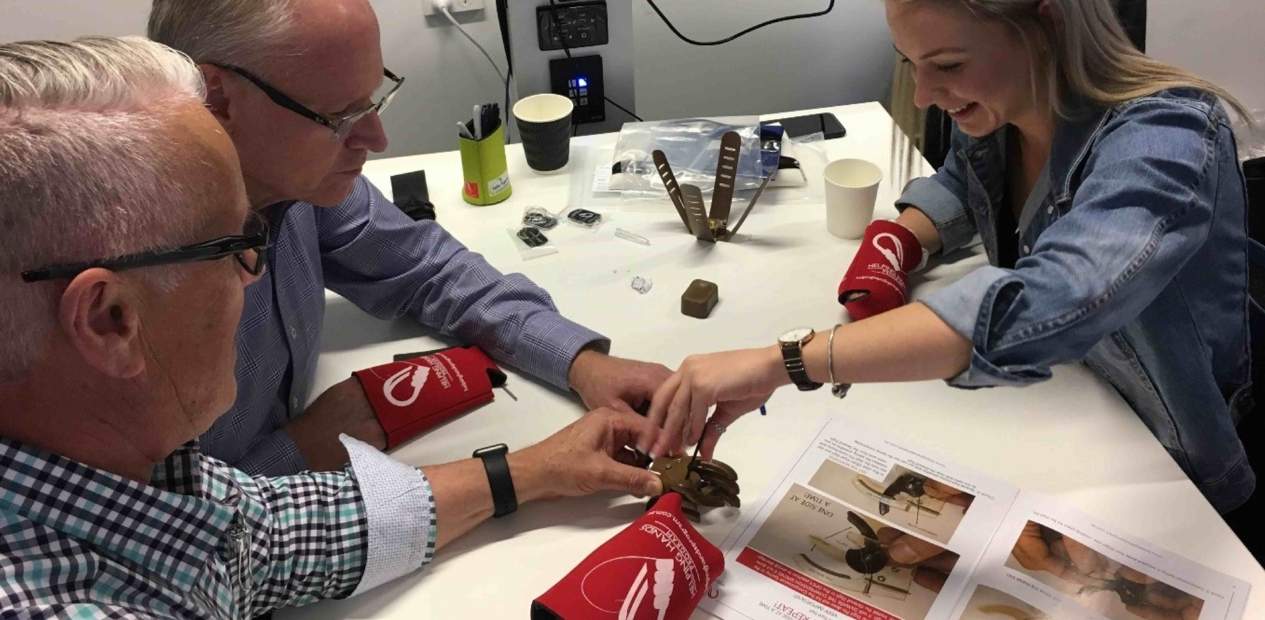 Downer recently engaged Safer Together to facilitate the Helping Hands activity. The result? Teamwork, an appreciation of how difficult life would be without the full use of both hands, commitment to hand and finger preservation, and 10 prosthetic hands donated to people in the developing world.
On 21 June, 30 members of Downer's Asset Services Oil & Gas Business Unit from all over Australia assembled in Brisbane for a safety day.  They asked Safer Together to attend the latter part of the day to conduct the Helping Hands activity.
David Videroni, General Manager,  Oil and Gas at Downer was very pleased with the outcome.  "We were going through a re-organisation and were looking for something that would help us build teamwork and understanding.  We've also experienced an increase in hand injuries in the last year.  The Helping Hands activity was the right activity at the right time for our team."
The team broke into 10 groups to take part in a team building exercise with a difference.  The Helping Hands workshop facilitated by Safer Together provides a real sense of meaning and purpose for the team.  Each team works together to assemble prosthetic hands.  But there is a catch.  They are asked to do it with their dominant hand disabled.  In doing so, the participants get a visceral experience of what life would be like without the full use of their hands.
This is all the more confronting when the participants stop to reflect on the following facts:
100 million active landmines in 60 countries
250 million landmines waiting in the wings for deployment
2,000 landmine accidents each month, one every 20 minutes. (95% are civilians, 75% survivors have at least one amputation)
300,000 landmine related amputees globally
20% are children
During the activity, the team from Downer built 10 prosthetic hands.  These will be donated to landmine victims in the developing world.
After the activity, the participants discussed recent data about hand injuries at Downer, and what can be done to improve hand and finger safety.  Several participants shared their personal commitment to action – prompted by the discussion.
For more information about the Helping Hands – Hand and Finger Preservation Program click here.
For more information about Downer Group click here.
Contact: [email protected]