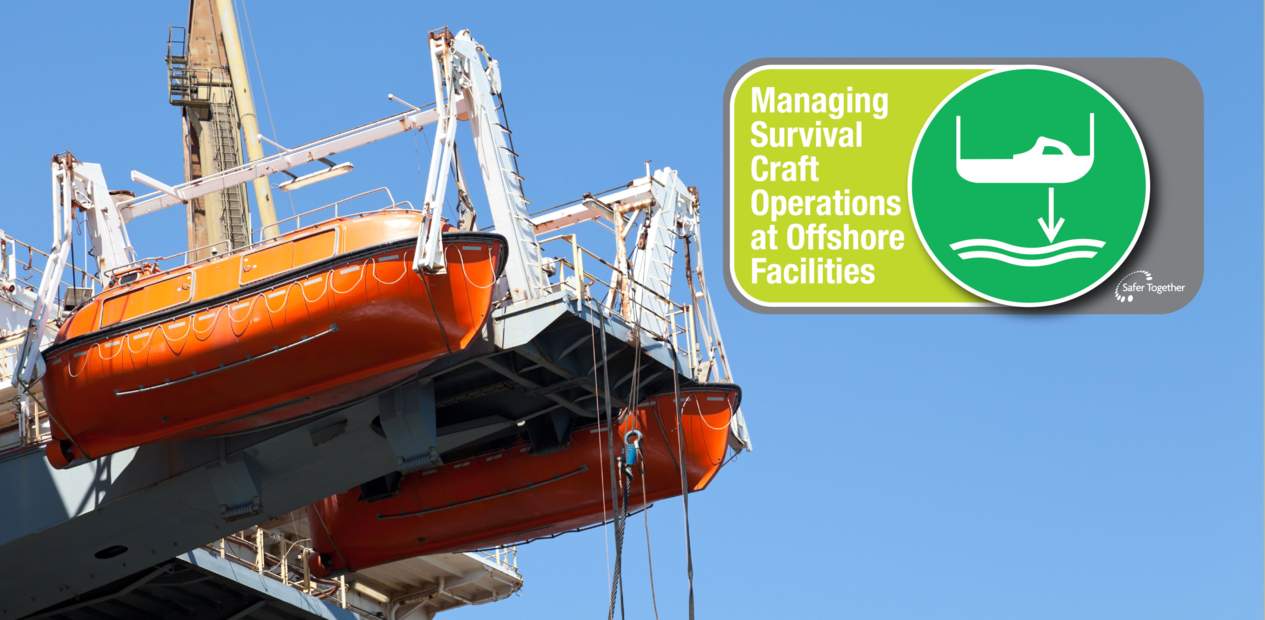 Following the Auger Platform incident in the Gulf of Mexico in 2019 (resulting in multiple fatalities), a Lifeboats and Fast Rescue Craft (FRC) project team was put together by Safer Togethers' Marine Working Group – with a view of developing a guidance for the management of offshore survival craft in Australian waters.
This focus area for the global offshore oil and gas industry has been driven by the increasing and unacceptable number of injuries and deaths occurring when operating, testing, and maintaining safety-critical survival craft, such as lifeboats and rescue craft.
The International Convention for the Safety of Life at Sea (SOLAS) sets minimum safety standards for constructing, equipping, and operating merchant ships and the lifeboats on those ships. However, SOLAS does not define design, maintenance, and testing requirements for lifeboats used on offshore facilities such as oil and gas platforms, despite its guidance being commonly used for escape, evacuation, and rescue activities on these facilities.
Offshore facilities are not ships, nor are they crewed by maritime crew.
The project team ran an online industry risk assessment workshop in Perth, WA, with nation-wide and global participants, focussing on lifeboat and rescue craft testing and maintenance; with a view of improving safety and reducing the risk to those working on or with survival craft on offshore facilities.   
Following this, the team's 2020 Lifeboat and FRC Testing and Personnel Transfer Safety Improvement Risk Assessment report made key recommendations in these areas:
training and competency
safety-critical compliance (maintaining survival craft on offshore facilities)
offshore launch and recovery of survival craft
statutory compliance
selecting survival craft for new-build offshore facilities and for replacing old craft.
After sharing the draft Guideline with the Oil Companies International Marine Forum (OCIMF) and the International Association of Oil and Gas Producers (IOGP) to assess its' applicability for their upcoming documentation preparation for submissions to the International Marine Organisation, and following extensive consultation with regulatory bodies (including NOPSEMA and AMSA), equipment manufacturers, Safer Together Member Companies (including internal HSE safety case personnel, technical authorities, maintenance, and operations teams), and other marine operators globally; and following 6 revisions, the Managing Survival Craft Operations at Offshore Facilities Guideline, intended to reduce the potential for accidents at offshore locations was developed and now released.
As a Sharing Initiative, the Guideline provides best practice risk-based guidance to offshore industry personnel, vessel crews, training providers, and other maritime industry participants about safe working practices when operating, testing, and maintaining survival craft at offshore locations.  It addresses lessons learnt from past incidents to provide an industry best practice solution(s) to improve safety at offshore locations, aligning with the Charter of our Marine Working Group.
The goal is to ensure that practices associated with these activities are optimised to reduce personnel health and safety (H&S) risk exposure and damage to craft while still meeting regulatory requirements and company commitments, so that these survival craft are reliable and available on demand. This includes considering practices such as:
conducting load tests, launch, and recovery without people on board
adopting in-davit testing, thus eliminating the need for vessel-to-vessel personnel transfers during in-water testing activities.
The Guideline has been presented at DrillSafe and at the Drilling Industry Steering Committee, and has been shared with the Gulf of Mexico Offshore Operators Committee to assist them in their efforts with engagements with the US Coast Guard following their tragic event.
We would like to recognise the extraordinary leadership demonstrated by Michael Desa (Marine Superintendent – Asia Pacific, Chevron) as a driving force in the development of this Guideline on behalf of the marine industry and wider maritime community.
Further information on our Marine Working Group projects and initiatives.
For further information on the projects of the Safer Together Marine Working Group, email:  marine@safertogether.com.au.