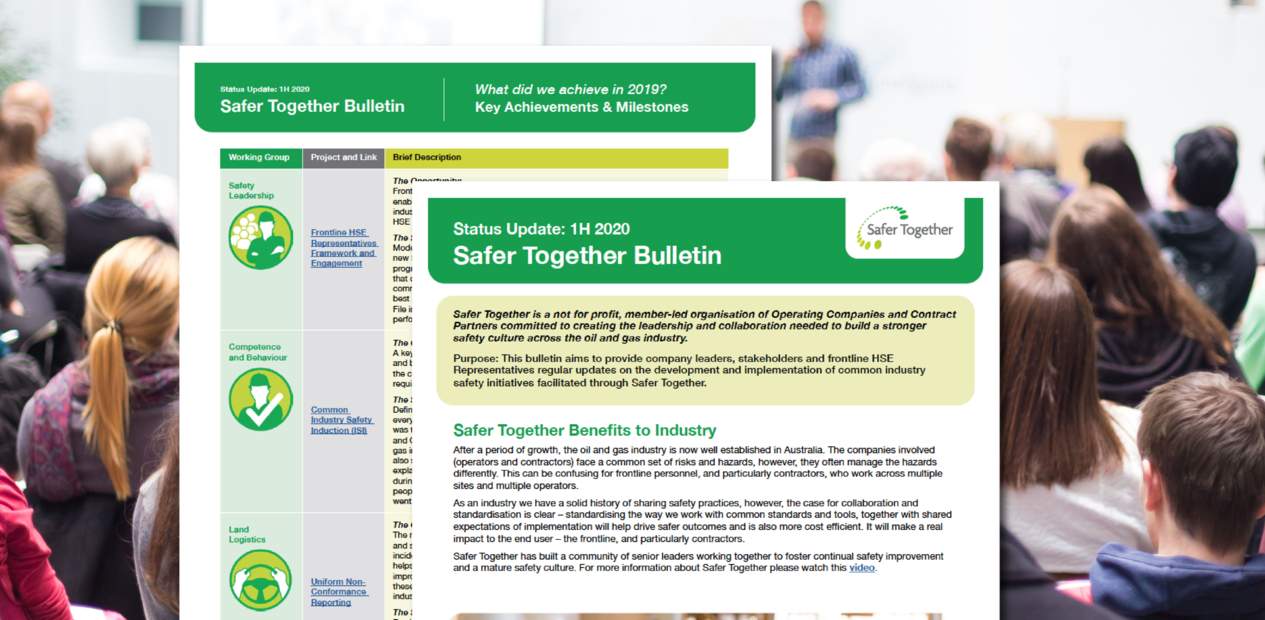 Want to engage your workforce and keep them up to date with the latest news about what's happening in safety across our Industry?  We've produced a Bulletin that summarises the latest developments at Safer Together.
With the switch to remote working likely to continue for some time yet, it's important to be able to  efficiently share news and latest developments to keep people informed and engaged. For large companies in particular, with hundreds or even thousands of employees, it can be a real challenge to ensure everyone is kept in the loop.
Woodside Energy recently developed an internal Bulletin for distribution to their leaders, stakeholders and frontline HSE Representatives to provide an update on the development and implementation of common industry safety initiatives facilitated through Safer Together. The bulletin generated a lot of interest and has helped to raise the profile of Safer Together within Woodside. 
Woodside shared this Bulletin with us and were very happy for it to be developed into a modified, general version that any company is most welcome to use.  We have also produced a customisable version of the Bulletin, so that member companies can insert their own logo and content.  We encourage all member companies to download the general version, or to produce their own customised version, and then circulate it by email to all their employees.  We intend to produce these Bulletins every 6 months.
This first bulletin briefly summaries:
Background to Safer Together and changing industry context
What did we achieve in 2019?
What have we achieved in the first half of 2020?
Look Ahead – focus areas for the second half of 2020
Where to go for more information.
We thank Woodside for taking the initiative to produce this excellent communications tool and for kindly sharing it for other member companies to use.
To download the bulletin click here.
Contact: [email protected]