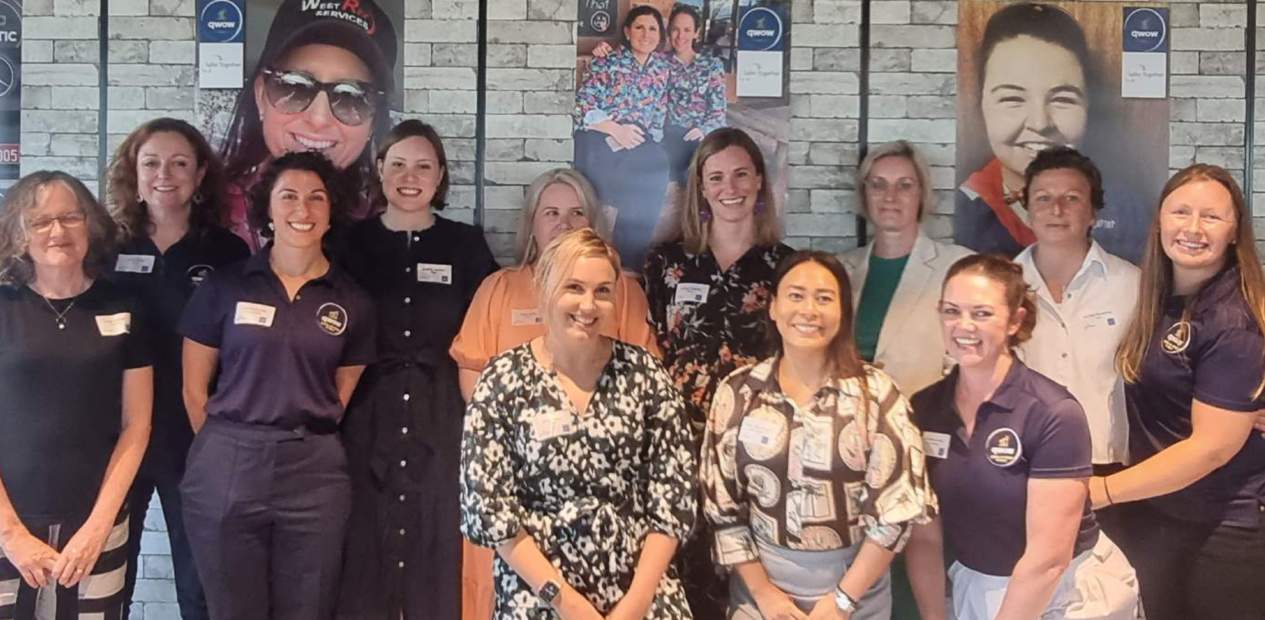 Our Rig Site Safety Working Group Drilling and Completions Industry Incident Review Panels (DCIIRP) continue to go from strength to strength, with this months' event partnered by Queensland Women of Wells, a fantastic organisation connecting women in the Drilling & Completions (D&C) sector from Brisbane to the Beetaloo.
Themed 'Diversity in Safety', QWoW brought a fresh perspective on working in the D&C sector, looking ahead at inclusion, and asking "what will working in the industry look like for everyone in the future" - representing women in the industry early, mid, and late in their careers.
We think this is the first-ever safety-focussed Forum run by women with an emphasis on the female perspective of what it is to work and succeed in the Australian oil and gas industry (though we're happy to be proven wrong!).
Opened by Danielle Leray (MTTF Trials Execution Lead – Supply and Technology, Origin) – with a quick reminder that DCIIRP is an open forum, with a no-blame culture focussed on sharing and learning.
Danielle then handed over to Joanna Groves (Principal Engineer, InGauge Energy) for the safety moment, 'Mental Health, Mindfulness'.
Danielle then re-took the mic for her great presentation 'Diversity in Safety – Why Diversity? Why Now?', giving delegates a fresh perspective on 'diversity' in our industry.
Cheryl McCulloch (APAC OFS Service Quality Director, Baker Hughes) followed with the first incident 'Dislocated Patella from Slip on Wet Surface' – with the findings re-enforcing that the simplest and most straightforward tasks are sometimes those that catch us out.
The second and third incidents were presented by Amy Hardy (Workover Engineering Lead – East Asset, Origin), Peta Hardy and Hayley Forbes (HSE Manager, COHO) – 'Third Party Contractor Management – Incidents and Lessons Learned', and 'Frac Tank Spill'.  Both incidents represented a fantastic deep dive into the causes, learnings, and considerations of each incident.
Lana Cordy (Wells Engineering Manager – Performance, Planning and Capability, Shell) then stepped up to present a truly thought-provoking and fascinating de-identified incident.
Following a short break, we moved onto to the Keynote Interview – with Layna Smith (Lead Wells Engineer – WI/P&A, Shell) asking the questions of Andrea Panakova (Senior Wells Engineer, Shell).  Andrea has almost 20 years of experience globally in the oil and gas industry.
Following her credentialed introduction, Andrea movingly opened the interview via a reminder of an overlooked aspect of diversity – diverse emotion.  With an honest share of her recent personal experiences, Andrea reminded delegates of the strength that comes from vulnerability.
Andrea then walked delegates through her incredibly vast and varied career experiences as a woman in oil and gas.  Starting by applying for (and receiving!) special permission to work on a rig (albeit a requiring accompaniment by a male colleague), to working on sites with no facilities for women – right through to working in Australia in our industry today; Andrea held no punches in the re-telling, with her obvious ongoing enthusiasm for her work and colleagues a testament to her intelligence, knowledge and persistence.
Amy Hardy then returned to the front of the room to present the findings of a QWoW survey sent to their members, about their experiences being a woman in the male-dominated oil and gas industry, and the results were eye-opening.  From a lack of female-friendly facilities to poorly designed PPE, it was evident that Operator and Contractor companies have work to do in the space of making women feel included and safe in certain situations.
Closing the event was a panel discussion, moderated by Sarah Alexander (Managing Director, Bespoke Safety Group), with Sophie Dawson (Well Engineer, Origin), Ashley Watling (Senior Completions Engineer, Santos) and Linda Heger (Principal Well Engineer, Shell) holding the stage while considering the notion – 'Looking Ahead at Gender Diversity in Oil and Gas: what does the future for young women in our industry look like?'.
The panel comprised of women early, mid and late in their career in the oil and gas industry; which brought a great perspective not only on our changing industry, but a perspective on the changes that have occurred in relation to diversity and inclusion over the past 30+ years.
 
Danielle and Amy returned to the mic to close the event, thanking presenters for their efforts, delegates for their engagement and presence; Amy finishing with a reminder of the simplest way to create diversity in any workplace – inclusion.  She asked delegates for a commitment to consider and include the quieter voices, the new and young voices, and voices from a minority in everyday activities.
The Safer Together team would like to thank the incredibly talented group of presenters who each brought knowledge, experience, strength and vulnerability to the event in their own unique way, sharing something of themselves, their experiences, and thoughts on how the industry could be more inclusive.
Thanks to our sponsors, Ventia and Origin Energy for their contribution to the success of this fantastic event.
A full recording of the event is available on the Safer Together website for Member Company access.
For further information, or to join the DCIIRP mailing list:  rigsite.safety@safertogether.com.au.