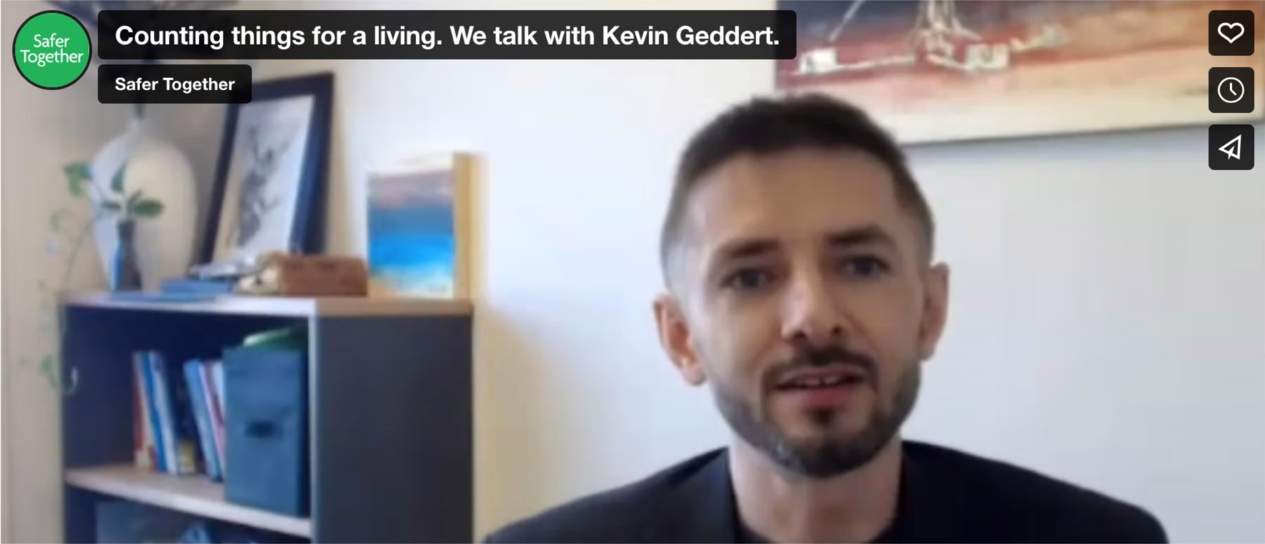 "Data is not treasure; data is a map with an x on it that says, "if you dig here, you might find treasure".  The real treasure that data helps us uncover are the stories about ourselves, and about our behaviour that we don't really understand.  The value in sharing is the ability for ideas and stories to reach the hearts of people. So that we alter our behaviour in ways that ensure that everyone goes home safely every day." (Kevin Geddert). 
In our Strategic Safety Plan, Safer Together  Member Companies have committed to 'Prevent harm to our people, assets, community and environment'. To meet this commitment, we have all pledged to 'Share and learn to prevent future incidents'.
And here is a great example of out of the box thinking doing just that, with Members collaborating to support a positive safety culture – a good news story demonstrating that being in the room together generates fresh ideas, from which this great Project, that has the potential to change the way we record and analyse safety data came about.
At our June Drilling and Completions Industry Incident Review Panel, attendees enjoyed a presentation by Kevin Geddert, (Manager Business Information, Savanna Energy Australia) on 'Drilling and Completions Statistics Part 2 – What is the Data Telling Us' and dazzled all in attendance with a Ted Talk style address about the research he is conducting into the Safety Management Behaviour of an entire industry segment, based on a methodology that Kevin worked on at Savannah Energy and was subsequently published at Griffith University in partnership with Sidney Dekker and Dr Drew Rae.
The thinking started in 2017 when Savanna had a period with no recordable injuries.  Now, as a business - Kevin and the team were aware of the risks of being complacent when you have zero recordable injury, and they started looking for other learning triggers, the things that would keep them learning and improving safety performance.
"I'd take different bits of data and combine them at them in diff ways.  I inadvertently joined two data sources in a way that gave measurable insight into our measurement behaviour around recordable injuries.  That was never the intent, but when I took a step back to look at it, I was able to quantify things that previously I knew anecdotally but never had math behind. That insight was shared at an IRP in 2019, I subsequently shared it with Sidney Dekker and Andrew Ray who it'd met at a previous Safer Together Event." (Kevin Geddert).
With a paper published by Griffith University in August 2021; 'How Does Selective Reporting Distort Understanding of Workplace Injuries?' Kevin, Sidney and Andrew introduced and applied a new method for studying under-reporting of injuries.
This method, "one-to-one injury matching", involves locating and comparing individual incidents within company and insurer recording systems. Using this method gives a detailed measure of the difference in injuries recognised as "work-related" by the insurer, and injuries classified as "recordable" by the company.
This includes differences in the volume of injuries, as well as in the nature of the injuries.
Applying this method to an energy company shows that only 19% of injuries recognised by the insurer were recognised by the company as recordable incidents (a recordable incident being any incident where a group of people, usually safety or operating experts, who understand the definitions applying to their sector/region, have reviewed an incident, and found that it meets that definition).
The method also demonstrates where claiming behaviour and claims management have created systematic biases in the disposition of incidents. Such biases result in an inaccurate picture of the severity and nature of incidents, over-estimating strike injuries such as to the hand, and underestimating chronic and exertion injuries such as to the back.
The Presentation generated so much interest, and with Kevin being contacted several times post-event, he'll no doubt will be a speaker in high demand into the future.  The research is pushing the envelope in thinking about how we measure safety affects how we learn.
In the future, Kevin will be asking Safer Together Member Companies to share data for the next stage of the Project – we encourage all Member Companies meeting the criteria to share relevant information when the time comes.
For more information, or to contact Kevin, email:  info@safertogether.com.au and we'll put you in touch!