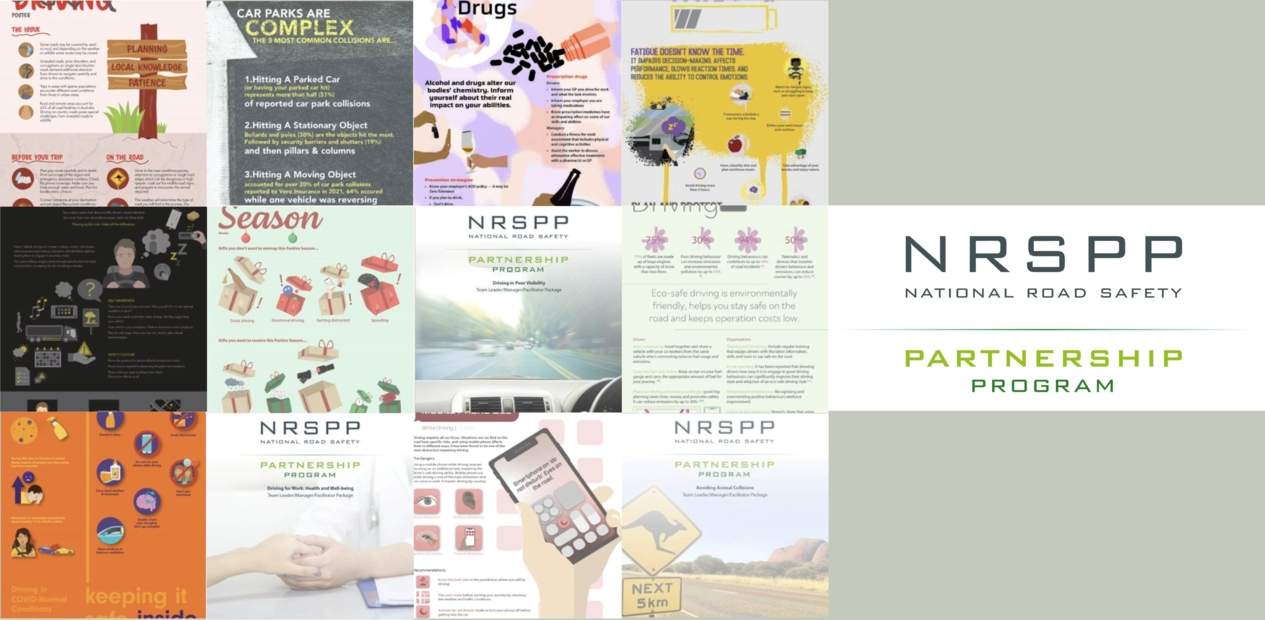 Safer Together Collaboration Partner, The National Road Safety Partnership Program (NRSPP) has developed a series of Toolbox Talks to help organisations deliver engaging safety messages on topics relevant to heavy vehicle drivers' daily tasks. The first of these Toolbox Talks, which explores Driver Distraction, was released in May and the next one, which explores Fatigue, was released in June. We encourage all Safer Together Member Companies with transport interests to use these fantastic resources.
The National Road Safety Partnership Program (NRSPP) is a collaborative network to support Australian businesses in developing a positive road safety culture through building and implementing effective road safety strategies in the workplace.
More than 20 Toolbox Talks are being developed as part of the NRSP's collaborative Heavy Vehicle Toolbox Talk (HVTBT) project, exploring topics ranging from fatigue and loading to rollovers and third-party road users.  These excellent resources are freely available to download here. 
Each Toolbox Talk features drivers talking about the topic: what it is, why it matters, and what they do to reduce the risk. Heavy vehicle drivers are professionals, they love their job and want to get home safely. The Toolbox Talks are designed to be relevant for all road users, not just for heavy vehicle drivers, so we can share the responsibility for staying safe on the road.
The first talk features BINGO Industries' drivers discussing Distraction, why it matters and how they try to address it in their daily operations.
Each of the delivered digital packs are designed to be flexible and adaptable to how your organisation conducts Toolbox Talks. You can print them out, hold presentations guided by the facilitation pack and utilise driver videos to really engage your workers.
Every topic is checked by industry peer reviewers to ensure it is relevant, accurate and delivered in a way that will engage drivers. The information is sourced from a combination of industry bodies and scholarly texts.
Safer Together is a NRSPP Program Partner and NRSPP is a Collaboration Partner of Safer Together.  In practice, this sees:
Safer Together members being invited to NRSPP webinars
NRSPP delegates being invited to Safer Together Land Transport Incident Review Panel events, and
Safer Together members being involved in the NRSPP Steering Committee and Utilities Forum – link via Safer Together Land Transport Working Group.
We encourage Safer Together Member Companies to assist the NRSPP and the HVTBT project team by sharing these freely available Toolbox Talks within our industry and promoting them widely across their networks using the social media information that has been developed: