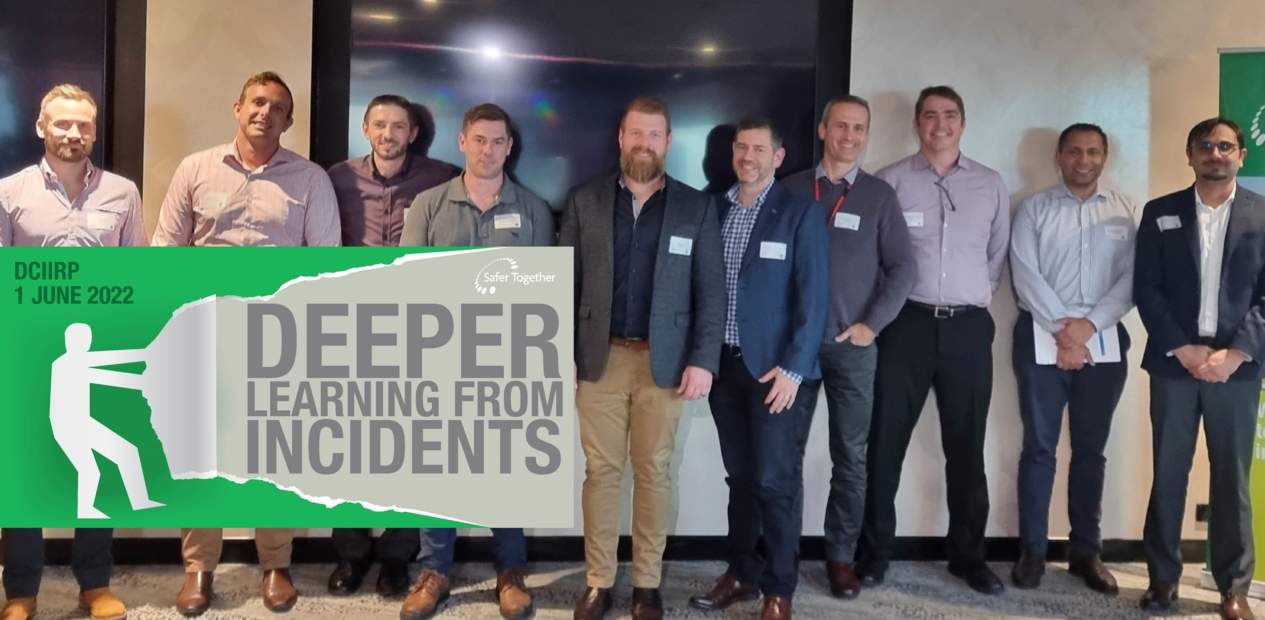 "Cause you, you and I back together again"…Roberta Flack's 1979 hit record summed up perfectly the vibe in the room when the Queensland Drilling & Completions community gathered in Brisbane on 01 June for the first face-to-face Drilling & Completions Industry Incident Review Panel (DCIIRP) Event since March 2020. 
Safer Together Members can access a full video recording of the Event here.
Organised by the QLD Rig Site Safety Working Group, and co-hosted by Senex Energy and MPC Kinetic, the theme of the Event was Deeper Learning From Incidents. The Working Group saw a need to improve how we communicate and integrate learnings from incidents, and how to best communicate these learnings to key personnel.  'Deep Learning' refers to the combination of a deeper understanding of content, and the ability to apply that understanding to problems and situations, and the development of a range of competencies. 
And attendees at the Event were spoiled with the talent of presenters and quality of content delivered on the day, truly a 'Deep Learning' Event for all.
MC for the Event, Andy Gainsforth (General Manager LNG - MPC Kinetic) shared the rich history of DCIIRPs (going back to 2015) and what an important opportunity these Events offer the D&C community to gather and learn from colleagues in other Member Companies – a moment to reflect on safety issues specific to the D&C community.
The Safety Moment was presented by Vincent James (Executive General Manager Wells -  MPC Kinetic) who reminded us that our people are the lifeblood of our business and the driving force behind our culture.
This was followed by in-depth incident shares that highlighted the importance of:
correct application of transport chains when binding loads and ensuring the requisite  knowledge and instruction is available, as well as taking the opportunity and time to review and share learnings from high value near misses so that crews at site have the most up to date information and equipment to safely do their jobs.
work crews performing risk assessments for minor tasks through pre-job planning, and assessing the risk of introducing new equipment and processes to enable appropriate controls to be implemented and new risks to be communicated to work crew.
carrying out effective risk assessments on all procedure changes to ensure that critical information is not missed, and applying engineering controls to derive the best corrective actions for preventing future incidents.
The star of the show was Kevin Geddert (Manager Business Information - Savanna Energy Australia). Kevin gave a ground-breaking, Ted Talk style address about the research he is conducting with Sidney Dekker and Drew Rae, that's pushing the envelope in thinking about "how we measure safety affects how we learn". Fascinatingly, this concept evolved after Kevin last presented at a DCIIRP in 2019. Kevin has been contacted several times post-event and no doubt will be a speaker of high demand into the future. 
Ewan Mitchell (Executive Director - Geoglide) then followed by sharing the RSSWG 2022 Work Program with the audience, as well as the details behind the High Value Learning Events project. Ewan also explained how members can create their own 'Learning Event Bulletin', and how best to use them when received.
The final presentation of the day was by Muhammad Yasir Nisar (Operations Manager - Schlumberger) on the Engineering Solutions Mini-Portal that is currently under development. This resource space will enable Members to share innovative engineering solutions developed either proactively to prevent incidents, or as an action post-incident.
The event was closed by co-host David Shakhovskoy (Drilling and Completions Manager -  Senex Energy) who generously thanked all presenters, participants and Safer Together for a truly outstanding event. 
To watch this, or previous DCIIRP Events, click here.
If you are interested in attending future DCIIRP Events, contact: rigsite@safertogether.com.au