Contain It QLD
Mobile Major Accident Hazard Awareness Training.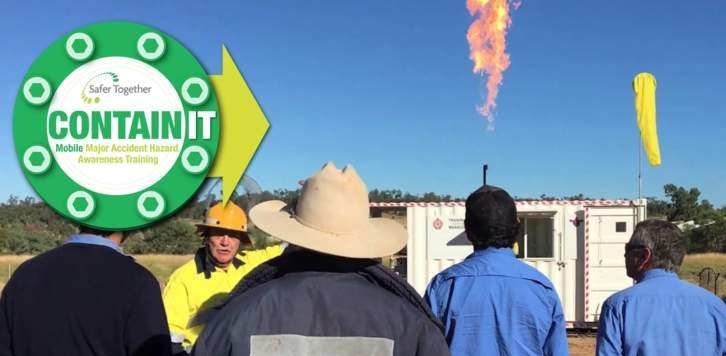 Your Location
Contain It is available for deployment to your location.  We can do this as a 'private' deployment (i.e. all of the course places during the deployment course are reserved for your staff), or we can work with you to generate enough 'public subscription' bookings to help cover the cost of bringing it to you. 
Interested? 
Click above to make a booking enquiry or contact containit@safertogether.com.au to find out more.
Training Courses Available:
Brisbane
| | | | | |
| --- | --- | --- | --- | --- |
| Day |   Date |   Time |   Location |   Booking |
|   Thursday |   02 December 2021 |   08.30 - 10.30, 11.00 - 13.00, 14.00 - 16.00 |   Yatala, QLD, 4207 |   Book Now |
Roma
The Roma date has been cancelled due to no bookings.  If you are still interested in having a course run this venue, please contact containit@safertogether.com.au.
Toowoomba
The Toowoomba date has been cancelled due to no bookings.  If you are still interested in having a course run this venue, please contact containit@safertogether.com.au.
Details:
3 courses per day: 08:30–10:30; 11:00–13:00; 14:00-16:00
20 people per course
$300 + GST per head
In addition to our public subscription offerings, we are happy to 'block book' an entire course and run it dedicated to your staff.  Contact containit@safertogether.com.au for details.
Contain It is mobile major accident hazard awareness training.  It is a 2 hour program, comprising a selection of outdoor demonstrations.  Each demonstration has been structured to clearly portray a particular process safety concept, enable an interactive discussion about the relevant controls, and highlight relevant industry incidents where a major accident event has resulted.
Contain It promotes process safety hazard awareness.
Contain It promotes process safety-related conversations.
Contain It provides a 'working memory' of the effects that may be experienced with a loss of containment, and its escalation to a fire or explosion.
Contain It makes major accident hazards 'real'.
Let seasoned fire professionals explain flammable gas properties and the behaviour of fires with safe controlled demonstrations.
Contain It is led by experienced and qualified instructors.  Participants will feel the heat of a flash fire, hear the sound of a pressure release, and witness a boiling liquid expanding vapour explosion (BLEVE), amongst a variety of other experiences. 
This unique experiential learning activity is relevant to anyone working in our industry, particularly Operations & Maintenance and Support personnel.
Challenge
Our industry employs a large number of people from a variety of backgrounds, many of whom do not have previous experience in the oil and gas industry. Situational awareness of major accident hazards is essential for everyone working in the industry.  Although many companies conduct process safety awareness training in the classroom or on-line, very few personnel have experienced a practical loss of containment scenario. 
Fire training grounds provide the opportunity for personnel to experience loss of containment scenarios, however these facilities are not located in proximity to industry locations.  It is expensive to transport the workforce to these facilities.
Solution
Develop a high-quality, cost effective training program, comprised of technical demonstrations designed to promote interaction.  Roll out this training at work sites throughout Queensland.  Provide qualified and experienced instructors to ensure safe delivery of the training. 
Result
The Working Group has developed Contain It - a transportable interactive training program aimed at educating the workforce about major accident hazard events and the part people play in preventing a major accident. 
A customised mobile training rig and associated equipment for the training program has been built. This allows Contain It to be delivered to the workplaces throughout regional Queensland.
The Working Group has also published:​
For More Information
process.safety@safertogether.com.au
Related Links 
Acknowledgement
Safer Together wishes to express its gratitude to the following companies, who have provided the funding necessary to build the mobile training rig and equipment for this project:
Arrow Energy                       
Australia Pacific LNG     
QGC
Santos