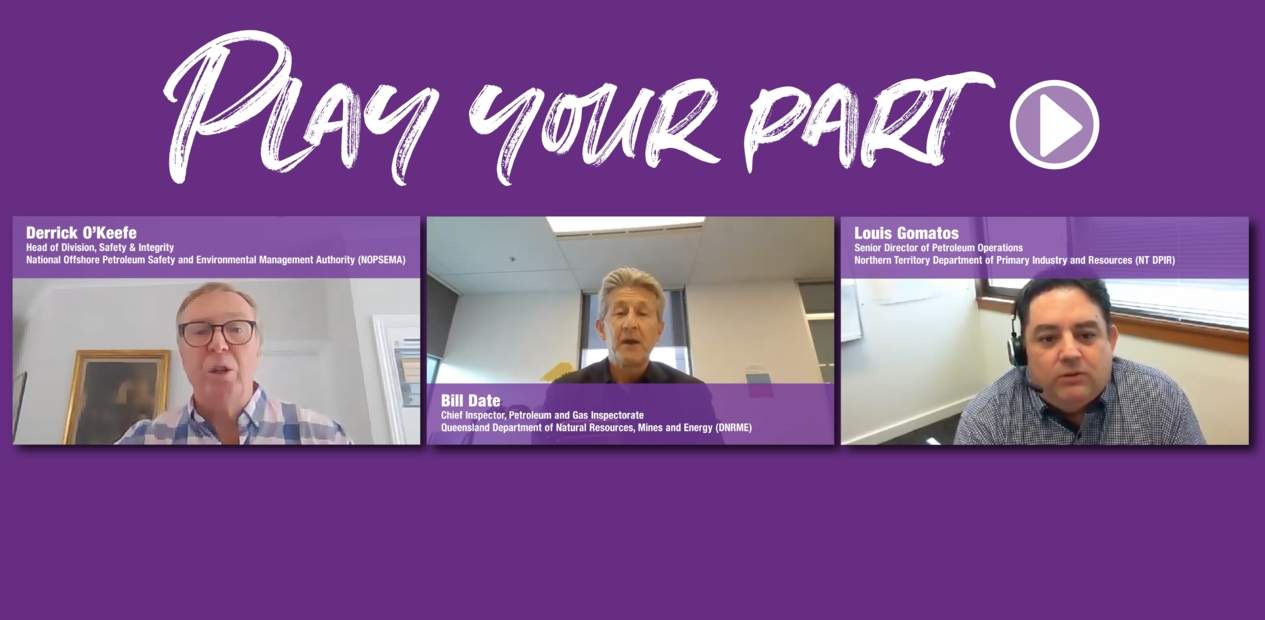 In this short video senior representatives from national and state regulatory authorities talk about the health and safety challenges our industry currently faces due to COVID-19 and how everyone in the industry can play their part to stop the spread of the virus.
Safer Together recently interviewed senior representatives from the National Offshore Petroleum Safety and Environmental Management Authority (NOPSEMA), The Queensland Department of Natural Resources, Mines and Energy (DNRME), and the Northern Territory Department of Primary Industry and Resources (DPIR) about responding to the coronavirus pandemic.
This video, together with a video released last month of the Safer Together Co-Chairs (QLD and WA/NT), are part of the suite of 'Play Your Part' communications campaign resources designed to help companies in the Australian Oil & Gas Exploration & Production Industry implement a workforce information and education program about COVID-19.
The short video can be viewed here and highlights that, despite the extraordinary challenges we're currently faced with on a daily basis as a result of the coronavirus pandemic, we cannot take our eye off the ball in relation to managing safety. It also reinforces that each and every person in our industry can do some simple things to stop the spread of the virus that will help protect not only ourselves, but also our family and friends, our job, the broader community, and the supply of energy to all Australians.
Industry Regulators continue to seek assurance that industry response efforts are appropriate to the posed risks from COVID-19.  The offshore energy industry regulator NOPSEMA released a communication document earlier this week which describes their regulatory approach to ensuring reduction of the COVID-19 threat.
Look out for more 'Play Your Part' resources in next week's bulletin.
Contact: [email protected].