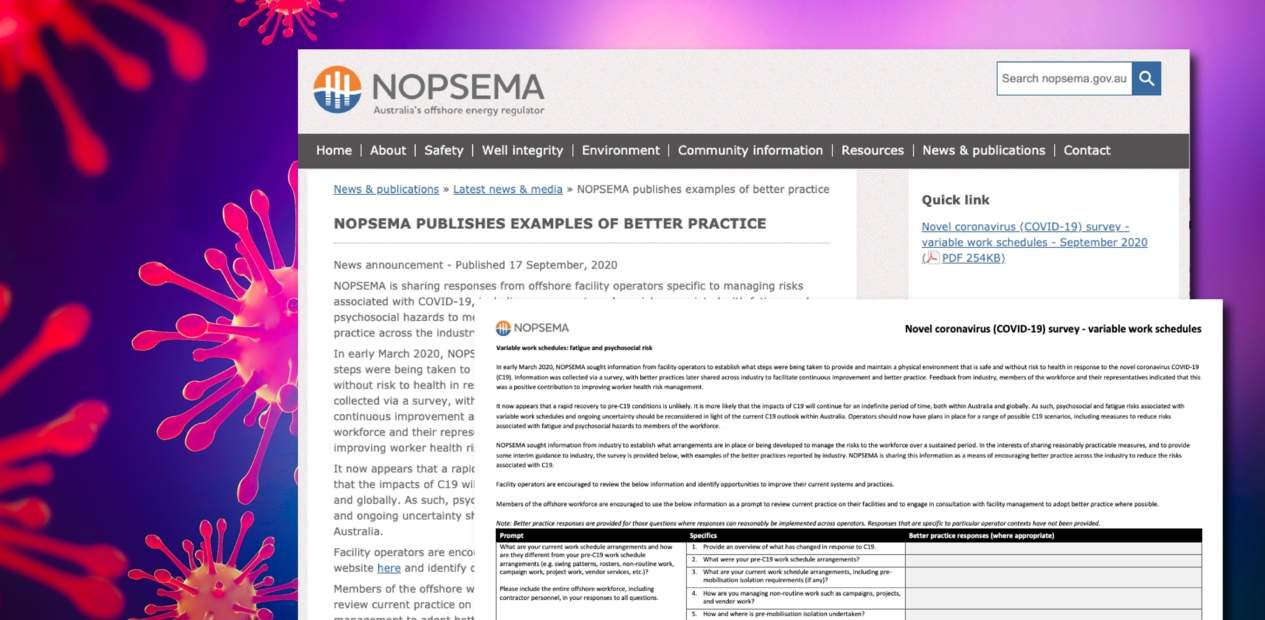 On 17 September, NOPSEMA published information about how Offshore Facility Operators are managing the risks of fatigue and psychosocial hazards associated with the COVID-19 pandemic.
In early March 2020, NOPSEMA sought information from facility operators to establish what steps were being taken to provide and maintain a physical environment that is safe and without risk to health in response to the novel coronavirus COVID-19 (C19). Information was collected via a survey, with better practices later shared across industry to facilitate continuous improvement and better practice.
NOPSEMA recommends that psychosocial and fatigue risks associated with variable work schedules and ongoing uncertainty should be reconsidered in light of the current C19 outlook within Australia.
Facility operators are encouraged to review the shared information published on the NOPSEMA website here and identify opportunities to improve their current systems and practices.
Members of the offshore workforce are encouraged to use the information as a prompt to review current practice on their facilities and to engage in consultation with facility management to adopt better practice where possible.
Safer Together continues to support APPEA and industry by simplifying, standardising and sharing to face the ongoing challenges posed by COVID-19.  Recently a Health Working Group was formed in WA/NT with an initial priority of facilitating discussion between members about mental health within our industry.
Additionally, the Health Matters site is available for industry to find help for health and well being matters as well as an opportunity to share materials with others so that we can all benefit from our collective efforts.
Our COVID-19 Microsite is mapped to the APPEA COVID-19 Upstream Onshore and Offshore Protocol Framework  and contains resources to assist companies in planning and managing their response during the coronavirus pandemic.
We are safer and stronger together.
Contact: [email protected]