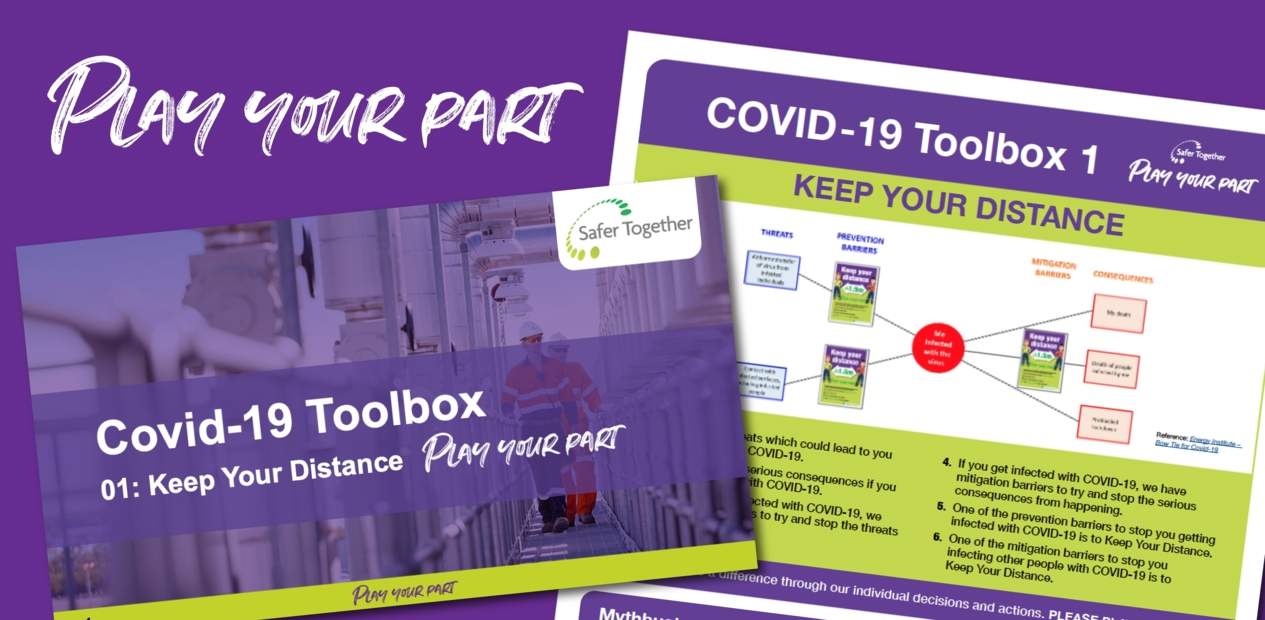 The article in one of our recent bulletins about a Bow Tie Diagram for COVID-19 developed by the Energy Institute and Centre for Chemical Process Safety (CCPS) generated a lot of interest among our readers.
In response to this, we've integrated the bow tie principles into a suite of new Toolbox resources that we're launching this week to help operationalise the Play Your Part campaign.
Developed specifically for delivery to the frontline workforce at their work site, the suite of Toolbox resources is aimed at helping companies in our industry implement a workforce information and education program about COVID-19. Designed for frontline supervisors to simply pick up and use, each Toolbox can be rolled out to work teams and completed in no more than 15 minutes.
The Toolbox materials cover the following topics:
Keep Your Distance
Wash Hands Often
Cover Your Cough
Clean Surfaces Often
Stay Away If Unwell
The format of each Toolbox is aimed at maximising frontline workforce engagement and reinforcing risk management principles in responding to COVID-19 and includes:
Bow tie diagram and discussion
Mythbuster (True or False?)
Poster (and Video, if electronic delivery of the Toolbox session is an available option)
Team Conversation (What does Play Your Part mean to you and your team?)
Feedback (Share your team's tips and ideas)
Hear from others who are Playing Their Part   
A COVID-19 Toolbox – How To Guide is also available to provide step-by-step instructions for the people that will be leading/facilitating the Toolbox conversations, as well as a Briefing Presentation for managers that summarises the background to and reasons for the Play Your Part campaign.
All these COVID-19 specific resources are available for download in our COVID-19 Library.
Suggested next steps:
Download and share the Briefing Presentation – Our Industry's Response to COVID-19 and Video Clip - Play Your Part at a management team meeting (target audience: Line Managers and HSE Advisors)
Identify company representatives who will facilitate the Toolbox conversations, brief them using the materials in step 1 above, and give them the COVID-19 Toolbox – How To Guide and Toolbox materials (target audience: Frontline Supervisors)
Roll out the suite of COVID-19 Toolboxes within your company (target audience: Frontline Workforce)
Monitor roll out progress.
Seek, collate and share feedback. If you have a story to tell or a useful tip that might help others in our industry, we want to hear from you.  Please send your feedback to

[email protected]

.