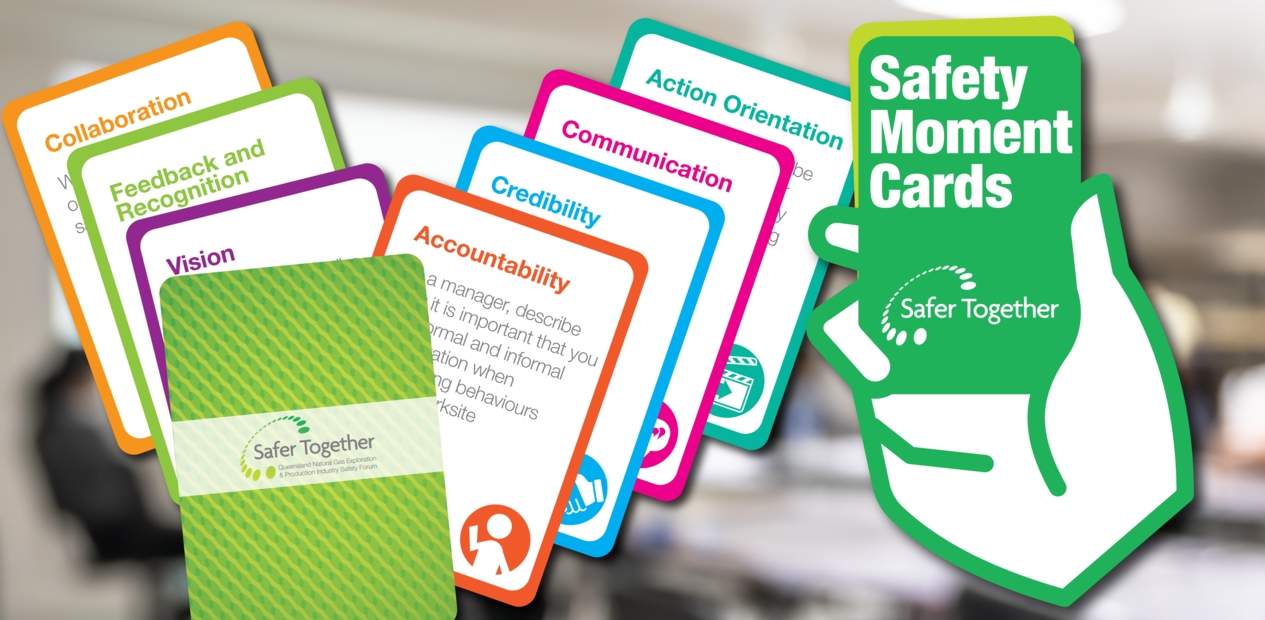 Safer Together's Safety Moment Cards are being used by at least 40 member companies as a great tool for initiating thought-provoking safety conversations in the workplace. Is your company one of them?
Each of the 52 cards provides a conversation prompt about the characteristics and behaviours of effective safety leaders. The aim is to develop an aligned understanding of "what does a good safety leader look like in practice?" and to continually reinforce this message.
Broadly based on the safety leadership characteristics and behaviours defined by the International Association of Oil & Gas Producers in IOGP Report 452, Safety Culture Through Safety Leadership, the cards cover seven themes – accountability, credibility, vision, action orientation, collaboration, communication, and feedback and recognition. 
The cards are designed to be used on a regular and routine basis during five-minute safety discussions across all levels of an organisation. Member companies have told us they've been used successfully in a wide variety of ways - by executive managers at board meetings, by frontline supervisors in toolboxes with their team, by contract holders in contract kick-off workshops, and by line managers on site walkarounds. They're cost-effective, practical and easy to use in any setting -  the discussion leader picks a card from the deck, reads it out aloud, and simply takes the conversation from there…
The cards have proved to be popular, not just with companies in the Australian Oil & Gas industry, but also with organisations in other industry sectors both in Australia and across the globe.
For example, here's some numbers that tell the story:
  4,000+

The number of card packs sold to date

  40

The number of Safer Together member companies using the Safety Moment Cards 

  19

The number of countries where the Safety Moment Cards are being used – including Belgium, Germany, Ireland, Mexico, Saudi Arabia and Switzerland to name just a few

  15

The number of different industry sectors using the Safety Moment Cards – including Agrochemical, Construction, Electrical, Food Processing, Manufacturing, Mining and Rail to name just a few

  65

 

The % of orders received in the past 2 years for Safety Moment Cards attributed to companies that are not members of Safer Together (only 35% of the orders received in this period have been from member companies)
Click here for a brief presentation about the Safety Moment Cards and who is using them.
Note: The above photo was taken before the COVID-19 pandemic,
when social distancing rules were not required. 
The team at Safer Together member company Enerflex have become strong advocates of the Safety Moment Cards since adopting them. With up to 200+ employees servicing and supporting upstream compression and processing products at customer sites spread throughout the Australian / Asian region, Enerflex recognises the value of practical tools that can help build and strengthen a  consistent safety culture throughout their organisation.
"We have carried out safety talks at the start of toolbox talks and meetings for years. Sometimes the topics get a bit stale, repetitive, or the team is just lost for words – especially on the very early mornings! Having the cards on hand generates great discussion and it's interesting  to hear the different responses from the team on the same card" (Supervisor).
Click here for a Case Study from Enerflex and their tips for other member companies on how to maximise the value of using the Safety Moment Cards.
At only $10.00 + GST per pack, you won't find a more simple, practical and cost-effective solution to strengthen safety leadership within your organisation. Click here to place your order now.
For more information about Safety Moment Cards click here.
Contact: [email protected]